Crema de castañas asadas con calabizo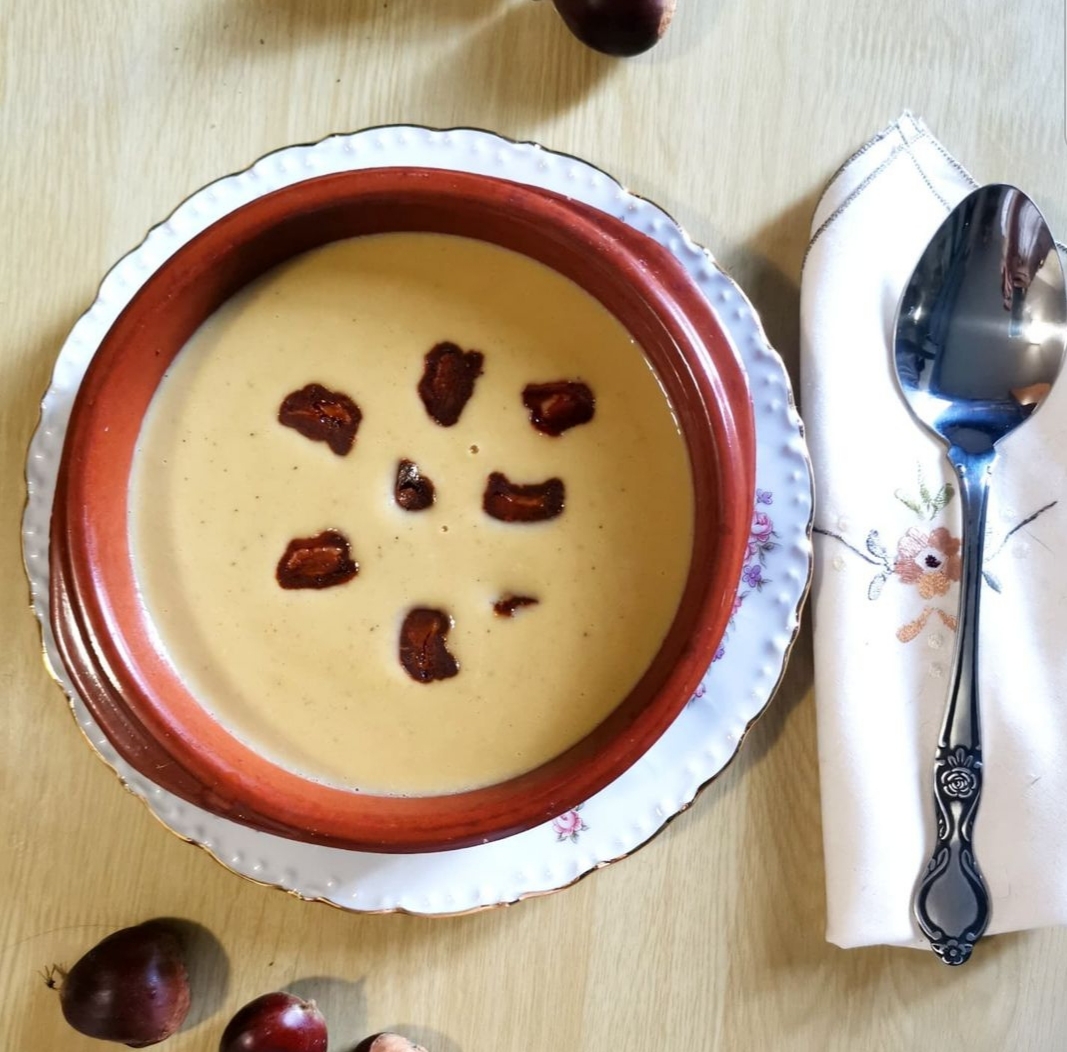 Fantástica receta otoñal!
En esta época ya van apeteciendo platos de cuchara y hoy compartimos esta deliciosa crema de castañas asadas con calabizo!
Desde Caldas de Reis en Pontevedra, la cocinera Coque Fariña, comparte su receta vegana y muy gallega, porque las castañas además de ser típicas de nuestra tierra,  Calabizo es un proyecto gallego;
Consejo para la conservación de castañas: asarlas para luego envasarlas al vacío; de esta manera resulta muy cómodo tener siempre castañas listas para utilizar en recetas o comerlas directamente.
Y como curiosidad...
Antes de que llegara la patata de América, un alimento básico en Galicia eran las castañas, que están en nuestra tierra desde hace más de 12.000 años.
¿Por qué la castaña gallega es la mejor?
En Galicia contamos con un terreno tremendamente adecuado para la castaña y en nuestra comunidad se produce más del 60% de la producción nacional de castaña.
Esperamos que disfrutes con esta mezcla de sabores; con castañas y calabizo el otoño sabe mejor!
1/2 cebolla
1/2 puerro
1 zanahoria
1 puñado de castañas asadas y peladas
Agua o caldo de verduras
Un chorrito de nata vegetal
1 calabizo
Sal, pimienta y aceite de oliva
Rehogamos las verduras en el aceite de oliva, añadimos las castañas, cubrimos con el caldo y dejamos cocer unos 25 minutos (si usamos castañas crudas cocemos hasta que las castañas sean fáciles de pinchar con un tenedor).
Retiramos un poco de caldo y trituramos el resto, añadimos el caldo que necesitemos hasta obtener la textura que nos guste.
Rectificamos de sal y pimienta, añadimos un chorrito de nata para dar cremosidad.
Servimos muy caliente con topping de trocitos de calabizo (previamente pelado).
Have you tried this recipe?
Upload an image to Instagram with your recipe and tag us!
Every day we are more lovers of Calabizo. Join up!