Tortitas veganas y sin gluten de guisantes y calabizo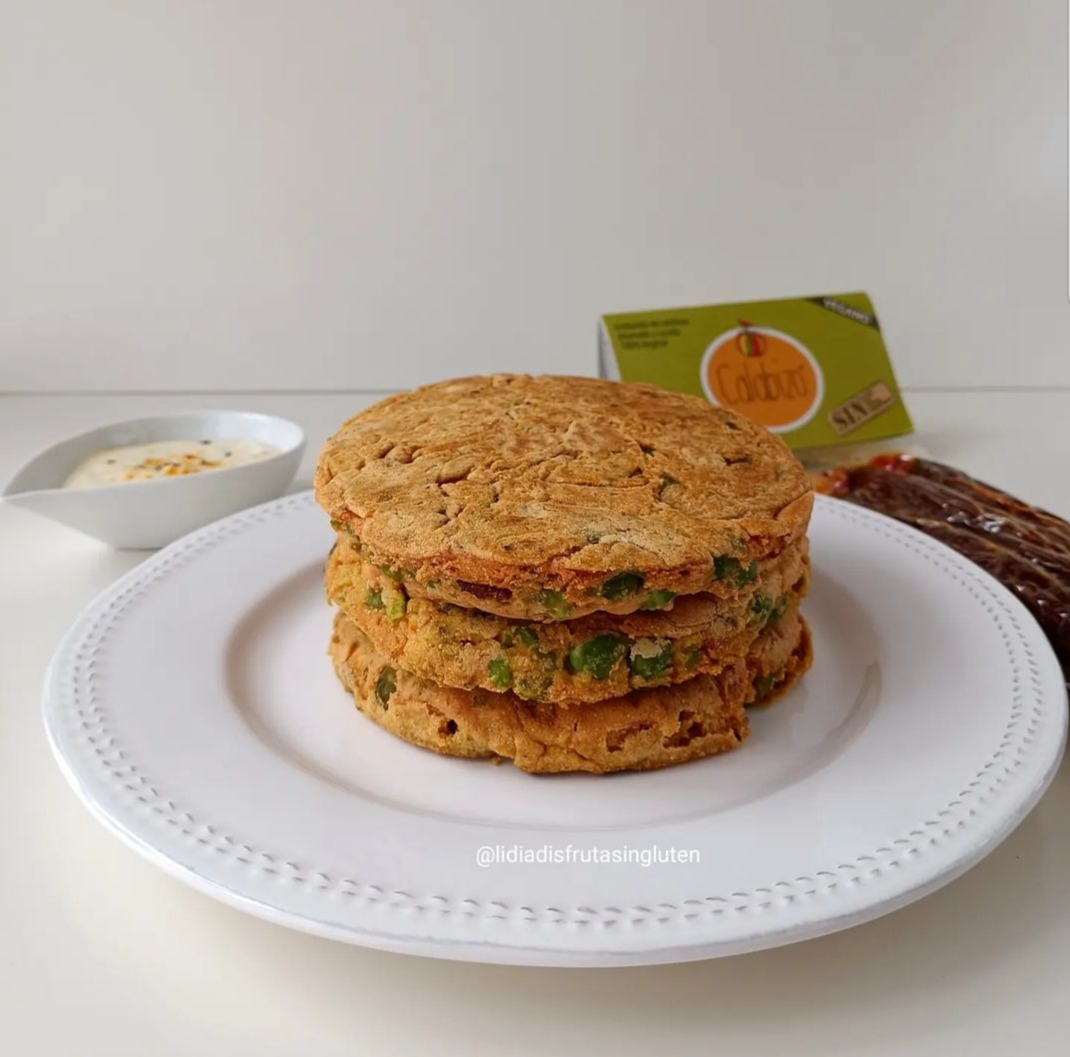 Disfruta de esta original receta vegana y sin gluten!
Tortitas de guisantes y calabizo con harina de garbanzo y salsa de almendra y cúrcuma 🧡
En la I Feria Gastronómica Sin Gluten promovida por ACEGA, (Asociación de Celíacos de Galicia) y celebrada en Santiago de Compostela el 29 de mayo de 2022, Lidia Filgueira, divulgadora de recetas sin gluten a través de su blog @lidiadisfrutasingluten, probó por primera vez nuestro calabizo sorprendiéndole muy gratamente; tanto es así que pronto se lanzó en la cocina para crear esta estupenda receta SIN GLUTEN que esperamos que te guste y te animes a hacerla.
Para las Tortitas (3 uds.)
• 150 g de harina de garbanzo
• 140 ml de agua
• 120 g de guisantes frescos
• 1 calabizo
• ½ cdta de bicarbonato
• Pimentón de la vera
• Pimienta negra
• Cúrcuma
• AOVE y sal
Para la Salsa de almendra y cúrcuma
• 125 g de yogur de almendra
• 1 diente de ajo
• ½ limón (zumo)
• Pimienta negra
• Perejil fresco
• Cúrcuma
• AOVE
Para elaborar las Tortitas:
Mezclar la harina de garbanzo con una pizca de sal, pimienta negra, cúrcuma y pimentón de la vera. Añadir el agua y el bicarbonato y mezclar con varillas.
Tapar el cuenco con un paño y dejar reposar durante 15 minutos.
Cocer los guisantes frescos en agua con sal durante 5 minutos.
Retirar la piel del calabizo, trocear y saltear con AOVE, a fuego fuerte durante 2 minutos.
Incorporar los guisantes al calabizo y saltear durante un par de minutos.
Añadir los guisantes y el calabizo a la masa. Mezclar y engrasar una sartén con AOVE.
Añadir en el centro un poco de masa (un grosor de 1 cm), con forma redondeada, y cocinar a fuego medio. Voltear con una espátula y servir.
Salsa de yogur
Mezclar el yogur con un diente de ajo rallado, un poco de perejil picado, el zumo de medio limón, una cucharada de AOVE y una pizca de sal, cúrcuma y pimienta negra.
Opinión de calabizo por Lidia Filgueira, divulgadora de recetas sin gluten.
✳️El chorizo vegano de calabaza es nutritivo, contiene fibra y antioxidantes y un sabor muy característico al estar curado y ahumado con madera de roble. Un bocado delicioso 👌
Have you tried this recipe?
Upload an image to Instagram with your recipe and tag us!
Every day we are more lovers of Calabizo. Join up!