Rigatoni con calabizo picante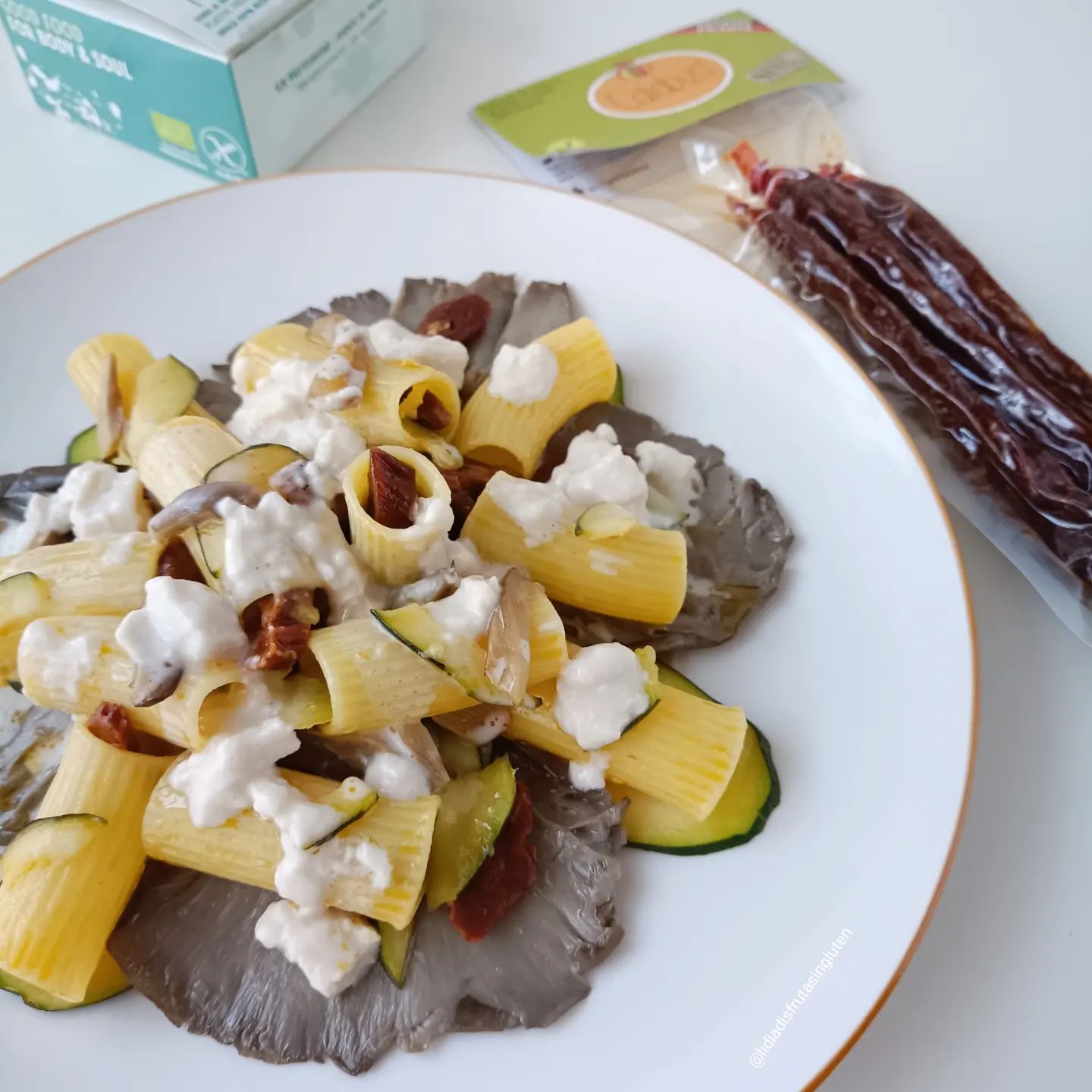 Rigatoni con calabizo picante! 🌶️😋
Puedes elegir preparar estos Rigatoni con o sin salsa.  Este delicioso plato vegano y sin gluten no te dejará indiferente 😉 y todo por la buena mezcla de tan sabrosos ingredientes!
🍝RIGATONI CON CHORIZO VEGANO PICANTE, CALABACÍN Y SETAS CON SALSA DE ARROZ Y MONELLA 🧡
Por cortesía de Lidia, creadora del blog de recetas sin gluten Lidia Disfruta Sin Gluten       
Para 1 persona:
• 100 g de pasta rigatoni sin gluten
• 100 ml de salsa de arroz
• 100 g de setas
• 4 lonchas de queso vegano en este caso Monella de Veggiekarma
• 1 calabizo picante (puedes elegir no picante)
• 1 diente de ajo
• ½ calabacín
• AOVE
• Sal
Cocer la pasta rigatoni en agua hirviendo con sal durante durante 9 min.
Escurrir y reservar.
Laminar un diente de ajo y sofreír en AOVE.
Añadir las setas, el calabacín y el calabizo (previamente pelado y troceado) y saltear hasta que se doren.
Añadir la salsa de arroz y el queso vegano (Monella) troceado e incorporar la pasta. Listo para disfrutar.
Con el toque picante de calabizo el resultado es espectacular! ¿te animas?
Have you tried this recipe?
Upload an image to Instagram with your recipe and tag us!
Every day we are more lovers of Calabizo. Join up!