Puré de calabaza a la naranja con calabizo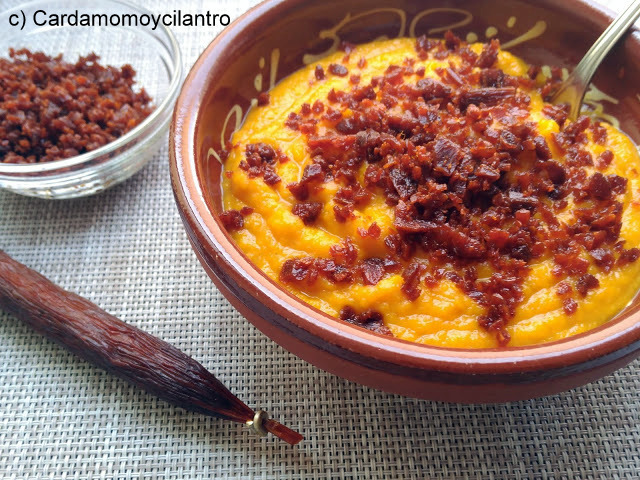 Siempre sienta bien una crema o puré de calabaza, muy caliente en invierno para entrar en calor, o más templada para la época estival y poder seguir así disfrutando de verduras y hortalizas en modo de cuchara durante el verano.
Esta receta, por cortesía del blog de cocina Cardamomo y Cilantro, es una deliciosa mezcla de sabores, donde el jengibre rallado junto con el zumo de naranja y de lima dan muy buen sabor a este puré de calabaza y que se acompaña con una picada de nuestro chorizo vegetal, Calabizo.
Esperamos que te animes a hacerla y que la disfrutes!
Nota: Cardamomo y cilantro es un Blog de cocina que surge de la pasión por cocinar y por la alimentación sana y equilibrada de su autora, que suele preparar para su familia recetas de todos los países, aunque la que más le gusta es la Dieta Mediterránea, y que por sus reconocidos beneficios para la salud, ha sido declarada por la UNESCO Patrimonio Cultural Inmaterial de la Humanidad.
600 gramos de calabaza cacahuete, pelada y cortada en dados pequeños -el peso se refiere a la calabaza una vez pelada-.
2 cucharadas soperas de aceite de oliva virgen extra o 25 gramos de mantequilla.
125 mililitros de zumo de naranja -sin colar-.
1 cucharada sopera de zumo de lima.
1/2 cucharadita -de las de café- de jengibre rallado.
Sal.

Para acompañar: 1 ud. de Calabizo (aprox 40 g)
En una olla a fuego bajo ponemos el aceite de oliva o la mantequilla, cuando esté caliente o la mantequilla fundida añadimos los dados de calabaza y la sal, dejamos cocer unos 20 minutos, removiendo a menudo.
Pasados los 20 minutos añadimos el zumo de naranja y el de lima, espolvoreamos con el jengibre rallado y dejamos cocer, sin dejar de remover, 15 minutos más.
Retiramos del fuego y cuando esté tibio, trituramos en la batidora o pasamos por el pasapurés.
Para la picada de Calabizo: lo pelamos previamente y picamos en la picadora, salteamos la picada durante unos minutos en una sartén con una cucharadita de aceite de oliva y una vez esté lista echamos sobre el puré y servimos.
Have you tried this recipe?
Upload an image to Instagram with your recipe and tag us!
Every day we are more lovers of Calabizo. Join up!