Pizza con rúcula y calabizo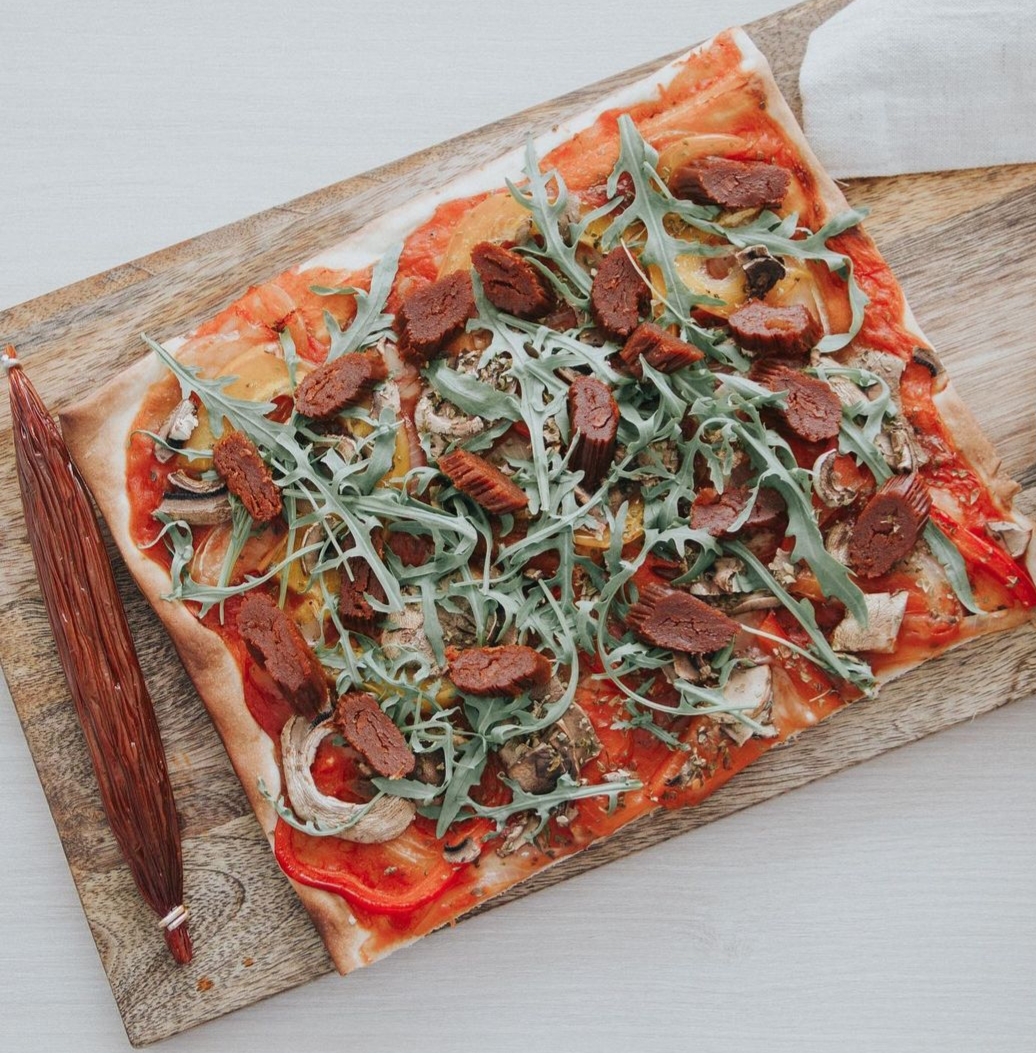 Pizza con rúcula y calabizo
Seguramente nunca te has parado a pensar de dónde proviene la tan universal palabra "pizza".
Del latín "pinsa", participio pasado del verbo pinsere, que significa 'machacar', 'presionar', 'aplastar'. Su descripción etimológica hace referencia a la manera de elaborar la masa de la pizza, así como a su origen en una forma de pan plano, aplastado sobre el piso del horno.
Y de esta receta ancestral italiana, Tamara González, instructora de yoga y autora del blog @tamyogui  (a través del cual comparte su búsqueda hacia una vida equilibrada y consciente) nos ofrece su versión de pizza con rúcula y calabizo que esperamos te animes a elaborarla y disfrutes de su sabor.
Para la masa de pizza casera:
 400g harina integral
250 ml agua templada
1 cucharadita de sal
1 cucharadita aceite girasol
5g levadura seca / 25g levadura fresca
Para la pizza:
Tomate frito
Queso vegano
Pimiento rojo y amarillo
Champiñones
Calabizo picante (puedes elegir calabizo no picante)
Orégano
Rúcula
En un bol grande ponemos la harina, la levadura y la sal y mezclamos. Vamos poco a poco añadiendo el agua y mezclando hasta que quede una bola uniforme sin partes de harina secas ni demasiado húmedas. Echamos el aceite y empezamos el amasado, sin aplastar demasiado.
Una vez tengamos la masa lista, dejamos reposar en el bol, tapado o al vacío, unos 30 minutos. Déjala fermentar hasta que doble el tamaño.
Una vez la masa hasta fermentado, precalentamos el horno, y en nuestra bandeja para la pizza (no la de rejillas), estiramos la masa en la forma que queramos y le ponemos el tomate frito triturado por encima junto al orégano  y la ponemos en el horno a 250°C unos 10 minutos.
Una vez esté pre-hecha la masa, añadimos el queso vegano, el pimiento rojo y amarillo y los champiñones. y volvemos a hornear.

📌Importante: Cuando la pizza ya esté prácticamente hecha, añadir el calabizo (previamente pelado) y la rúcula, y darle un toque de calor (2 minutos aprox.).
Pide aquí tus calabizos para tan sabrosa pizza vegetal
Have you tried this recipe?
Upload an image to Instagram with your recipe and tag us!
Every day we are more lovers of Calabizo. Join up!