Pasta de lentejas con pisto y calabizo picado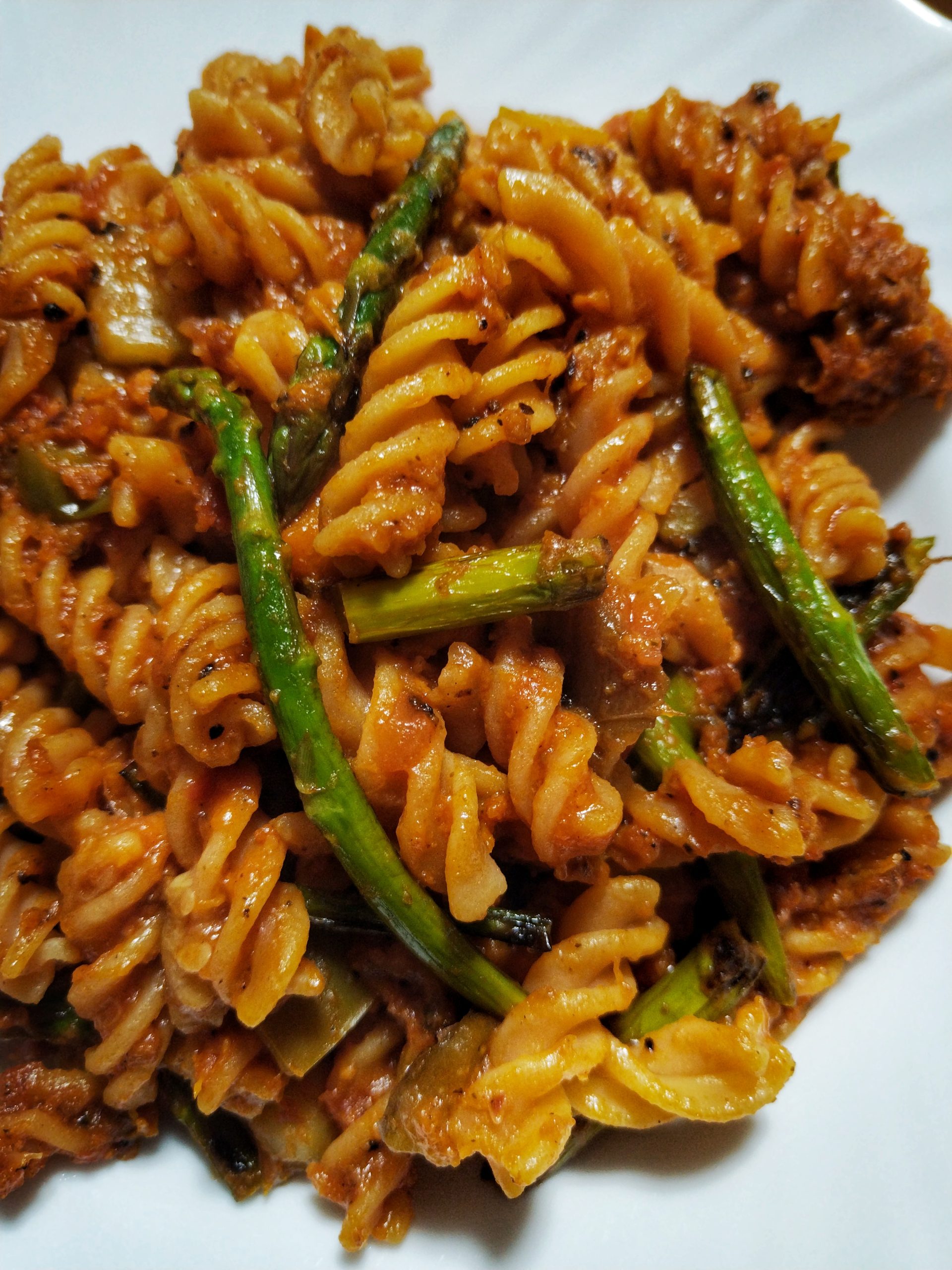 Si te gustan las recetas 100% vegetales y quieres seguir una dieta más saludable y más #plantbased no debes olvidarte de las proteínas, tan importantes para nuestra salud!
Te proponemos esta receta hecha por Gine, que a través de su blog y redes sociales nos sorprende con deliciosos platos, descubre sus ideas en Cuidomicuerpini
Crea este delicioso plato a base de pasta de lentejas con pisto y calabizo picado!
Un plato nutritivo con más fibra y proteínas, un variado de verduras que le aporta el pisto y el toque sabrosón que le da nuestro calabizo, básicamente hecho de calabaza (90%) , con algo de cebolla y ajo, aceite de oliva virgen extra (te dejamos este enlace al último gran estudio de la Universidad de Harvard sobre el AOVE) y las especias propias del chorizo gallego de calabaza: pimentón, la sal y el orégano.!
Una receta saludable y sabrosa! qué más se le puede pedir? pues prepararla y disfrutarla.
Receta para 2 raciones
🌿 Pasta de lentejas sin gluten (160 g)
🌿 Espárragos verdes
🌿 Pisto
🌿 Calabizo picado (puedes darle un toque picante si eliges calabizo picante)
Ingredientes para el pisto:
1 Berenjena
1 Pimiento verde
1/2 Cebolla
1 Calabacín
1 Bote de tomate natural
AOVE
Elaboración del pisto:
Sofreír la cebolla y la berenjena en AOVE (cortada muy trozos pequeños)
Añadir resto de ingredientes (el pimiento verde y el calabacín) y cocinamos a fuego lento junto a la cebolla y berenjena previamente sofrita unos 30 minutos
Agregar el tomate natural triturado y lo dejamos unos 15-20 minutos a fuego lento pero que haga "chup-chup"
Una vez preparado el pisto reservamos.
Elaboración plato:
Primero lavar y cortar los espárragos y los salteamos en una sartén.
A continuación añadir el calabizo pelado y picado. Lo puedes picar a mano o en una picadora.  Integramos bien y añadimos el pisto que previamente elaboramos.
Reservamos mientras se cocemos la pasta de lentejas.
Una vez esté cocida y escurrida la pasta, la añadimos al sofrito.
Dejamos unos minutos para que se mezclen bien los sabores y a disfrutar de este platazo sabroso, 100% vegetal, sin gluten, y además con las proteínas que le aporta la pasta de lentejas!
Have you tried this recipe?
Upload an image to Instagram with your recipe and tag us!
Every day we are more lovers of Calabizo. Join up!