This is Tooltip!
Minipizzas de plátano con Calabizo
This is Tooltip!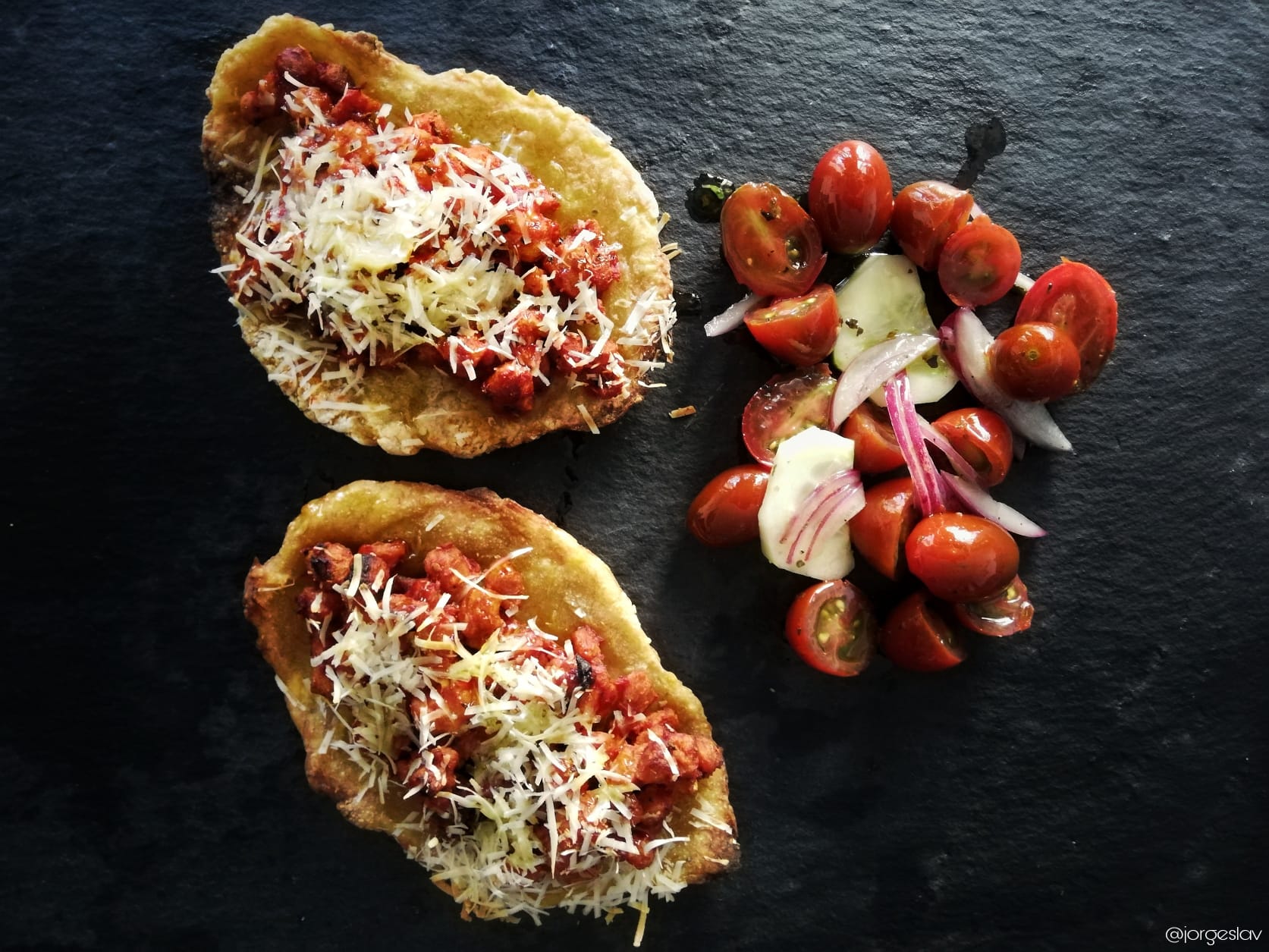 This is Tooltip!
Te presentamos esta original receta vegana y sin gluten! Minipizzas de plátano con Calabizo!!!
Unas Minipizzas con base de plátano macho, sofrito de soja texturizada y Calabizo con queso vegano!
De elaboración sencilla y con mucho sabor! Su creadora es Gine, vegana y celíaca y autora del blog Cuido Mi Cuerpini, en el que comparte recetas libres de gluten, azúcar y lactosa, y además libres de ingredientes de origen animal. Y sí, sin todo eso, es posible elaborar ricos y nutritivos platos, sin tener que renunciar a sabrosas recetas, además de saludables.
Esperamos que disfrutes de esta receta y de tan sabrosos bocados!
This is Tooltip!
Ingredientes: (para 6 unidades)
2 plátanos machos maduros
1 taza pequeña de harina de maíz
Aceite de oliva
50 gr. Soja texturizada
Salsa de tomate (a poder ser, casera)
1,5 Calabizo (si te gusta el picante puedes elegir la versión picante de Calabizo)
Queso rallado vegano
Sal
Pimienta negra
Especias al gusto (Eneldo, Hierbas Provenzales)
This is Tooltip!
Preparación de las mini-masas:
Pelar y hervir los plátanos hasta que estén blanditos.
Poner en un bol y chafar con un tenedor. Añadir la harina de maíz y un par de cucharadas de aceite de oliva.
Mezclar todo bien hasta conseguir una masa. Rectificar de harina si es necesario hasta que la masa deje de ser pegajosa.
Dividir la masa en bolitas y aplanarlas para darles la forma. Puedes usar papel vegetal engrasado previamente.
Poner las mini-masas en la bandeja del horno con papel vegetal.
Preparación del sofrito:
Hidratar la soja texturizada unos 15/20 minutos.
Quitar bien el agua de la soja texturizada después de hidratada, y sofreírla en una sartén con un poco de aceite.
Cuando esté bien dorada, añadir el Calabizo (previamente pelado y troceado), la salsa de tomate casera, la sal, la pimienta negra, el eneldo y las hierbas provenzales.
Cocinar unos minutos más.
Repartir el sofrito en las bases (mini-masas), añadir el queso vegano rallado y, con el horno precalentado, hornear hasta que se dore el queso. Ojo, que cada horno es un mundo!  y listo!
Lo ideal es disfrutarlas calentitas!
Have you tried this recipe?
Upload an image to Instagram with your recipe and tag us!
Every day we are more lovers of Calabizo. Join up!