Lourenzá beans with calabizo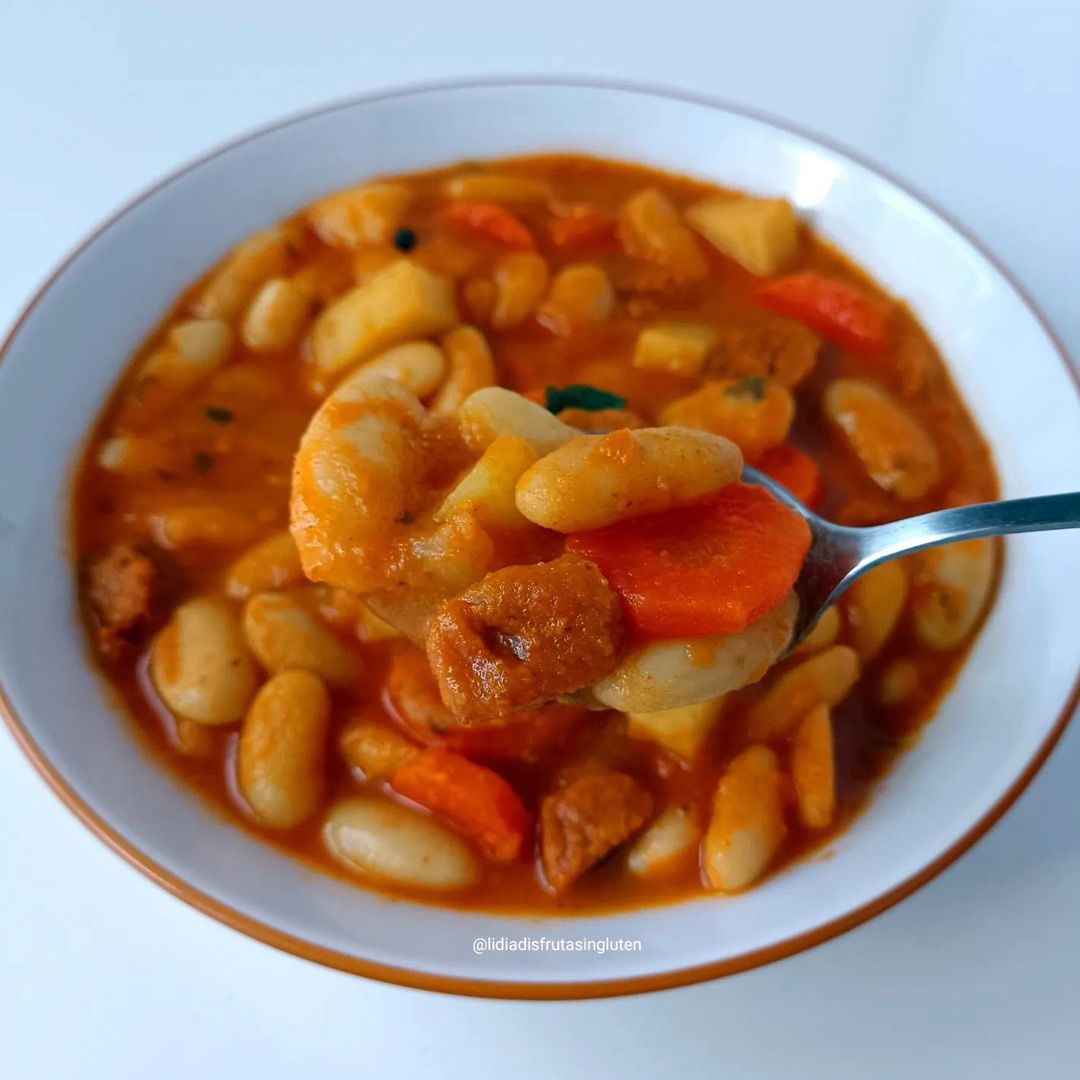 Do you know lourenzá broad beans? A real treasure of the autumn season that in this recipe from @lidiadisfrutasingluten accompanies them with our delicious pumpkin.
The Lourenzá bean is a food of exceptional quality. They are dried beans (beans or "faba beans") separated from the pod from the Fabaceae or leguminous family, species "Phaseolus vulgaris, L", of the local variety known as "Faba Galaica".
They have the PGI 'Faba de Lourenzá'. In case you don't know, PGI stands for 'Protected Geographical Indication' and is one of the quality schemes in the European Union which identifies a food product that originates in a specific place, region or country, has a specific quality, reputation or other characteristic that can essentially be attributed to its geographical origin, and at least one of its production, processing or preparation stages is carried out in the defined geographical area.
Lourenzá beans are grown in the coastal area of the province of Lugo, in the Mariña Lucense, in a series of valleys nestling between mountains, including the Lourenzá valley.
Faba Galaica' has a number of quality characteristics which distinguish it from other beans and make it highly sought after by consumers. It has an exceptional culinary quality due to its low proportion of skin (between 8-10%); to its high water absorption capacity, over 100%; and to its behaviour during cooking, obtaining whole and complete beans at the end of the process, in which the pulp, free of lumps and hardly differentiated from the skin, stands out for its pasty texture (information from www.fabasdelourenza.org).
Here we share a vegan and gluten-free dish, nutritious and with an intense flavour.
Perfect to accompany us in these days when broad beans are at their best!
Serves 4:
500 g fresh broad beans
5 carrots
3 courgettes
2 cloves of garlic
2 onions
2 potatoes
1 tomato
black pepper
1 sachet of saffron in threads
EVOO, salt and fresh parsley
Peel the carrot, garlic, onion, potatoes, tomato and courgettes. Set aside.
Sauté the garlic and onion over a low heat for 5 minutes.
Add the chopped tomato and sauté for a further 5 minutes. Add a pinch of paprika de la vera, the saffron threads, a sprig of parsley and season with salt and pepper.
and, when it starts to boil, add the carrots and beans. When it boils again, add a glass of cold water and skim off the foam.
Cook for 15 minutes and remove the carrots and some of the vegetables. Add the chopped potatoes. Cook for 10 minutes and add the previously peeled and chopped courgettes.
Chop the carrots and mash some of them together with the vegetables and the cooking water.
Add the chopped carrots and the vegetable puree. Cook for a further 5 minutes and remove from the heat.
Have you tried this recipe?
Upload an image to Instagram with your recipe and tag us!
Every day we are more lovers of Calabizo. Join up!