This is Tooltip!
Empanadilla de verduras y boloñesa con calabizo
This is Tooltip!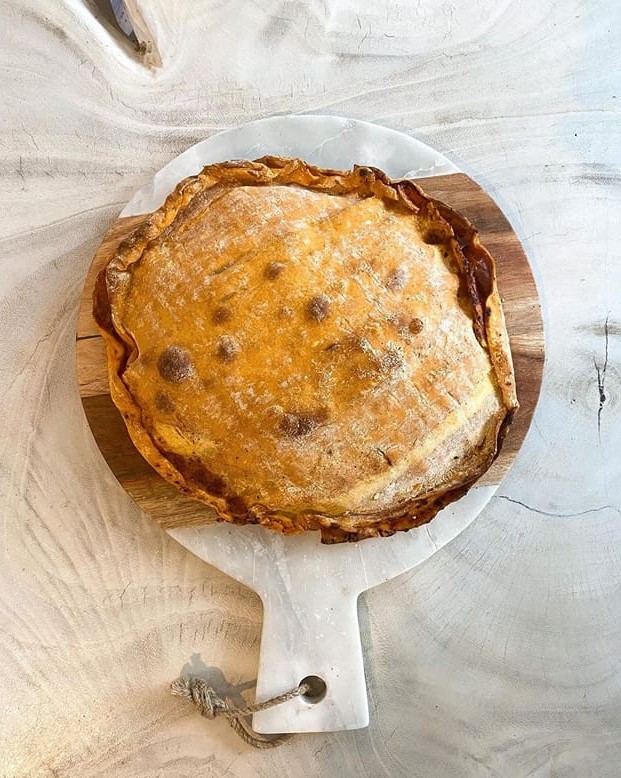 This is Tooltip!
Te proponemos esta estupenda receta de "empanadilla gigante" ideada por Azahara Luque, amante de la vida, de la naturaleza y de los animales, y quien comparte en su blog en Instagram: "Aprendiendo a ser  + conscientes"  múltiples recetas veganas fáciles para el día a día.
Esta Empanadilla de verduras y boloñesa con calabizo 🌱 está hecha con masa comprada, aunque lo ideal es hacerla con masa casera, y si no tienes tiempo siempre puedes hacerla con masa de panadería.
Para el relleno puedes usar las verduras que quieras o tengas en casa, y las que más os gusten; esta receta Azahara la elabora con champiñones y calabacín porque a sus niños les gusta más que el pimiento, que también le quedaría muy bien.
This is Tooltip!
Para el relleno:
🌱 250g. de champiñones
🌱 1 cebolla grande
🌱 300g. calabacines
🌱 100g. aceite de oliva virgen extra
🌱 500g. tomate triturado
🌱 Sal y pimienta al gusto
🌱 1/2 vaso de caldo vegetal (opcional, si decides no ponerlo recuerda que la soja o el guisante texturizado deberá estar hidratado).
🌱 1 vaso de guisante texturizado o soja texturizada.
🌱 3/4 de calabizo (clásico o picante 🌶) es opcional .
This is Tooltip!
🌿 Tritura las verduras al tamaño deseado, ponlas en la sartén con aceite de oliva y pocharlas.
🌿 Cuando estén pochadas añade el tomate, caldo vegetal y el guisante texturizado o soja texturizada en seco (si no añades el caldo vegetal, añade la soja o guisante texturizado previamente hidratado), si le añades el calabizo hazlo muy picadito o rallado 😋.
🌿Déjalo cocinar unos 10/15 minutos.
🌿Añade la salsa a una de las partes de la masa, tápalo con la otra parte e ve cerrando los bordes.
🌿Deja la empanada en el horno unos 35 minutos a 180º (hasta que se dore la masa).
💚Si ves que te queda muy líquida puedes añadir más soja texturizada o guisante texturizado.
Esperamos que disfrutes de esta original empanadilla vegana
Compra aquí tus calabizos para esta receta
Have you tried this recipe?
Upload an image to Instagram with your recipe and tag us!
Every day we are more lovers of Calabizo. Join up!