This is Tooltip!
Crema de patata con chirivía y calabizo
This is Tooltip!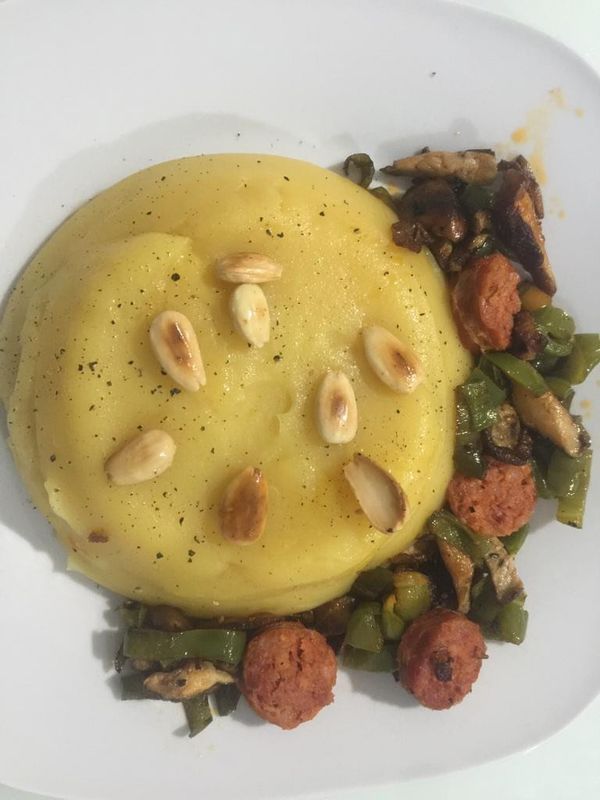 This is Tooltip!
¿Te gustaría preparar una crema de patata de suave textura y con un sabor peculiar?
Aquí te dejamos esta receta, Crema de patata con chirivía y calabizo, ideada por Lorenzo, de la tienda La alegría de la Huerta en Madrid. Una receta sencilla que sorprenderá por su sabor anisado y por su espesa textura para que pueda conservar su forma según el molde que utilicemos.
This is Tooltip!
Para la crema:
3 patatas grandes
2 chirivías grandes
1 cebolla grande
8 almendras por ración
Para el acompañamiento:
250 g de setas shiitake
8 pimientos de Padrón o 2 pimientos italianos por ración
1/2 calabizo por ración
vino blanco al gusto
This is Tooltip!
Cocemos las patatas, las chirivías y la cebolla.
Una vez cocidas, escurrimos el caldo (lo reservamos) y escurrimos y trituramos. (El objetivo es conseguir hacer una crema espesa para que mantenga la forma del molde que usemos)
Probar y rectificar de sal y pimienta al gusto.
Aparte tostaremos las almendras para después decorar con las mismas. Reservamos.
Para el acompañamiento:
Sofreímos las setas shiitake y los pimientos de Padrón (si es temporada) o en su caso los pimientos italianos junto con el calabizo previamente pelado y cortado.
Ahora solo falta emplatarlo, donde se colocará en el centro el molde con la crema de patata, se decorará con las almendras tostadas y se acompañará del sofrito de shiitake, los pimientos y los calabizos.
Esperamos que disfrutes de esta receta y la compartas con toda la comunidad calabicera!
Have you tried this recipe?
Upload an image to Instagram with your recipe and tag us!
Every day we are more lovers of Calabizo. Join up!