Coca de masa filo con verduras y calabizo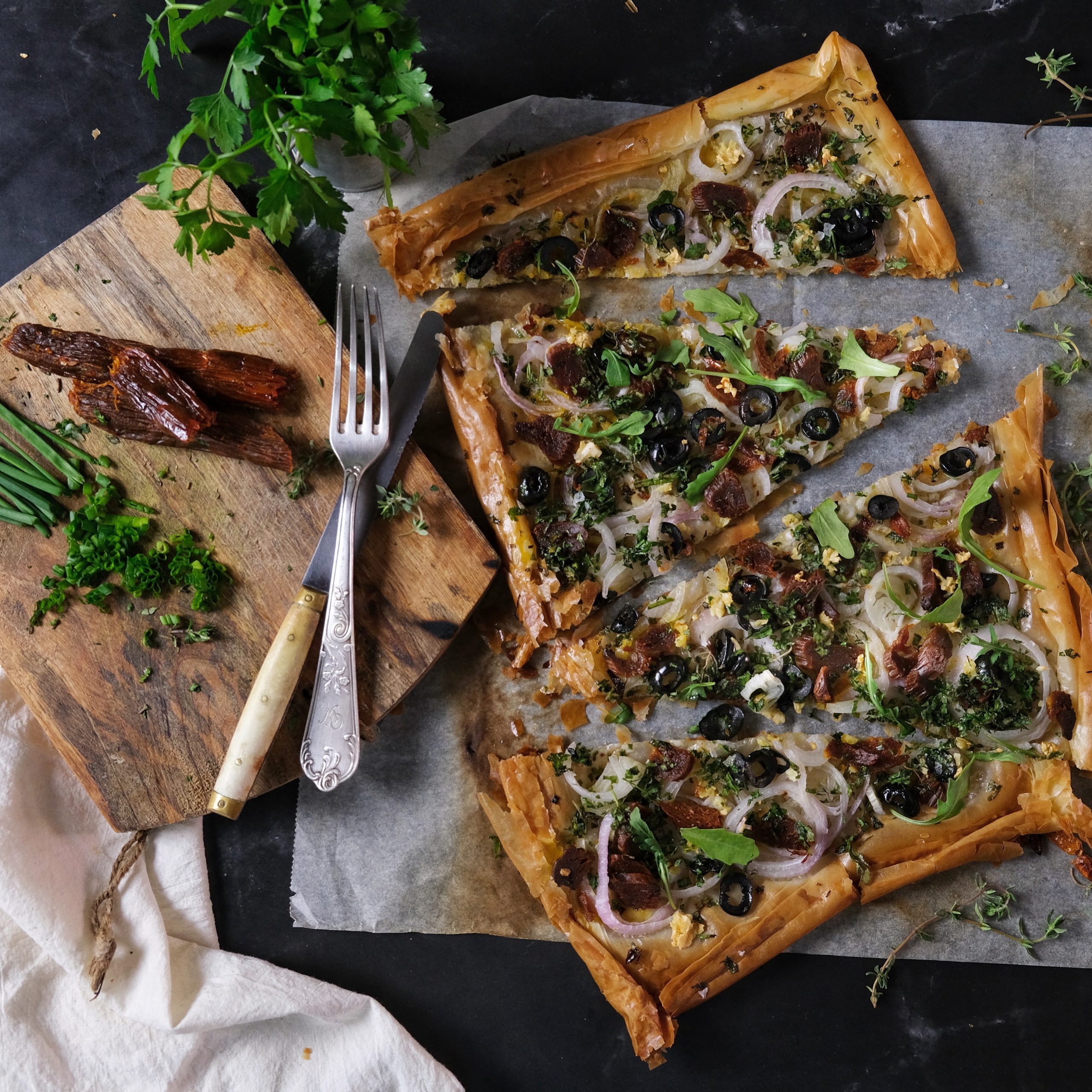 Coca de masa filo con verduras y calabizo
Disfruta de una fina y delicada "coca", hecha de masa filo, con cebolla, olivas negras, rúcula y calabizo, todo ello muy bien condimentado.
Un aperitivo ligero, 100% vegetal y con un sabor mediterráneo que te encantará.
Por cortesía de Esther, Marta y Eva, creadoras del blog Spanische Tapas Republik, y que a través del cual desean hacer llegar nuestra cocina española, y en especial nuestras suculentas tapas, a los miles de turistas de Centro y Norte Europa que cada año nos visitan.
Disfruta de esta fina coca,vegana y muy sabrosa!
Para 4 raciones:
4/5 hojas de masa filo
Aceite de oliva
Cebolla cortada en aros
Olivas negras sin hueso en aros
Calabizo (chorizo vegano) en rodajas
Rúcula
Perejil
Cebollino
Tomillo fresco
Guindilla
Ajo
Sal en escamas
Pincela las 4/5 hojas de pasta filo con aceite de oliva.
Forma los bordes de la tarta.
Sobre la masa filo coloca los ingredientes: la cebolla cortada en aros, las olivas deshuesadas y en aros, el calabizo pelado y troceado y la rúcula.
Agrega el resto de ingredientes: las hierbas variadas y las especias.
Finalmente riégalo con un buen chorro de aceite de oliva.
Hornea durante unos 15-20' a 185º.
Have you tried this recipe?
Upload an image to Instagram with your recipe and tag us!
Every day we are more lovers of Calabizo. Join up!