Calabizo y "no"huevo en pizza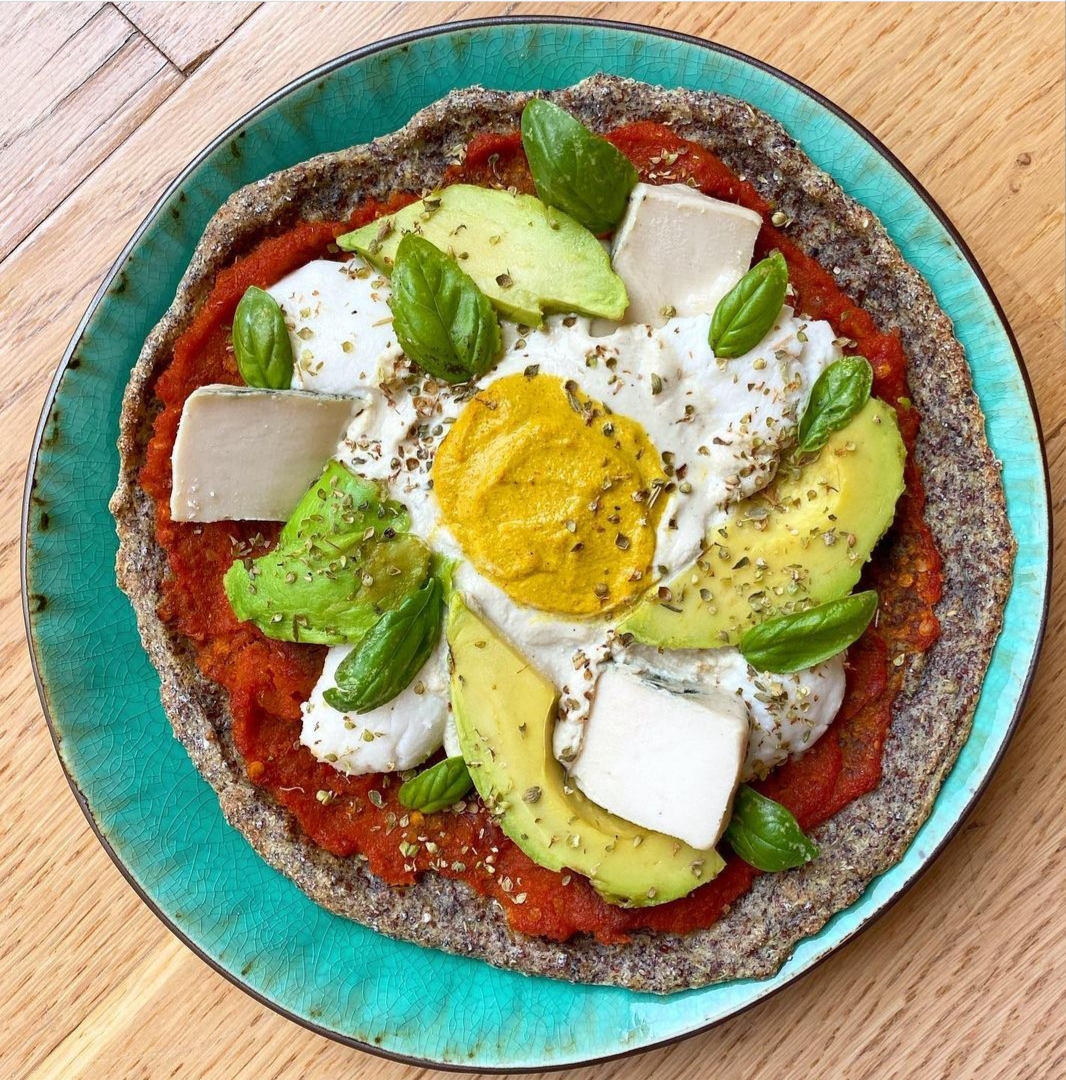 Calabizo y "no huevo" en pizza
Esta original receta, como bien dice su creadora, puede ser "amor a primera vista"
Un huevo frito un poco tuneado con chorizo, o dicho veganamente:      "no huevo" frito un poco tuneado con calabizo!
Esta receta de "Calabizo y "no huevo" en pizza es por cortesía de Berta, autora del blog #plantlover llamado @butterflieseatgreen  a través del cual comparte coloridas y nutritivas recetas basadas en vegetales que te sorprenderán!
Para el "no huevo":
200 g de tofu
Agua
Pimienta
Levadura nutricional
Cúrcuma, sal kala namak, pimentón dulce y pimentón ahumado.
Para el sofrito:
4 tomates
Tomate seco
1/4 de cebolla
Aceite de oliva virgen extra (AOVE)
1 Calabizo
Quesitos veganos
Para la masa:
1/2 taza de quinoa remojada
1 cucharadita de semillas de lino
Elaboración de las partes del "no huevo"
Trituramos medio bloque de tofu (200g) para hacerlo tipo crema con agua y pimienta y levadura nutricional y se la echamos a la masa cuando la tengamos ya cocida, para darle el aspecto de clara.
Para la yema añadimos las especias al restante de la crema: la cúrcuma,  la sal kala namak, el pimentón dulce y el pimentón ahumado.
Elaboración del sofrito:
Pelamos 4 tomates grandes y los trituramos con un 1/4 de cebolla y lo rehogamos en la sartén con aceite de oliva virgen extra, sal y tomate seco.
Una vez reducida la salsa de tomate, cortamos el calabizo a taquitos (previamente pelado) y lo añadimos apagando el fuego.
Luego agregamos diferentes quesitos veganos, aguacate y orégano.
Elaboración de la masa:
La masa es de quinoa, hecha con 1/2 taza de quinoa remojada y una cucharadita de semillas de lino, todo batido en la licuadora y horneado a 200 grados durante 10 minutitos hasta que ha quedado compacta.
Montaje y horneado de la pizza:
Sobre la masa de quinoa añadimos el sofrito (tomate y el 1/4 de cebolla triturados con tomate seco y rehogado todo en la sartén con AOVE) y los ingredientes.
La masa ya estaría lista para ser horneada unos 5 minutos junto con el sofrito y resto de los ingredientes.
Al final le podemos dar un toque mediterráneo con albahaca fresca.
Esperamos que triunfes con esta sencilla y original receta!
Have you tried this recipe?
Upload an image to Instagram with your recipe and tag us!
Every day we are more lovers of Calabizo. Join up!