Zoodles con trigo germinado y calabizo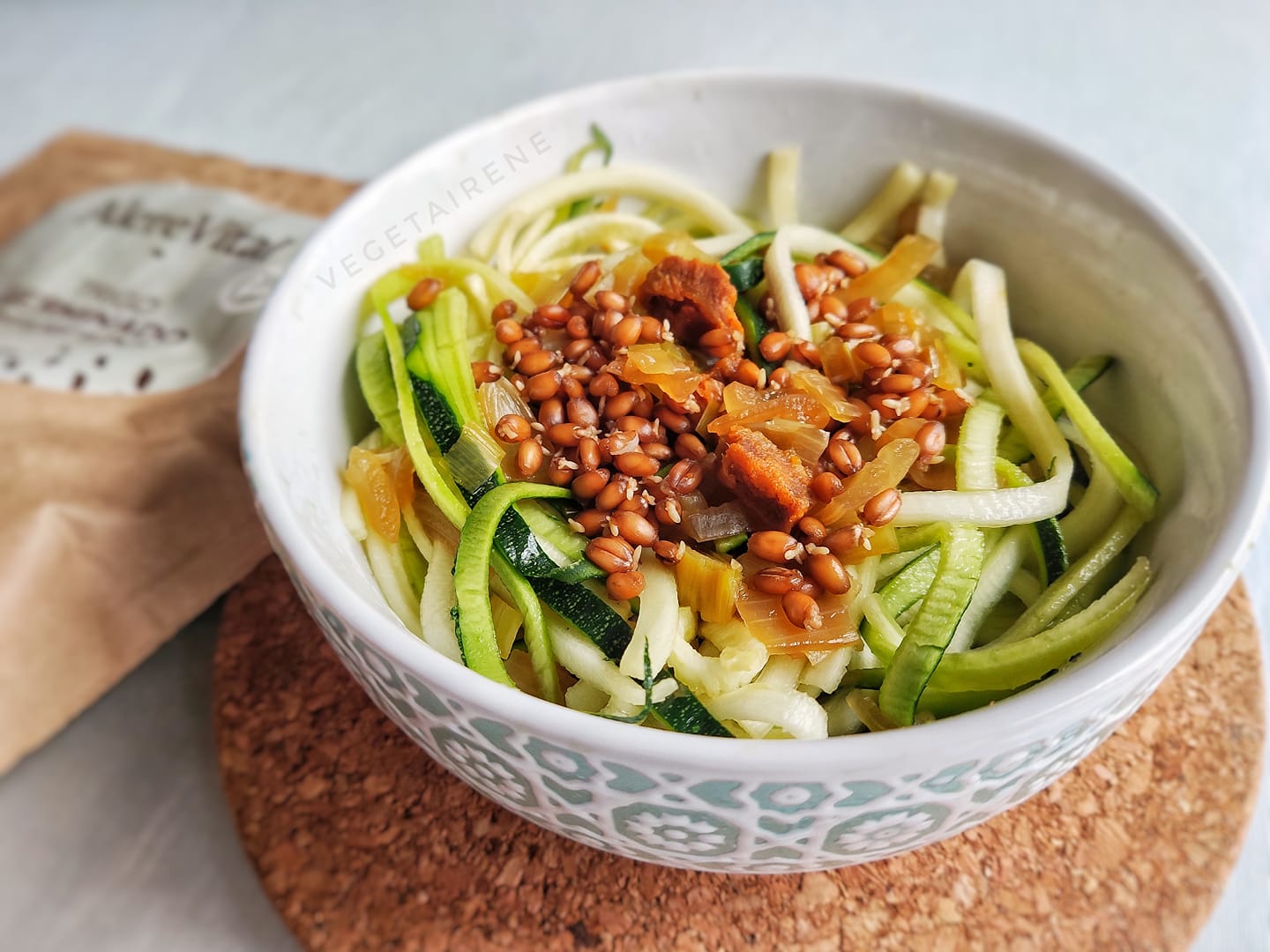 ZOODLES CON TRIGO GERMINADO Y CALABIZO
Un plato sencillo, nutritivo y delicioso.
Esta idea calabicera la comparte Irene a través de su estupendo blog de recetas vegetarianas @vegetairene.
Todas sus recetas están  basadas en plantas y elaboradas con comida real, apoyando el movimiento #realfooding que promueve consumir "comida de verdad" y no abusar de los ultraprocesados y alimentos llenos de aditivos y conservantes.
Nuestro embutido de calabaza, aún siendo un alimento procesado (porque para hacerlo requiere un proceso de producción) es considerado un "procesado bueno": de tan solo 7 ingredientes y reconocidos por todos: calabaza (90%), cebolla, ajo, aceite de oliva virgen extra, pimentón, orégano y sal.
Los ingredientes una vez cocinados y mezclados, se ahúman en madera de roble para después pasar al secadero durante 1 mes en el cual tiene lugar un proceso de fermentación que es lo que hace que no precise conservantes ni tenga que conservarse refrigerado.
Por eso a Irene le gusta incluir calabizo en su cocina porque es vegetal y su proceso es artesanal y cuidado, elaborado con materia prima de gran calidad y sin aditivos de ningún tipo.
Aquí tienes la receta que esperamos disfrutes y te animes a probarla!
para 1 ración:
1 calabacín medianito
1/2 cebolla fresca
1 trozo de puerro
salsa de soja
1 trocito de calabizo
1/2 taza de trigo germinado braseado
Especias al gusto
Los zoodles (espaguetis de calabacín) los puedes hacer con una especie de "sacapuntas" que lo puedes encontrar en multitud de tiendas especializadas en menaje de cocina.
Unas horas antes, ponemos a remojar el trigo germinado.
Escurrimos bien y ponemos a cocer con un poco de sal. El paquete indica más tiempo, pero yo lo tuve 20min. porque quería que quedase un poco crujiente, me gusta más.
En una sartén u olla con el aceite de oliva virgen extra, sofreímos la cebolla y el puerro picados con un chorrito de salsa de soja.
Cuando el trigo esté listo, lo escurrimos y añadimos a la olla junto con el calabizo troceado (y previamente pelado) y los espaguetis de calabacín, y añadimos las especias que queramos (yo le puse un poco de curry porque me encanta).
Listo para disfrutar! ¿te animas?
Have you tried this recipe?
Upload an image to Instagram with your recipe and tag us!
Every day we are more lovers of Calabizo. Join up!