Vasitos de patata con calabizo y tejas de queso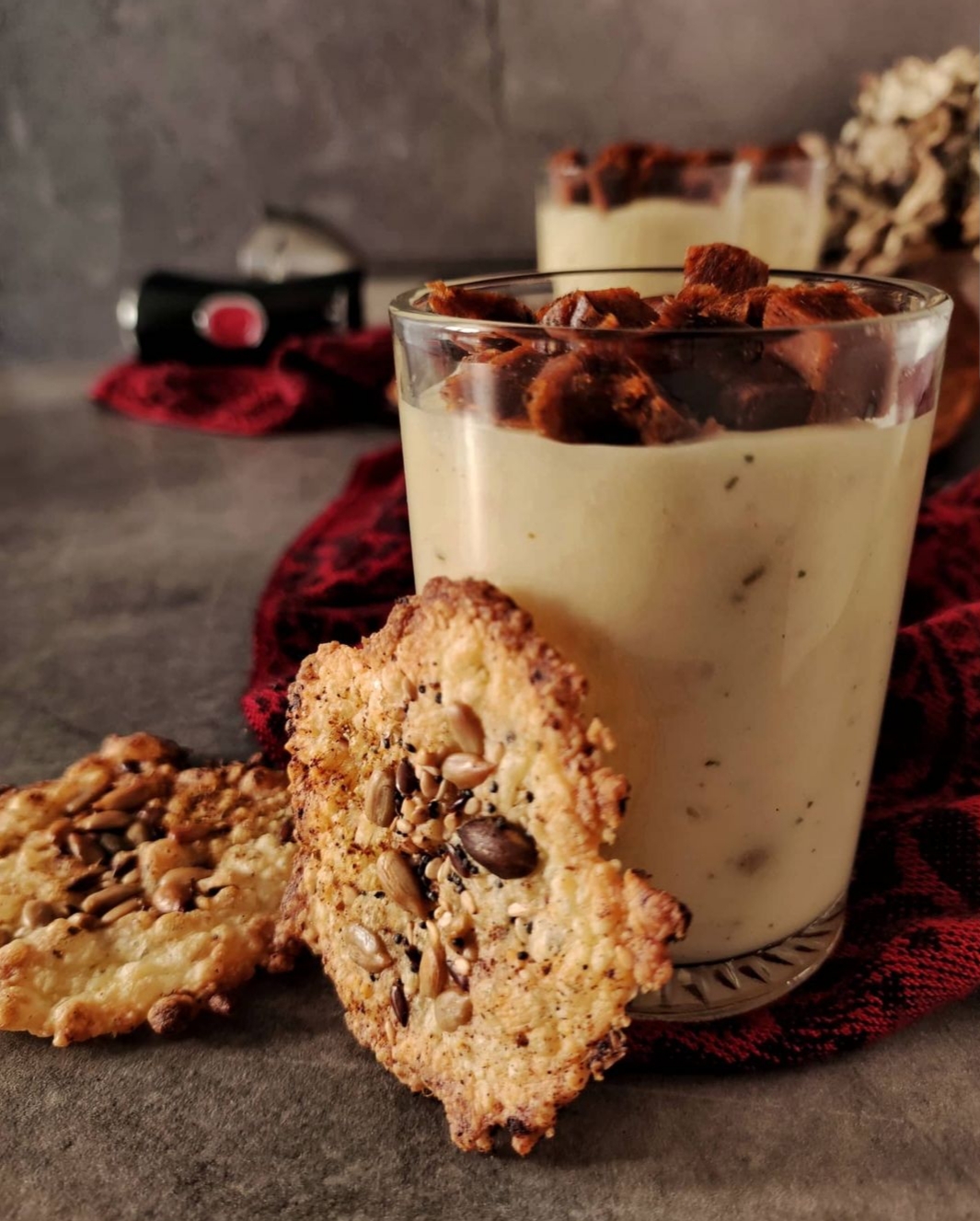 Os presentamos una idea deliciosa elaborada con nuestro sabroso Calabizo!
Vasitos de patata con calabizo y tejas de queso.
Por cortesía de Alicia, autora del blog @elvallevegg, quien nos anima con un entrante calentito, previo a una buena comida o cena, basada en vegetales.
Nos cuenta que estos vasitos se preparan en un momento y el contraste de sabores y texturas hace que sean el entrante perfecto en cualquier evento alrededor de una mesa!
Para 3/4 vasitos pequeños
(5′ preparar + 20′ cocinar)
 Para la crema:
-3 patatas medianas
-200 ml de nata vegetal
-50 ml de agua de cocción
-1 cdita de especias para hummus o pimienta negra y pimentón ahumado en su defecto
-Pizca de sal
1. Cocer las patatas sin piel en una vaporera o en una olla.
2. Cuando estén cocidas, hacerlas puré con la batidora añadiendo el resto de ingredientes hasta tener una crema suave.
 Mientras se cuecen las patatas, vamos preparando las tejas de queso y el calabizo:
 Para las tejas:
-Queso rallado vegano
-Orégano, pimentón picante y semillas
1. Sobre un papel de horno, colocar montoncitos de queso. Espolvorear un poco de orégano y de pimentón y añadir unas semillitas.
2. Hornear a máxima temperatura, con el horno en función gratinar, unos minutillos hasta que veáis que el queso está fundido y los bordes empiezan a dorarse.
3. Enfriar en rejilla 1 minuto.
Para montar los vasitos, si tienes manga pastelera ideal, pero si no, con una cuchara pequeña rellenar los vasitos con la crema de patata casi hasta arriba, poner una capa de calabizo en cubitos (previamente pelado y troceado) y acompañar con las tejas de queso.
¿te animas a preparar este sabroso aperitivo?
Have you tried this recipe?
Upload an image to Instagram with your recipe and tag us!
Every day we are more lovers of Calabizo. Join up!