Tortilla de patata con calabizo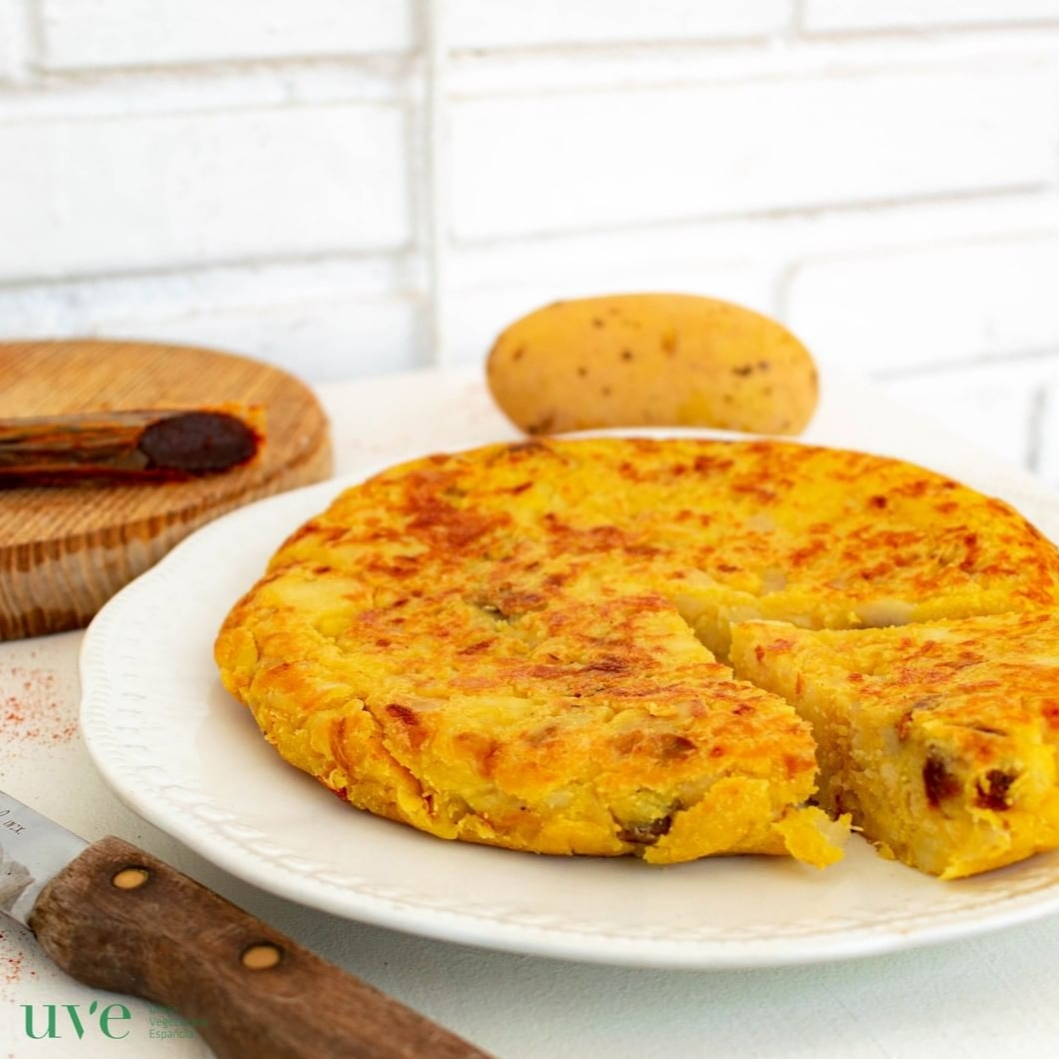 Tortilla de patatas con calabizo
Como bien dicen desde la Unión Vegetariana Española, todo o casi todo se puede veganizar en esta vida! y como prueba te traemos esta magnífica tortilla de patatas con chorizo! y vegana! sí, sí, como lo estás leyendo!
Aquí tienes la receta para que puedas elaborar esta deliciosa tortilla de patatas con calabizo!
En el Instagram de la UVE cuentan que "la tortilla de patata tiene mil versiones, y sin duda la de chorizo es una de las más tradicionales y repetidas" y no les falta razón, porque la tortilla con chorizo ya es un clásico en nuestra cultura gastronómica así que ¿por qué no disfrutarla en versión #plantbased?
Con nuestro embutido de calabaza al fin podrás disfrutar de una sabrosa tortilla de patatas con chorizo, pero toda ella 100% vegetal!
200g. de patatas⁠
1 cebolla ⁠
1 calabizo⁠ (puedes elegir entre normal o picante)
100g. de harina de garbanzo⁠
150ml. de bebida de soja sin azúcar o agua⁠
Cúrcuma⁠
Pimienta negra⁠
1cdta. de sal y pizca de sal negra⁠
Chorrín de vinagre⁠
Aceite de oliva⁠
Pelamos y lavamos las patatas. Las troceamos de forma que queden filetes finos.
Picamos la cebolla y la echamos en una sartén con abundante aceite de oliva.
Agregamos las patatas a la sartén junto con la cebolla. Dejamos que se cocinen bien. Tarda unos 20 minutos.
Pelamos y troceamos el calabizo y cuando estén las patatas casi hechas añadimos la mitad a la sartén para que se fría un poco.⁠
Mientras tanto, preparamos nuestro "huevo".

En un bol grande mezclamos la harina de garbanzo con una pizca de cúrcuma, pimienta negra, sal negra, sal y un chorrito de vinagre.
Añadimos agua o bebida de soja y removemos bien. Tiene que quedar espesito pero no demasiado. Mezclamos bien para que no queden grumos. Podemos probar la mezcla para ver si está bien de sal, y añadimos el resto del calabizo.⁠

Una vez tengamos listas las patatas, cebolla y calabizo, lo sacamos con una espumadera escurriendo bien y al bol. Mezclamos bien.⁠
En la misma sartén con el aceite escurrido o en otra, (es importante que sea antiadherente y que tenga altura suficiente como para hacer una tortilla) calentamos y vertemos toda la mezcla. ⁠
Podemos tapar y dejamos que se haga un par de minutos. Damos la vuelta con cuidado con ayuda de un plato y dejamos que se haga por el otro lado.
Podemos darle tantas vueltas como queramos hasta que se dore lo suficiente. Recomiendo dejarlo mínimo 7-10 minutod a fuego medio-alto en total.⁠
¿Resultado? una auténtica "tortilla de patatas con chorizo" pero toda ella en versión vegana, deliciosa, nutritiva y sorprendente!
¡Compra aquí tus calabizos para tan sabrosa tortilla!
Have you tried this recipe?
Upload an image to Instagram with your recipe and tag us!
Every day we are more lovers of Calabizo. Join up!