Soufflé vegano con calabizo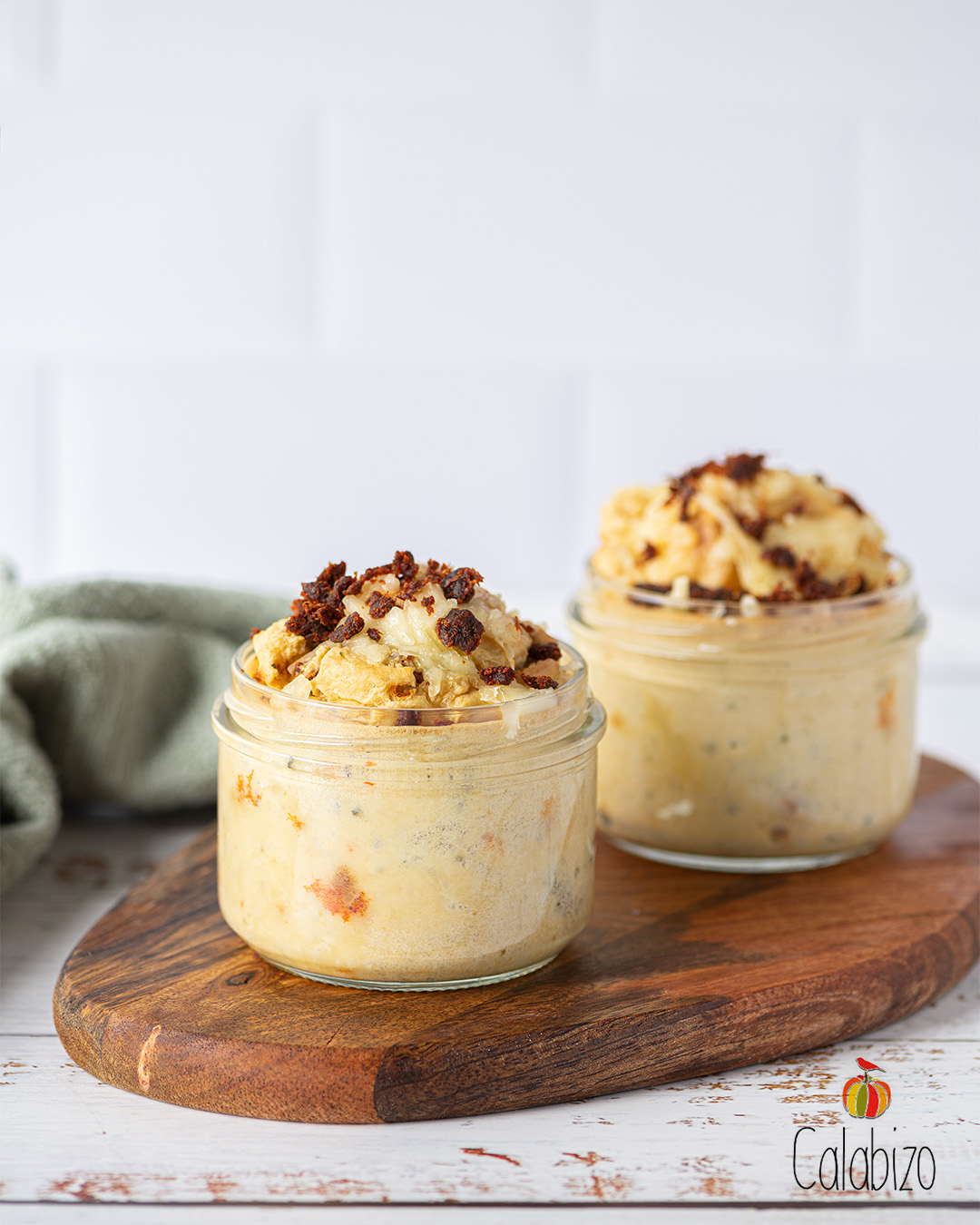 Te proponemos una idea de Soufflé salado y sin huevo:
un soufflé vegano con calabizo!
El nombre francés "soufflé" significa soplo, algo con aire... viene a ser como algo "inflado".
En gastronomía, se trata de un plato preparado con claras de huevo a punto de nieve y otros ingredientes, que al cocerse en el horno se infla y adquiere una consistencia esponjosa.
Con esta idea de María Montero, fotógrafa gastronómica, serás capaz de disfrutar de un sabroso Soufflé salado y vegano que te va a encantar!
Con tofu, harina de garbanzo y bebida de soja, conseguirás preparar un soufflé con un increíble sabor a chorizo que le aporta nuestro calabizo!
Un "soplo de aire" muy sabroso que estamos seguras de que te gustará!
¿Te animas a probarlo?
Para 2 unidades:
250 g de tofu

50 g de harina de garbanzos

1 cucharadita de levadura química

50 g de leche de soja

50 g de ramitos de brécol cocido

50 g de queso vegano rallado (más 2 cucharadas para finalizar)

30 g de calabizo pelado y picado (más 2 cucharadas para finalizar) 
Trituramos con la batidora el tofu, la harina, la levadura y la leche de soja.
Agregamos a la mezcla los ramitos de brécol, el queso vegano y el calabizo.
Removemos bien y vertemos la masa en dos moldes tipo ramequín.
Los horneamos a 180º C durante 15-20 minutos, hasta que empiece a sobresalir el copete y a dorarse la superficie.
Añadimos entonces una cucharada de queso vegano rallado sobre cada soufflé y los metemos un minuto más en el horno para que se funda.
Por último, espolvoreamos una cucharada de calabizo picado encima de cada soufflé y servimos en el mismo recipiente.
Have you tried this recipe?
Upload an image to Instagram with your recipe and tag us!
Every day we are more lovers of Calabizo. Join up!