Espaguetis integrales con calabizo y pimientos de Padrón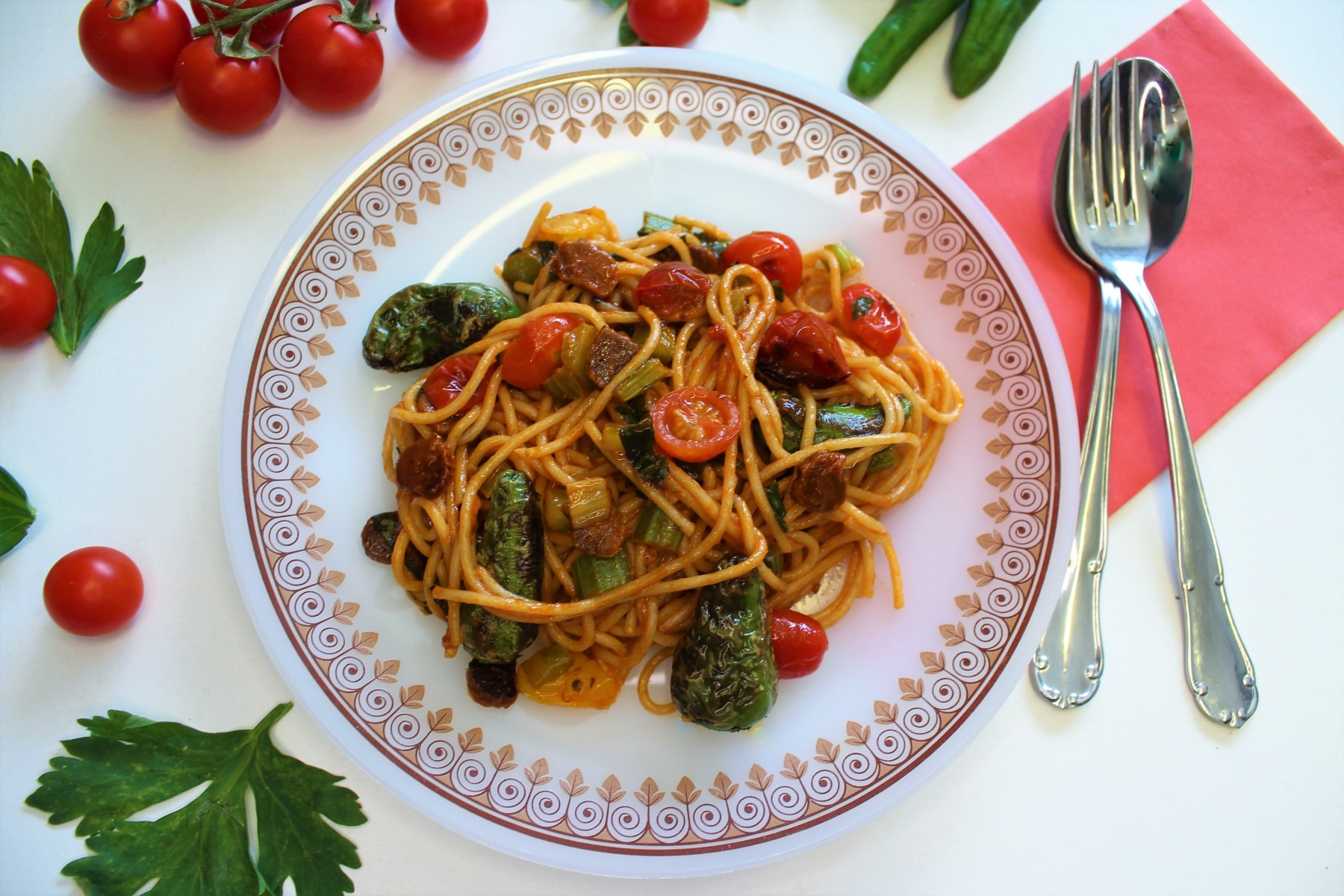 Espaguetis integrales con calabizo y pimientos de Padrón.
Desde que Jonathan, autor del estupendo blog de recetas: La Cocina de Jota probó nuestro Calabizo dice que quedó prendado y ya son varias las recetas calabiceras que nos propone, porque según él nuestro chorizo de calabaza "tiene ese sabor a ahumado natural tan característico que lo hace especial, sobretodo la versión picante".
Esta sencilla receta incluye pimientos de Padrón (una variedad de pimiento con D.O protegida y llamados Pimientos de Herbón) que le dan un toque muy especial a estos espaguetis integrales, haciendo que resulte un plato delicioso, un tanto picantito y muy sabroso, muy apetecible en estos días de verano.
320 g espaguetis integrales
200 g tomates cherry
180 g apio
100 g tomate frito casero.
100 g pimientos de Padrón
100 g de calabizo (2-3 unidades)
25 ml Aceite de Oliva Virgen Extra
sal marina
Poner a cocer agua en una olla amplia; cuando rompa a hervir, añadir la sal, esperar a que vuelva a hervir y sumergir los espaguetis, cocer siguiendo las indicaciones de la marca o fabricante.
En una sartén amplia sofreír el apio, calabizo y pimientos de Padrón. En el último momento agregar los tomates cherry cortados por la mitad y el tomate frito casero; sazonar.
Cuando la pasta esté cocida, colar y mezclar con las verduras con Calabizo.
Esta receta más sencilla no puede ser... y más sabrosa tampoco!
Have you tried this recipe?
Upload an image to Instagram with your recipe and tag us!
Every day we are more lovers of Calabizo. Join up!