Salteado de verduras con tofu y calabizo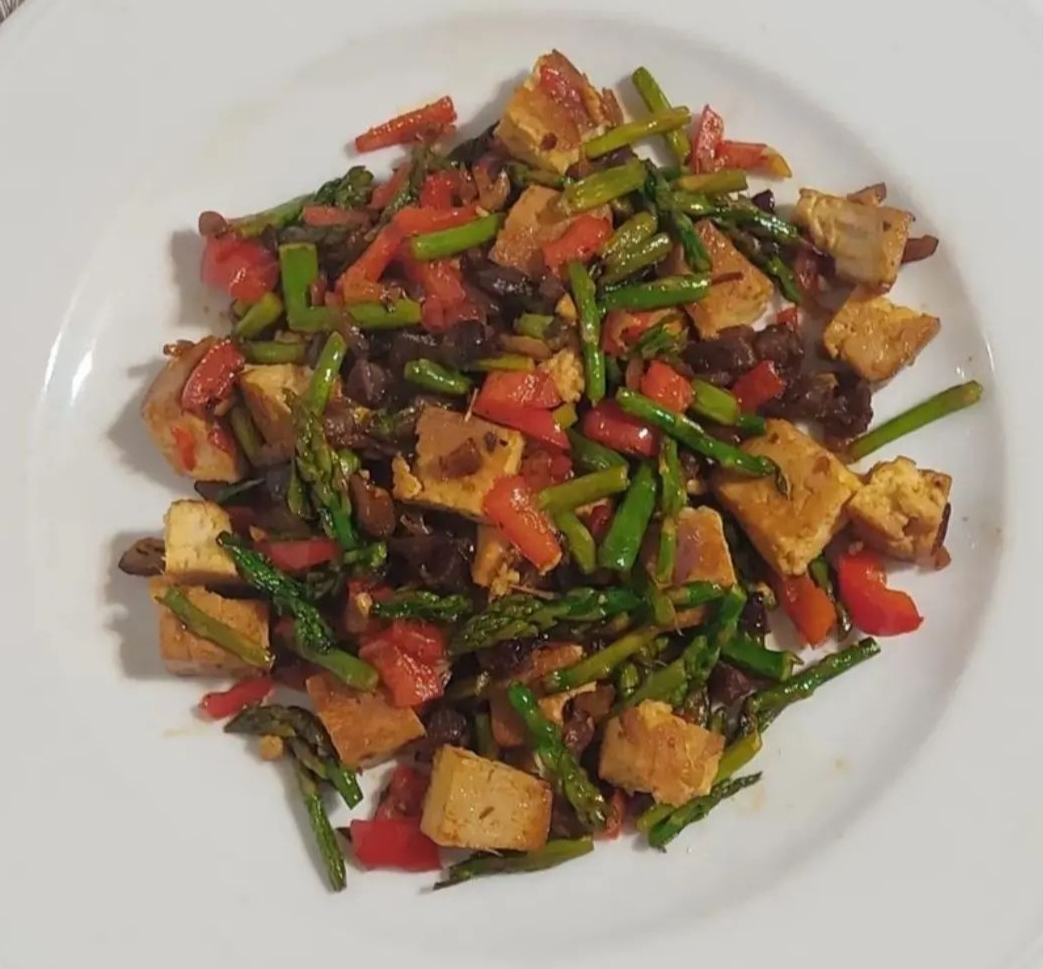 Si eres de los que no te gustan las verduras te invitamos a probar este manjar y comprobarás qué sabroso puede llegar a ser el mundo de las verduras!
y si eres de los que te gustan las verduras, no dejes de probar este saludable y sabroso plato de verduras, te sorprenderá!
Esta receta calabicera es por cortesía de Isabel, amante de los animales y de la naturaleza y en su blog @vegan_recetitas podrás descubrir  sabrosas recetas veganas como este Salteado de verduras con tofu y calabizo.
1 cebolla roja
1/2 pimiento de cada tricolor
Espárragos trigueros
Tofu natural
1 Calabizo (puedes elegir entre normal y picante)
Aceite de oliva virgen extra
Sal y pimienta
En una sartén ponemos una cucharada  de aceite de oliva virgen extra y echamos la cebolla previamente cortada en juliana.
Mientras tanto vamos cortando los pimientos en trozos o juliana (como más te guste) y añadimos a la sartén de la cebolla.
Abrimos el tofu y le secamos bien el agua, cortamos en daditos y reservamos.
Vamos cortando en trozos no muy pequeños los espárragos.
Sacamos de la sartén la cebolla y los pimientos y reservamos.
En la misma sartén echamos el tofu y dejamos que se dore, cuando esté dorado lo sacamos y ponemos junto la cebolla y pimientos.
Añadimos los espárragos a la sartén, cuando estén tiernos echamos el calabizo en trozos pequeños, dejamos que se haga un poco y ya podemos poner las verduras y el tofu que teníamos reservado, le damos unas vueltas, salpimentamos y servimos!
Have you tried this recipe?
Upload an image to Instagram with your recipe and tag us!
Every day we are more lovers of Calabizo. Join up!