This is Tooltip!
Quesadillas veganas con calabizo
This is Tooltip!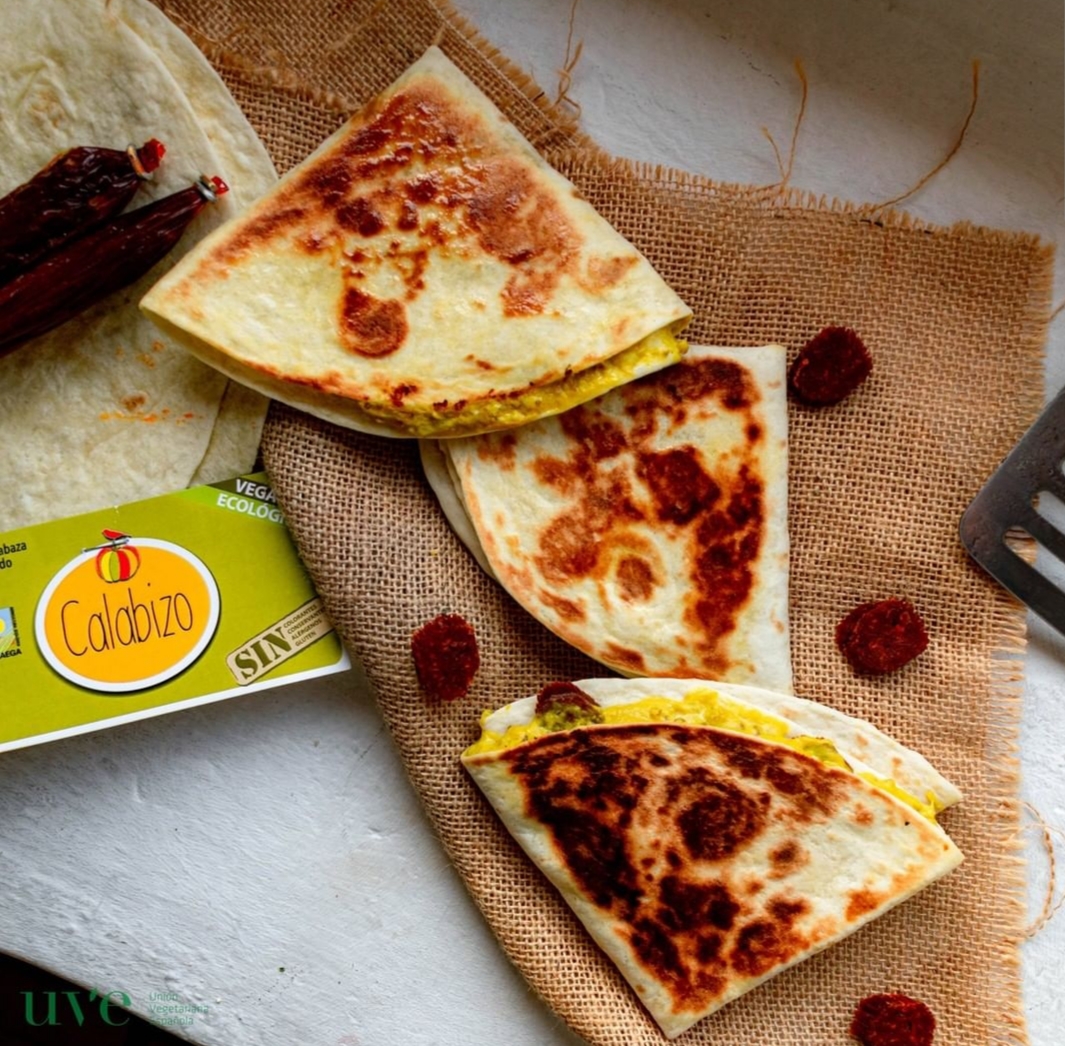 This is Tooltip!
Las tortillas están de moda!
Desde la Unión Vegetariana Española proponen esta receta de quesadillas veganas con calabizo, como una opción genial para una cena, merienda o incluso desayuno diferente; y la verdad es que nuestro embutido de calabaza le va perfecto a esta receta.
¿Te animas a prepararla?
This is Tooltip!
🔸3 tortillas de maíz/trigo blancas o integrales
🔸1 calabizo
🔸Aceite de oliva virgen
Para el queso vegano:
▪300ml bebida de soja sin azúcar
▪150g de levadura de cerveza/nutricional
▪Zumo de ½ limón
▪Pizca de cúrcuma
▪Sal ahumada (o yodada normal)
This is Tooltip!
En una sartén amplia, vertemos la bebida de soja (funciona mejor que otras leches vegetales). La ponemos a hervir, y cuando empiece a humear, añadimos la levadura de cerveza, la cúrcuma y la sal.
Removemos bien durante unos  10 minutos para que no se queme ni se pegue, y comience a espesar. Una vez esté empezando a espesar, añadimos el zumo de limón. En seguida veremos cómo adquiere consistencia.
Removemos un poco más y ya tenemos nuestro queso vegano fundido y bien calentito.
Rellenamos las tortillas con esta salsa de queso y el calabizo cortado a rodajas o taquitos. Las doblamos y hacemos a la plancha o en la sandwichera con un poco de aceite de oliva.
Acompañamos de una buena ensalada,  y ¡a disfrutar!🙃
Have you tried this recipe?
Upload an image to Instagram with your recipe and tag us!
Every day we are more lovers of Calabizo. Join up!