Potaje de alubias con verduras y calabizo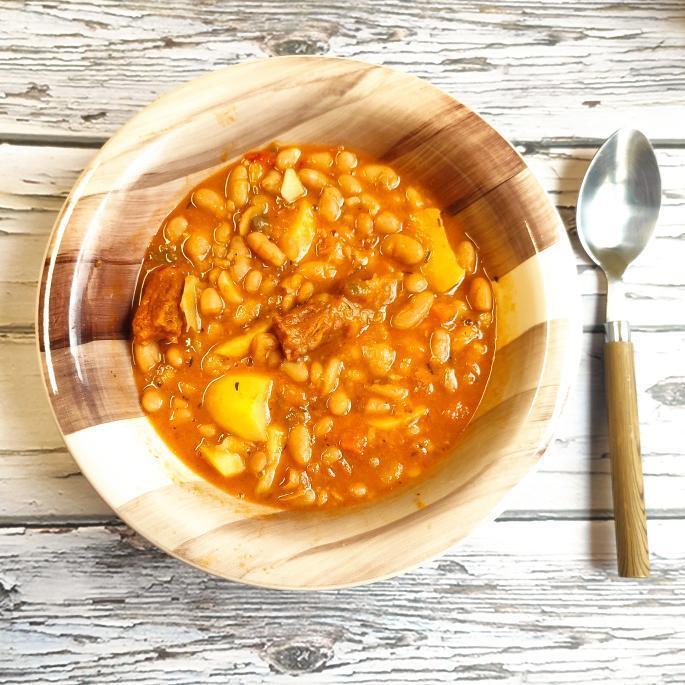 Siempre sientan bien los platos de cuchara y más si todavía los días están frescos!
Así que hoy compartimos este sabroso
Potaje de alubias con verduras y calabizo
Esta receta la propone una chica andaluza desde la provincia de Córdoba, ella es vegetariana desde hace 4 años, y le encanta cocinar, subiendo sus recetas a instagram
@green_essential
Además tiene un canal de YouTube llamado
"Brújula Púrpura"
donde sube más recetas y vlogs de viajes!
Esperamos que la disfrutes y te animes con esta fácil y nutritiva receta de legumbres con verduras!
- 1 bote de alubias cocidas
- 1 patata mediana
- 1 zanahoria.
- 1/2 cebolla
- 1 pimiento verde
- 2 dientes de ajo
- 2 cucharadas de tomate triturado.
- 1 calabizo.
- Pimentón dulce en polvo.
- Tomillo
- Romero.
- Comino en polvo.
- Sal
- Pimienta.
- Aceite de oliva vírgen extra. (AOVE)
En una olla se echa un chorrito de aceite de oliva virgen extra y se sofríen los ajos bien picados, después se añaden las verduras bien troceadas (zanahoria, cebolla, pimiento y patata) se sal pimienta y se marea dos minutos.
Se añaden un par de cucharadas de tomate triturado, se mezcla con el sofrito de verduras, y se agregan las alubias cocidas (previamente lavadas y escurridas) y agua hasta lo que cubra; no mucha más porque tardaría tanto en hacerse que habría que esperar más tiempo a que espese y se cocinarían demasiado las alubias que ya que están cocidas.
Se sal-pimenta, y echa una cucharadita pequeña de pimentón, una pizca de comino, tomillo y romero y se cuece unos 20 minutos.
Finalmente se agrega el calabizo (previamente pelado y troceado) y se deja cocinar unos 10 minutos y a servir!
¿Te animas con este sencillo potaje de alubias?
¿Le quieres dar un toque especial con nuestro embutido de calabaza?
 Puedes comprar aquí tus calabizos, para tan sabroso potaje!
Have you tried this recipe?
Upload an image to Instagram with your recipe and tag us!
Every day we are more lovers of Calabizo. Join up!