This is Tooltip!
Pizzas veganas de boniato y Calabizo
This is Tooltip!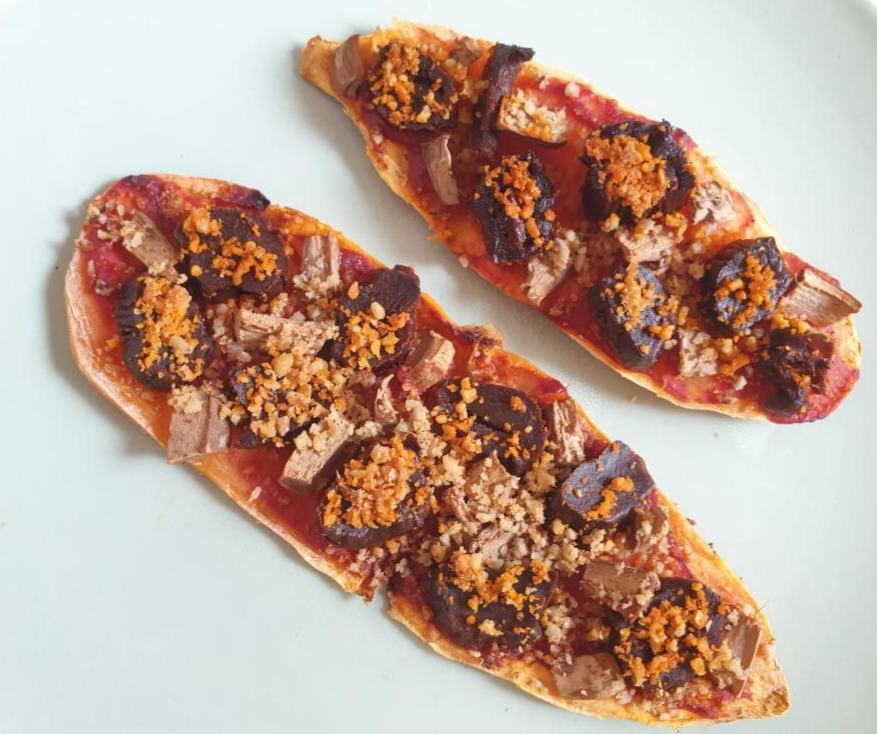 This is Tooltip!
¿Te animas con estas originales pizzas veganas de boniato y Calabizo?
Esta receta es muy sencilla de hacer y alegrarás a más de un paladar!!!
Marisa Riquelme, creadora de esta estupenda receta, además de ser colaboradora en el proyecto @realfooding, pronto será Técnica Superior en Dietética. Ella es una apasionada de la nutrición, le encanta aprender, enseñar, divulgar y compartir contenido relacionado con su profesión;  sobretodo recetas, sencillas y accesibles.
This is Tooltip!
1 boniato
2 Calabizos (puedes elegir entre sabor clásico o picante, que le da un toque!)
Tomate concentrado
Champiñones (usé los rabos que me sobraron de unos champis rellenos)
Parmesano vegano de @vita33shop (recuerda que tienes un 10% de descuento en toda la web usando el código MAESTRA)
This is Tooltip!
Precalentamos el horno a 210° C.
Pelamos el boniato y lo cortamos en rodajas.
Añadimos el tomate concentrado, los champis cortados, el Calabizo (previamente pelado y troceado) y el parmesano vegano.
Llevamos al horno unos 30 minutos aproximadamente.
Al salir podemos añadir un poco de orégano o hierbas provenzales.
¿A que nunca pensaste en preparar unas pizzas tan fácilmente?
Esperamos que te haya gustado esta idea calabicera y te animes a prepararla.
Have you tried this recipe?
Upload an image to Instagram with your recipe and tag us!
Every day we are more lovers of Calabizo. Join up!