Pizza vegana y sin gluten con monella y calabizo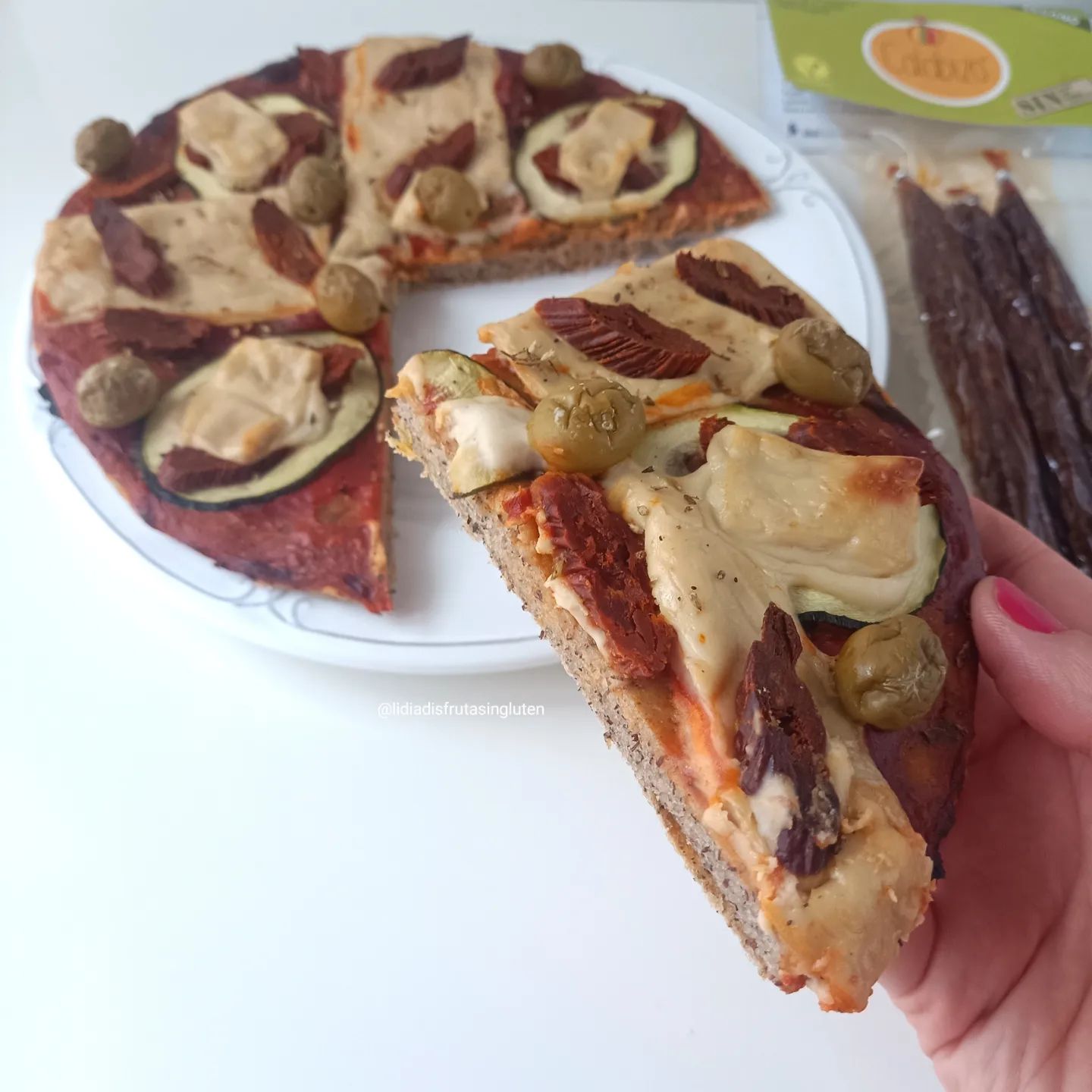 ¿Conoces a alguien que no le guste la pizza? porque nosotras todavía no!
Vamos con una receta para todos, vegana y sin gluten, y así incluimos a todas estas personas que por motivos de salud o filosofía de vida puedan disfrutar de una sabrosa pizza!
Esta receta de Pizza Vegana y Sin Gluten con monella y calabizo es ideada por Lidia, nuestra embajadora y autora del blog Lidia Disfruta sin Gluten  un blog repleto de fantásticas recetas sin gluten. 
Esta pizza está hecha con harina de arroz y trigo sarraceno y la masa es tierna y crujiente además de rápida de elaborar.
Nos cuenta que en la feria de productos ecológicos Biocultura celebrada en A Coruña descubrió y degustó los productos veganos del obrador de quesos veganos VEGGIEKARMA quienes elaboran un queso espectacular con calabizo, llamado Sant Andreu, digno de mencionar y no porque esté hecho de calabizo (que también) sino porque es algo único y está riquísimo! aunque para esta pizza utiliza su mozarella vegana llamada Monella. 
Esperamos que te guste esta original receta!
🫓Base de pizza
• 150 ml de agua tibia
• 100 g de trigo sarraceno
• 100 g de harina de arroz
• 5'5 g de levadura seca panadería
• 1 cda de AOVE
• Sal
🍅Topping
• 150 g de Monella (monella fermentada estilo mozzarella vegetal @veggiekarmafood)
• 1 chorizo calabizo
• 4 cdas de tomate frito
• Rodajas de calabacín
• Aceitunas
• Orégano
- Mezclar todos los ingredientes necesarios para elaborar la base de pizza. Amasar y dejar reposar durante 30 min.
- Precalentar el horno a 200°C.
- Hornear a 200°C durante 10 min.
- Retirar la pizza del horno y añadir la salsa de tomate, el calabacín en rodajas, el calabizo previamente pelado y troceado, la Monella vegana y las aceitunas. Agregar orégano.
- Hornear 15 min más.
¡Hecha la pizza, a disfrutar!
Have you tried this recipe?
Upload an image to Instagram with your recipe and tag us!
Every day we are more lovers of Calabizo. Join up!