Pizza Roll con mözza y calabizo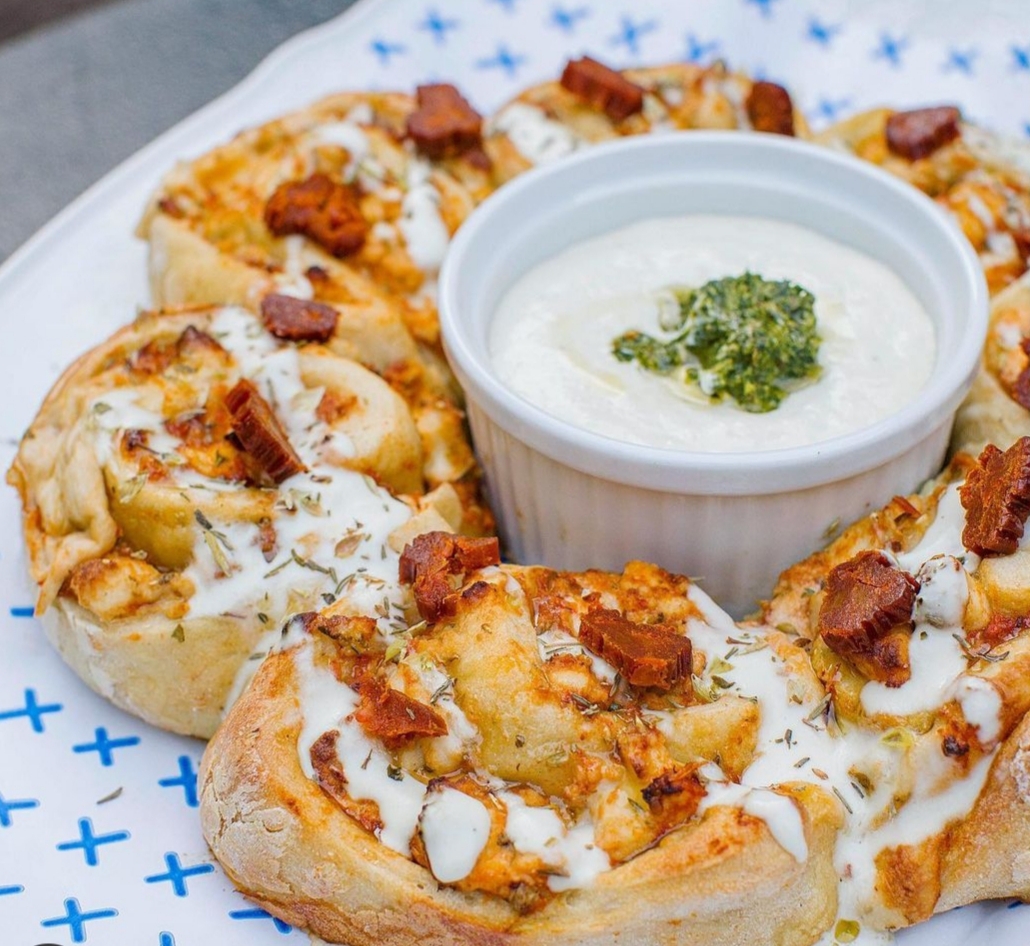 Hoy compartimos esta singular receta de Pizza Rolls de mözza y calabizo, idea de Väcka, que uniendo los sabores de sus quesos veganos y nuestro embutido de calabaza el resultado es realmente sabroso y sorprendente.
Väcka, que en sueco significa "despertar", es un restaurante vegano y desde 2019 una quesería artesanal vegana en la que elaboran alimentos que invitan a abrir los ojos. Puedes saber más acerca de su proyecto en este enlace: Väcka
Descubre la receta Pizza Rolls de mözza y calabizo
Ingredientes roll⁠:
⁠⠀🌱 600g de masa de pizza (la puedes hacer tú o pedirla en tu panadería favorita). ⁠⠀
🌱 150g de salsa de tomate. ⁠⠀
🌱 225 g de mözza, queso vegano de almendras.
🌱 1 unidad de calabizo, puedes elegir entre normal o picante.
🌱 Hierbas a voluntad, esta receta lleva tomillo y romero.
Ingredientes salsa para untar los rolls: ⁠⠀
🌱 200g de cremoso de anacardos ⁠⠀
🌱20 g de pesto de albahaca: Nesto 
⁠⠀
A continuación te explicamos paso a paso cómo elaborar esta sencilla receta:
Estirar la masa en un rectángulo.⁠⠀
Esparcir la salsa de tomate y la mözza sobre toda la superficie.
Enrollar la masa sobre sí misma y cortar porciones de 4/5 cm. de ancho. ⁠⠀
Poner un cuenco apto para horno en el medio del molde de pastel⁠.⠀
Disponer los rolls en forma de corona alrededor. ⁠⠀
Hornear durante 25 minutos a 180º. ⁠⠀
Rellenar el bowl central con el queso cremoso y el pesto⁠ Nesto⠀
Colocar el calabizo troceado por encima de los rolls con un poco de cremoso de anacardos y las hierbas y...listo para disfrutar
Esperamos que te animes y disfrutes de tan saludable receta!
Compra aquí los calabizos para tu pizza roll
⁠⠀
Have you tried this recipe?
Upload an image to Instagram with your recipe and tag us!
Every day we are more lovers of Calabizo. Join up!