This is Tooltip!
Pizza Regreso al Futuro - Back to the future pizza
This is Tooltip!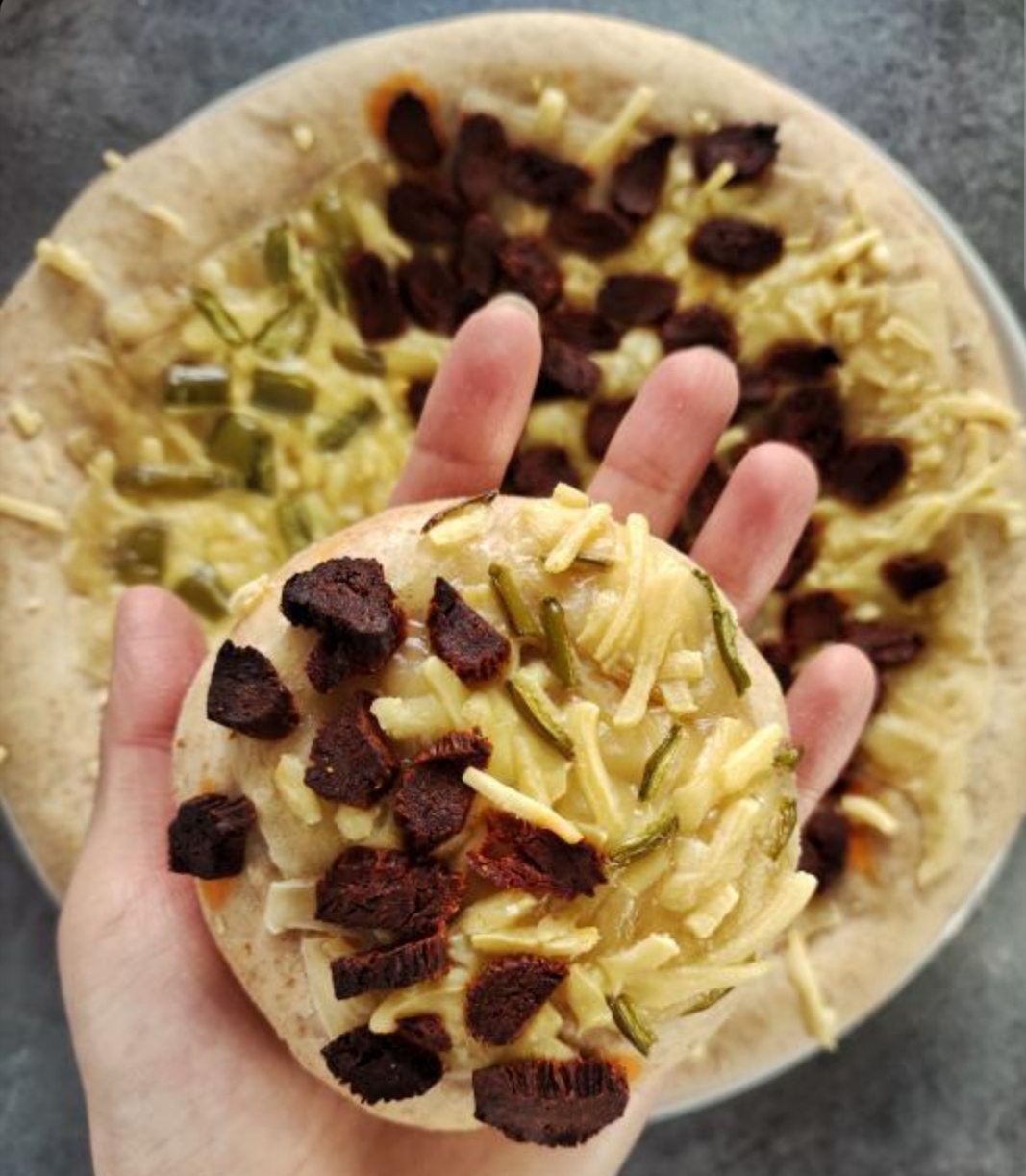 This is Tooltip!
¿Te acuerdas de la película Regreso al Futuro? y de su pizza liofilizada?
Aquí compartimos la pizza hecha por Alicia, autora del blog sobre cocina saludable @elvallevegg que cuenta que un día se encontró en el supermercado una mini pizza de chorizo y pimiento que sólo con poner el horno en modo hidratación punto 4 solucionó la cena de un sábado!
Ella quiso unirse al reto de #recetasdecine de @vegansloveunity y se acordó de la familia McFly del 2015 y sus pizzas liofilizadas que son el inventazo del siglo para las cenas familiares! Con solo ponerla 2", menuda pizza te queda! 👌🏻
Y por si no encuentras este "invento futurista" en tu tienda de confianza, te dejamos su receta de Pizza Regreso al Futuro - Back to the future pizza para que la puedas hacer en casa al modo del presente. 🤤
This is Tooltip!
250 ml de agua
25 g. de levadura fresca
45 g. de aove (aceite de oliva virgen extra)
110 g. harina de fuerza blanca
110 g. harina de espelta integral
80 g. de sémola de trigo
2 cucharaditas de sal
This is Tooltip!
1. Disolver la levadura en el agua templada y reposar 10 minutos.
2. Mezclar las harinas, añadir el agua con la levadura, el aove y amasar. Añadir más harina si hace falta y la sal a mitad del amasado. Amasar hasta tener una bola lisa.
3. Reposar la masa en un cuenco aceitado hasta que doble su volumen.
4. Bolear, dejar reposar 20 minutos y dar forma de pizza.
Si quieres hacer la auténtica pizza de regreso al futuro, puedes ponerle:
-Queso en lonchas (siempre tienes la opción de queso vegano)
-Queso rallado estilo cheddar (hay alternativas veganas)
-Calabizo (nuestro embutido de calabaza, con todo el sabor a chorizo)
-Pimiento verde en tiras
Después de poner los toppings, hornear a tope unos 20 minutos y listo!
Have you tried this recipe?
Upload an image to Instagram with your recipe and tag us!
Every day we are more lovers of Calabizo. Join up!