This is Tooltip!
Pizza integral de espelta con manzana, rúcula y calabizo
This is Tooltip!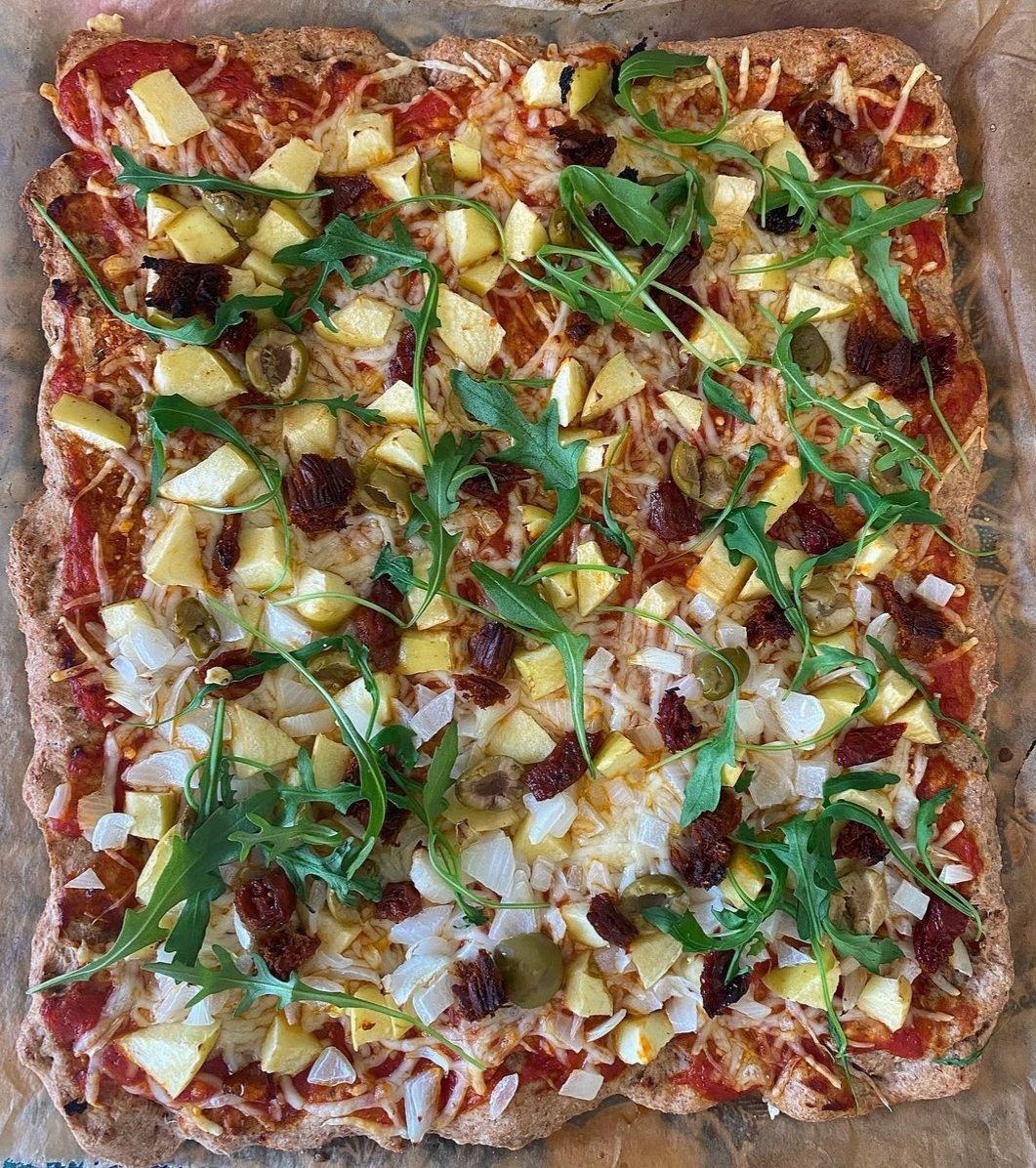 This is Tooltip!
La pizza integral de espelta con manzana, rúcula y calabizo no te dejará indiferente.
Esta mezcla de sabores sorprende a los paladares más atrevidos. Además de original, esta es una pizza saludable y muy pero que muy sabrosa!
Añadirle tomates secos y nuestro calabizo le da un toque especial, sobretodo si estás haciendo el cambio hacia una alimentación 100% vegetal.
Por cortesía de Sara, dietista y bióloga, especializada en fertilidad, es además autora del blog @bionutri_sara en el que descubrirás múltiples recetas y consejos para un estilo de vida saludable.
Esperamos que te guste esta receta y te animes a disfrutar de ella!
This is Tooltip!
👩‍🍳Para la masa:
450 g. harina integral de espelta
300 ml. agua tibia
sal yodada
15 g. levadura natural (nevera)
1 cda. pequeña de azúcar (activa la levadura)
👩‍🍳 Sobre la masa:
Manzana o pera asada
Tomates secos
Cebolla
Rúcula
Aceitunas
Calabizo (normal o picante, al gusto)
This is Tooltip!
Verter la levadura en el agua junto al azúcar y dejar activar 5 min. Mezclar todo y dejamos reposar 2 horas para que leve.
Cuando pase el tiempo, extendemos y dejamos reposar otra media horita.
Metemos la masa en el horno a 180º/200º unos 10-15 min hasta que veamos que sube un poco
Agregamos los ingredientes: la manzana o pera asada, los tomates secos, los calabizos pelados y troceados, la cebolla (previamente cocinada) y la horneamos unos minutos.
Al final, y en el momento de servir, agregamos la rúcula.
Disfruta de esta sabrosa pizza y consigue tus calabizos con un 5% de descuento con el código: sarabionutri
Have you tried this recipe?
Upload an image to Instagram with your recipe and tag us!
Every day we are more lovers of Calabizo. Join up!