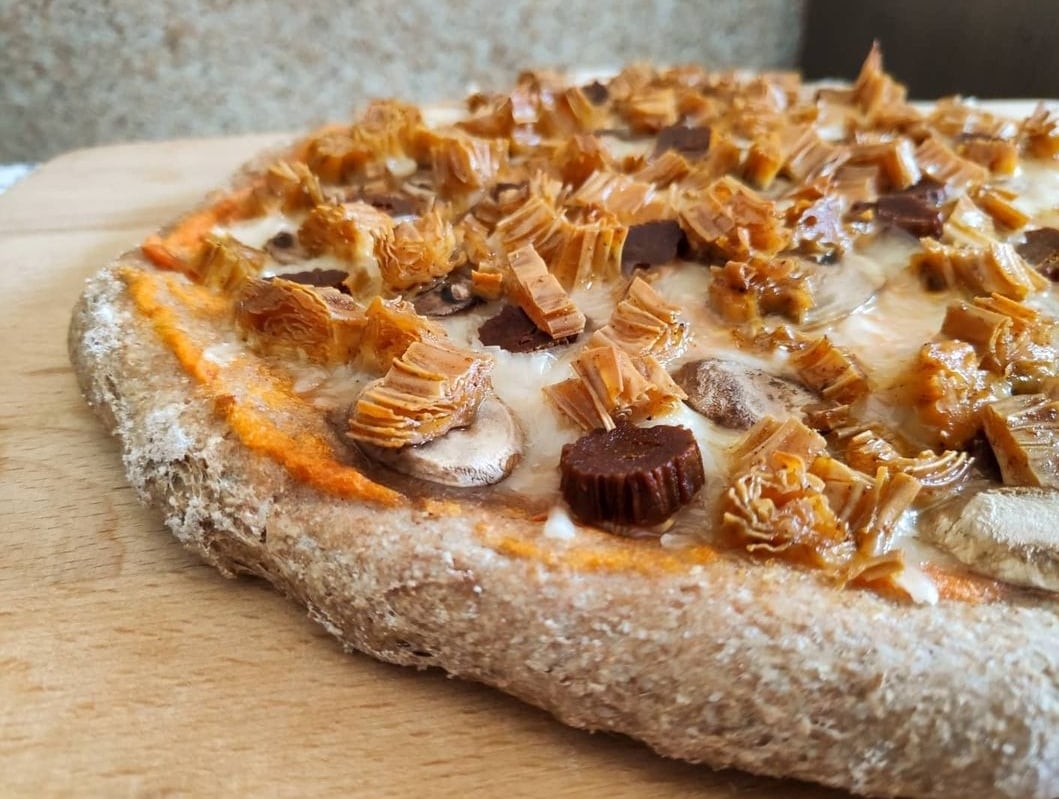 Descubre esta original Pizza de calabizo y yuba*
Bea & María, autoras del blog
Alvegandoi
  desde el cual ayudan con sus ideas a una transición hacia una alimentación basada en plantas, comparten desde Cádiz  esta sabrosa receta y dicen "que es de flipar de lo rica que está"!!!
* La yuba es conocida también como nata de soja, típica de China y Japón. Puede comprarse fresca o seca. Si es seca hay que rehidratarla en agua antes de utilizarla.
Una receta saludable, nutritiva y muy sabrosa!
Yuba hidratada macerada con especia para carne (apto para veganas) y cortada a taquitos
Calabizo sin la "tripa"
Champiñones frescos
Queso vegano mozzarella
Tomate natural triturado
Ingredientes para l
a base:
- 200gr de harina de trigo integral
- 140ml de agua tibia
- 5ml de AOVE (aceite de oliva virgen extra)
- 1cdta de sal
- 7g. de levadura fresca
Mezclamos la harina y la sal en un bol.
Hacemos un boquetito en el centro y añadimos la levadura, el agua tibia y el AOVE.
Mezcla que te mezcla y dejamos fermentar mínimo 1h 30m (según la temperatura de tu casa) con un pañito encima y dentro del horno o microondas.
Una vez doblado su tamaño la ponemos en la bandeja del horno dándole forma con las manos con cariño y amor.
Ponemos por encima los ingredientes y al horno unos 20-30 minutos a 180°.
Y a disfrutar de esta nutritiva y original pizza!!!
Have you tried this recipe?
Upload an image to Instagram with your recipe and tag us!
Every day we are more lovers of Calabizo. Join up!