Pimientos rellenos de quinoa y calabizo con alioli de tofu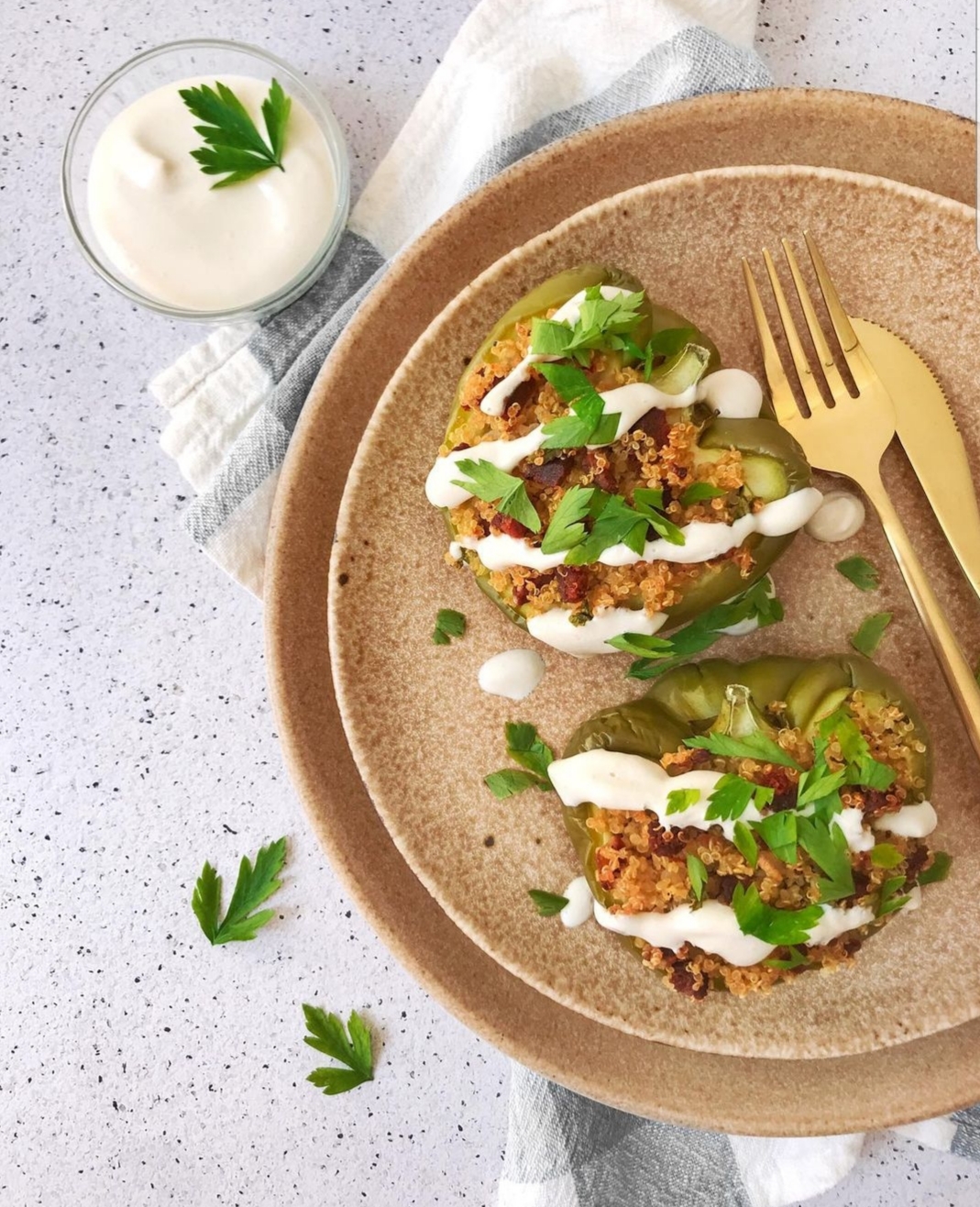 Una receta original!
Aquí te proponemos esta original receta de pimientos rellenos por cortesía de María G. Olmos quien a través de su blog y perfil en Instagram: @about_me_maria comparte recetas fáciles, deliciosas y reales (#realfood) sin crueldad animal y de estilo saludable.
Pimientos rellenos de quinoa y calabizo con alioli de tofu
Acerca de la receta:
Los pimientos poseen propiedades beneficiosas para la salud. Son alimentos ricos en fibra, en folatos, en vitaminas y antioxidantes, sobre todo en vitamina C (3 veces más que las naranjas) por lo que contribuyen a la absorción del hierro. Poseen capsaicina, de acción antibiotica, analgésica y estimulante de la mucosa gástrica y de la vesícula biliar.
Unida a la quinoa, esta semilla con características únicas al poder consumirse como un cereal, por eso se le llama también pseudocereal. provee la mayor parte de sus calorías en forma de hidratos complejos , con gran aporte de proteínas y menos aporte calórico que los cereales.
La quinoa contiene además grasas, sobretodo insaturadas, destacando la presencia de ácidos omega 6 y omega 3.
Una receta diferente que esperamos te guste!
Ingredientes Pimientos:
🔺2 pimientos (verdes o rojos, los que prefieras)
🔺100g de quinoa
🔺1 calabizo picante
🔺1/2 cebolla
🔺1 diente de ajo
🔺2 cucharadas de AOVE (Aceite de oliva virgen extra)
🔺sal y pimienta molida
📌ALIOLI DE TOFU
🔺100g de crema de tofu
🔺2 cucharadas de limón exprimido
🔺1 diente de ajo
🔺1 chorrito de bebida vegetal
🔺Sal
📌Tritura todos los ingredientes y ¡listo!
🔺Coloca los pimientos cortados por la mitad en una fuente de horno con un dedo de agua. Hornéalos 20 minutos a 180 grados o hasta que estén cocinados a tu gusto.
🔺Hierve la quinoa.
🔺Corta la cebolla muy finita, ralla el ajo y dóralos en una sartén con el AOVE. Añade el chorizo pelado y cortado, la quinoa, sal y pimienta. Cocínalo unos minutos y retira.
🔺Saca los pimientos del horno y rellénalos.
🔺Sirve con el alioli hecho a base de tofu y perejil por encima.
Have you tried this recipe?
Upload an image to Instagram with your recipe and tag us!
Every day we are more lovers of Calabizo. Join up!