This is Tooltip!
Parmesana vegana con Calabizo
This is Tooltip!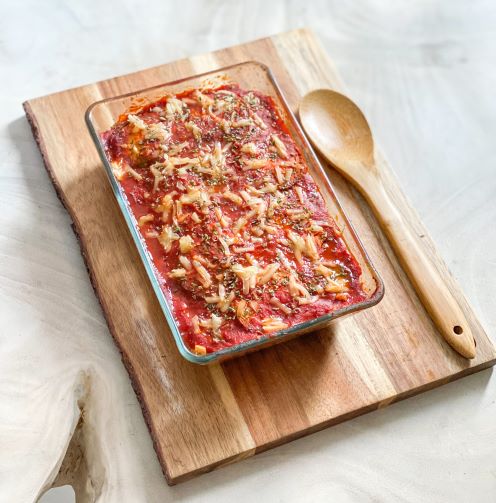 This is Tooltip!
Disfruta de esta riquísima receta por cortesía de Azahara Luque, famosa por sus maravillosas recetas veganas que comparte en su Instagram @curly.azahara
Se trata de una "Parmesana"  llamada también  "Parmigiana di melanzane" o  "Melanzane alla Parmigiana", un plato típico de Sicilia y del sur de Italia; y su propuesta es una Parmesana vegana y con Calabizo.
Este plato tiene como ingrediente principal la "melanzane" (berenjena en italiano), cortada en rodajas de casi medio centímetro de espesor. Se pueden hacer fritas, a la plancha o en su versión menos calórica al horno, como la receta que aquí compartimos. Las rodajas se disponen en distintas capas, como en la lasaña alternando entre estas capas, queso (en nuestro caso pasta de tofu)  y salsa de tomate.
This is Tooltip!
Ingredientes: para 2 personas:
1 berenjena por persona
 1 Calabizo, dulce o picante, según el gusto.
 1 cucharada de albahaca seca
 8 cucharadas de levadura nutricional (opcional)
 250g. de tofu
 2 dientes de ajo
 2 cebollas pequeñas
Aceite de oliva
Salsa de tomate casera
1 taza de albahaca fresca
This is Tooltip!
Encender el horno a 220 grados o a fuego fuerte.
Cortar las berenjenas en rodajas de 1 o 2 cm. a lo ancho. o sea que queden círculos.
Disponer la berenjena en la placa de horno pre-aceitada, una la lado de la otra. Sin sal y sin aceite y hornearla durante 20 minutos.
Si cocinas para más comensales, ve cocinando las berenjenas en tandas mientras vas haciendo los demás pasos pero no superpongas las berenjenas, ya que tienen que cocerse en el horno una al lado de otra.
Mientras, corta la cebolla, el Calabizo (previamente pelado) y el ajo pequeños y pisar el tofu con un tenedor hasta que quede troceado por completo.
Precalentar una sartén con un poquito de aceite de oliva y cuando esté caliente, agregar la cebolla y el ajo hasta que estén tiernos y dorados y en este momento agrega el tofu, la levadura nutricional en copos y el Calabizo, mezcla bien y cocina por 10 minutos, agrega la albahaca seca, la sal y pimienta a gusto. Apaga el fuego y tapa. Reserva esta pasta de tofu.
Pica la albahaca fresca y en un mortero o licuadora pon la taza de aceite de oliva con la albahaca, hasta que se forme un rico pesto. Reserva.
Retira las berenjenas del horno.
En una bandeja de horno de bordes altos y de vidrio o metal, añádele aceite de oliva suficiente, pero no demasiado.
Haz una capa de berenjenas, agrega una capa de la pasta de tofu y otra de salsa de tomate, y así continuamente hasta la última capa a la cual añadirás un poco de queso vegano.
Mete al horno unos 15 a 20 minutos en horno fuerte.
Retira, deja reposar unos minutos y añade el aceite con la albahaca fresca del mortero y disfruta caliente!!
Esperamos que te haya gustado esta deliciosa receta tan típica del sur de Italia!
Have you tried this recipe?
Upload an image to Instagram with your recipe and tag us!
Every day we are more lovers of Calabizo. Join up!