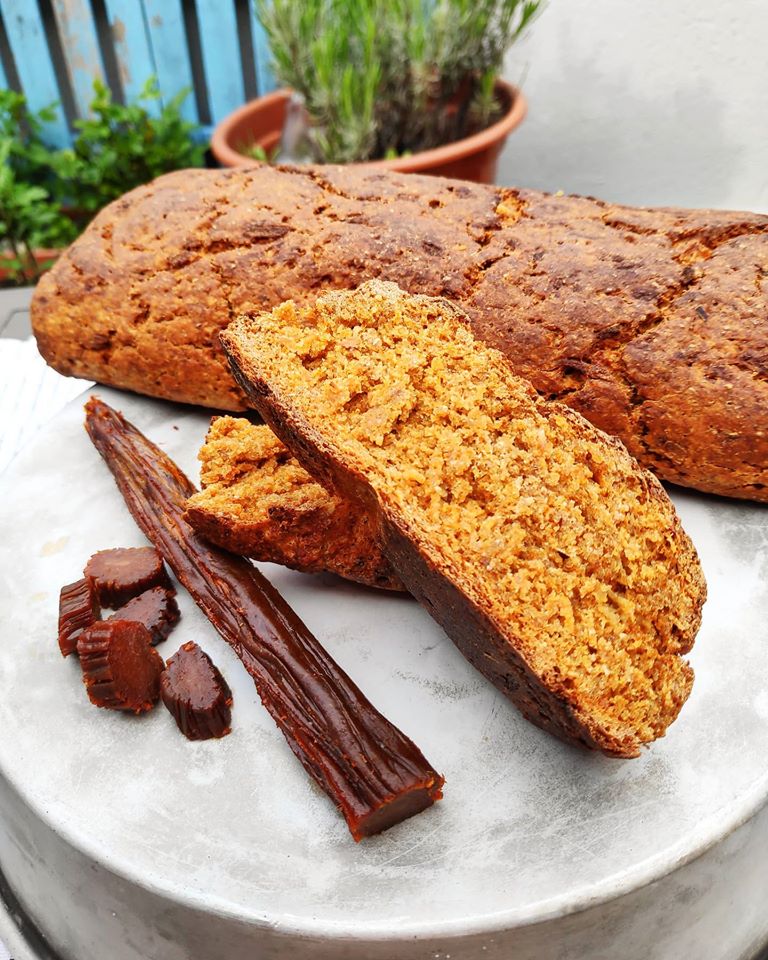 Esta receta te va a encantar!
Francis, autora del blog La Paka Vegana y chef del restaurante vegano La Tía Carlota en Madrid nos brinda y sorprende con una de sus recetas elaborada con nuestro embutido de calabaza: Pan de Calabizo, desde luego un pan tan diferente como sabroso!
Esperamos que te guste y te animes a elaborar pan en tu casa!
250 g. de harina de fuerza
125 g. de harina de centeno
125 g. de harina integral
6 cucharada de AOVE
250 ml. de agua caliente
2 Calabizos
1 sobre de levadura de panadero seca
1 manzana pelada y rallada
1 cucharadita de pimentón dulce
Empezamos mezclando las harinas con la levadura seca de panadero.
Cortamos los Calabizos en rodajas, (previamente pelados) añadimos a la harina junto con la manzana rallada, y el pimentón, y mezclamos todo.
Hacemos un volcán y añadimos el aceite y el agua caliente (que la podamos tocar sin quemarnos) vamos mezclando con los dedos hasta formar una bola, dejamos reposar 1 hora tapado con un paño.
Pasado este tiempo, amasamos levemente nuestro pan, 5 minutos, y le damos la forma, ponemos en la bandeja de horno con papel de horno, y dejamos reposar otra hora (tapado).
Precalentamos el horno 15 minutos a 200 grados poniendo un bol con agua en la base, metemos el pan al horno, horneamos 25 minutos y retiramos el bol de agua, horneamos otra vez de 10 a 15 minutos, dependerá de si nos gusta más menos tostado.
Lo sacamos del horno y lo dejamos enfriar tapado con un paño.  Y ya estaría listo para comer!!
¿Os gusta la receta?
Podéis descubrir más recetas en su Instagram @lapakavegana y en su facebook: @lapakavegana
y en el hashtag #recetasconcalabizo
Have you tried this recipe?
Upload an image to Instagram with your recipe and tag us!
Every day we are more lovers of Calabizo. Join up!