Migas con Calabizo (veganas y sin gluten)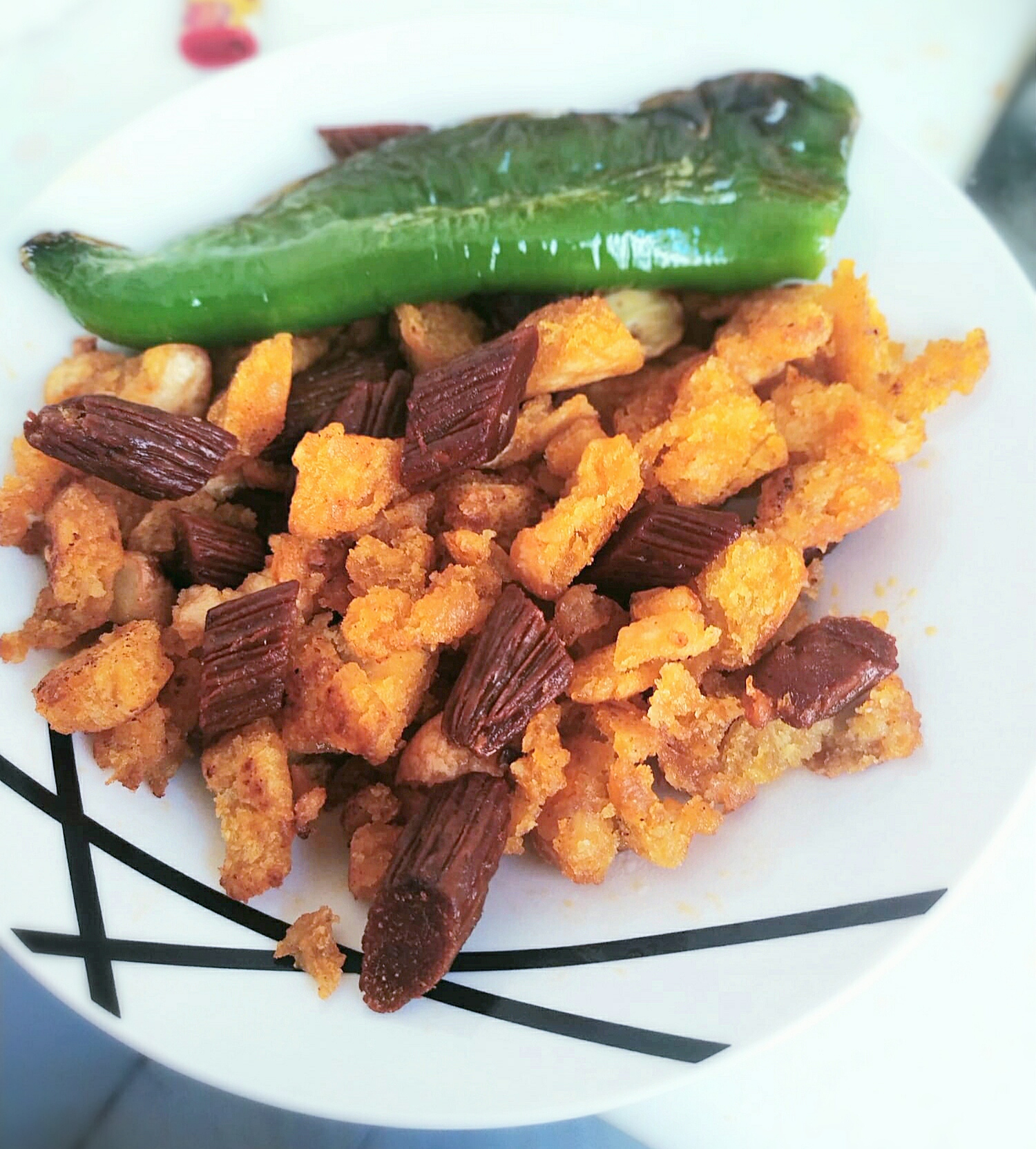 Con motivo del Día Nacional del Celíaco, compartimos esta receta sin gluten, por cortesía de Virginia, celíaca desde hace 27 años y la cual a través de su perfil de Instagram comparte estupendos platos y recetas para ayudar a hacer la vida más fácil a los que no pueden o deben ingerir gluten.
En @celiaquita_oficial descubriréis recetas, productos, novedades, establecimientos para celíacos, viajes sin gluten, sorteos y mucho más.
Esperamos que disfrutéis de este tradicional plato de Migas con Calabizo, vegano y sin gluten!
Ingredientes para 2 personas
2 Calabizos dulces.
2 Barras de pan (apto para veganos y sin gluten) de Arttpa.
Pimentón de la Vera.
1 Pimiento verde.
Aceite de oliva.
Sal.
5 o 6 dientes de ajo.
- Desmenuzamos las barras de pan para formar las migas. Las ponemos en un bol con agua para que se mojen bien.
- Echamos una cucharadita de postre de pimentón de la Vera y removemos las migas. Las tapamos y las dejamos hasta el día siguiente.
- Al día, siguiente, en una sartén, echamos un buen chorrito de aceite de oliva y los dientes de ajo partidos en unos 4 pedazos cada uno. Los rehogamos y cuando tengan buen color los sacamos y apartamos de la sartén.
- Hacemos el mismo proceso con el pimiento verde. Podemos cortar el pimiento verde en tiras o dejarlo entero. Esta vez lo he dejado entero. lo ponemos a sofreír; y cuando ya tenga su color, lo sacamos y apartamos junto con los ajos.
- Es momento de nuestro producto estrella, el Calabizo. Lo pelamos y lo partimos en rodajas y lo ponemos en esa misma sartén para que se fría un poquito. Cuando esté a nuestro gusto lo apartamos junto con los pimientos y ajos.
- Ahora sí, echamos todas las migas de pan a la sartén donde hemos cocinado todo lo anterior. Ponemos sal al gusto y removemos todo el tiempo las migas machacándolas un poquito para que se queden más pequeñitas. Cuando esté el pan dorado, ya es momento de apartarlas.
- Ya por último queda servirlas y añadir según gusto, en el plato de cada comensal el chorizo, pimientos y ajo. ¡Ah! Si queréis darles un toque delicioso, podéis poder algunas uvas en el plato de vuestras migas. ¡Quedarán estupendas!
A disfrutarlas que están increíblemente buenas.
Esperamos que os guste esta tradicional receta, siendo vegana y sin gluten!
Have you tried this recipe?
Upload an image to Instagram with your recipe and tag us!
Every day we are more lovers of Calabizo. Join up!