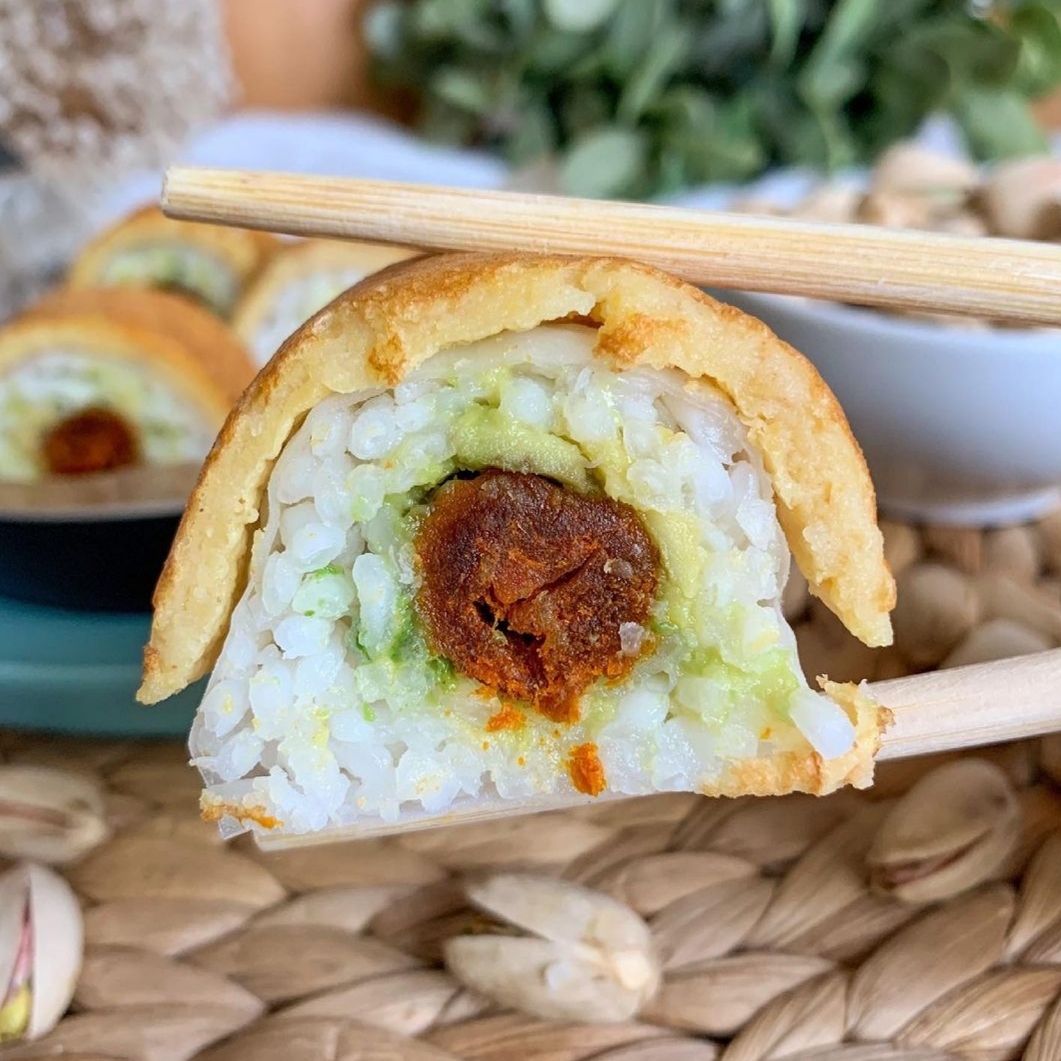 Makis de calabizo 
Te sorprendemos con esta gran idea calabicera que propone Alba, autora del blog @fromlosttotheveggie . Un original aperitivo que no dejará indiferente a quien lo pruebe.
Si no sabes mucho de cocina japonesa te contamos qué es un "maki"
En japonés, la palabra maki significa rollo. El maki sushi es por tanto sushi en rollo, elaborado con alga nori relleno de arroz y distintos ingredientes. Se monta colocando el arroz sobre una lámina de algas nori secas, y rellenándola con diferentes verduras o pescado.
Estos deliciosos rollitos son muy versátiles y puedes elaborarlos con diferentes verduras como los que te proponemos en esta peculiar receta de Makis con calabizo .
🌱Arroz del día siguiente a temperatura ambiente (mejor si no está muy suelto)
🌱Tortilla vegancesa (aquí la receta pero sin queso)
🌱Aguacate maduro
🌱Obleas de arroz
🌱1 calabizo a temperatura ambiente (puedes elegir entre versión dulce o picante)
🔸Lo primero es tener el arroz y el calabizo a temperatura ambiente; si el arroz estaba en nevera, dale un golpe de calor;  puedes masajear el calabizo antes de sacarlo del envoltorio para que se ablande y no se rompa el maki al cortarlo.
🔸Envuelve una esterilla de bambú en film o usa alguna de silicona, para que la oblea no se adhiera al bambú, moja la oblea y coloca en la esterilla.
🔸Coloca el arroz dejando libre un par de dedos por la parte de arriba.
🔸Aplasta un aguacate y extiende por encima del arroz, puedes añadirle cuando lo aplastes un poco de limón para que no se oxide.
🔸Coloca el calabizo previamente pelado un poco más abajo de la mitad y  enrolla con mucho cuidado, porque la oblea de arroz es pegajosilla.
🔸Coloca la tortilla por encima del rollito y corta por la mitad, y luego en 3 partes. No lo cortes muy fino, porque es bastante delicado.
Idea: puedes sustituir el aguacate por queso crema vegano.
¡Esperamos que te haya gustado esta receta!
¿Se te ocurren más makis raros?
Aquí te están esperando tus Calabizos para tan sabrosa receta!
Have you tried this recipe?
Upload an image to Instagram with your recipe and tag us!
Every day we are more lovers of Calabizo. Join up!