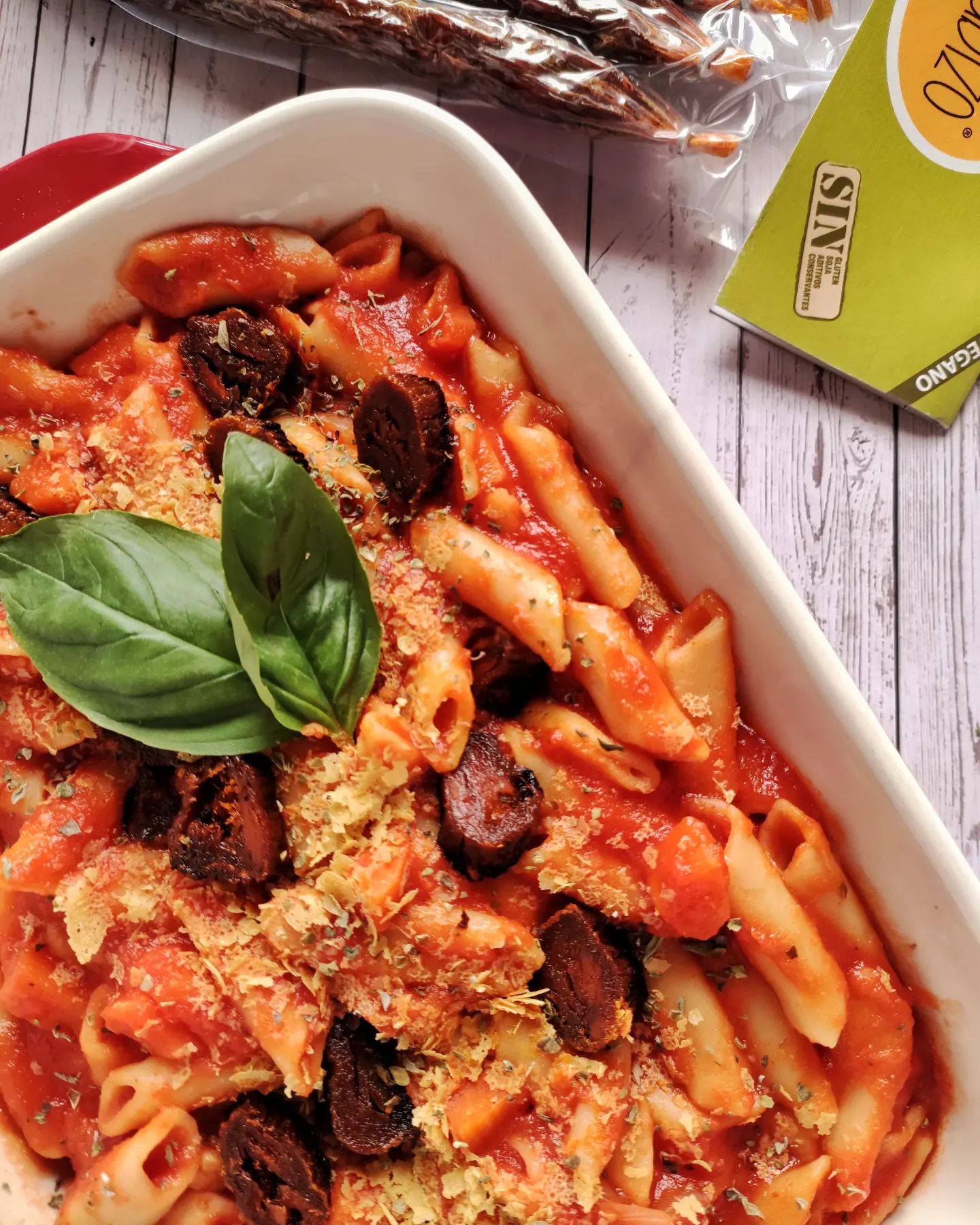 🌱 LOS MEJORES MACARRONES CON CALABIZO 🌱
¿Quién no ha disfrutado alguna vez en su vida de unos buenos macarrones con chorizo? Pues si eres de los que ya no comen carne ni embutido cárnico, por cuestiones éticas, de salud o sostenibilidad, estás de fiesta! porque podrás seguir disfrutando de tus sabores de infancia o de antaño con nuestro "chorizo" de calabaza!
Saborea estos macarrones con calabizo y verás que nada tienen que envidiar a los macarrones con chorizo de toda la vida! porque vida es esto! dejar a los cerditos disfrutar y degustar un buen "chorizo" 100% vegetal.
Al fin un chorizo saludable (son colesterol), sostenible (es más respetuoso con el medio ambiente y el planeta) y sin crueldad animal (todo por el bienestar animal)!
Te invitamos a que pruebes esta fantástica receta por cortesía de Alicia, creadora y cocinera en el catering vegano El Valle Vegg, Pamplona (Navarra).
Que la disfrutes! Sabe espectacular!
🌱 Pasta de tu preferencia (en este caso hemos utilizado macarrones)
🌱 Salsa de tomate (cebolla, ajo, zanahoria, tomate triturado, orégano, sal y dátiles)
🌱 Calabizo dulce (aunque también te puedes animar con el picante)
🌱 Levadura nutricional
🌱 Albahaca fresca
1. Mientras se cuece tu pasta preferida, preparar una salsa de tomate rápida sofriendo una cebolla, un par de dientes de ajo y una zanahoria.
2. Cuando estén bien sofritas, añadir una lata de tomate triturado (unos 800 grs), orégano, sal, 6 dátiles y cocer a fuego medio bajo 20'.
3. Pasado este tiempo, triturar la salsa y reservar.
4. Saltear (previamente pelado) 2 o 3 tiras de calabizo en una sartén con un poco de AOVE y reservar.
5. Servir la pasta mezclada con la salsa de tomate, el calabizo salteado, un puñadito de levadura nutricional y unas hojitas de albahaca fresca !
¡y a disfrutar de un buen plato de macarrones con chorizo, 100% vegetal!
Have you tried this recipe?
Upload an image to Instagram with your recipe and tag us!
Every day we are more lovers of Calabizo. Join up!