Macarrones con boloñesa de lentejas con calabizo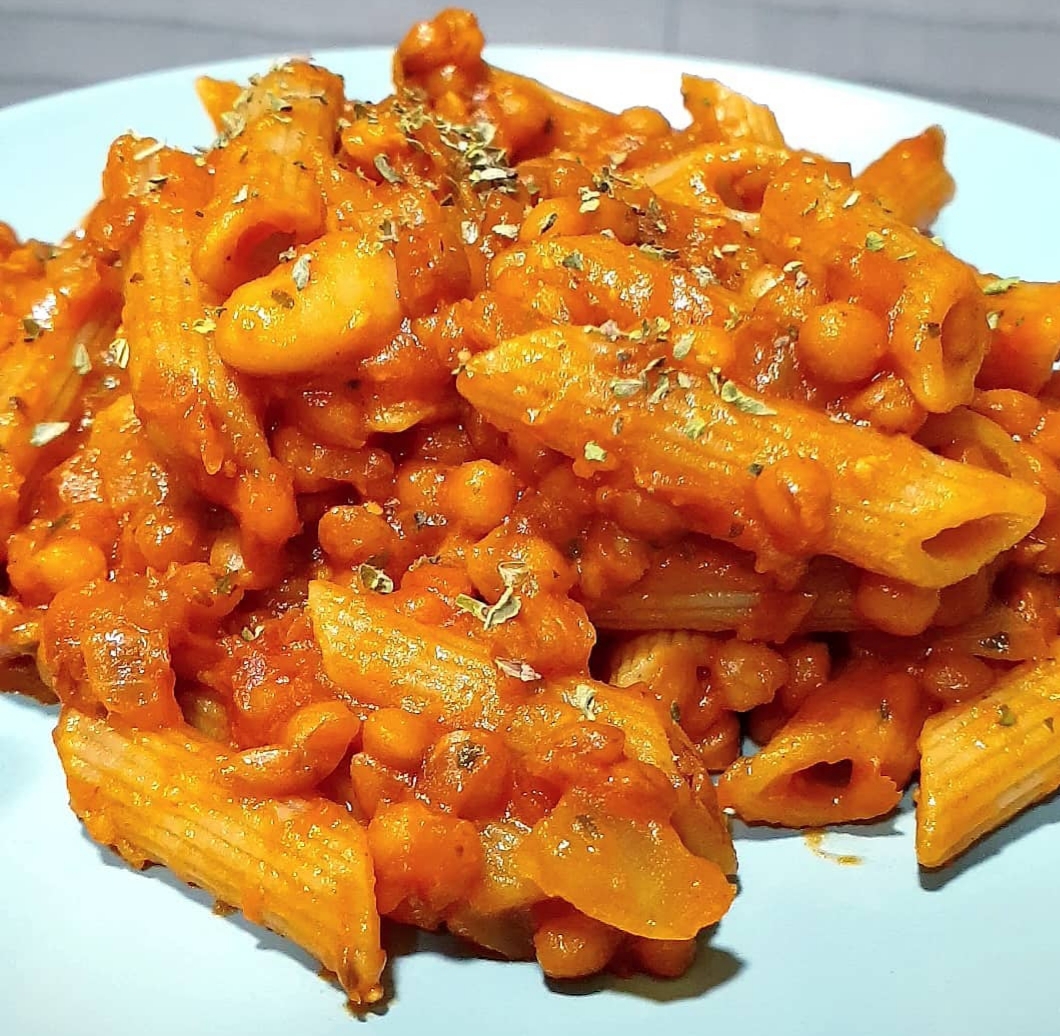 Te proponemos esta sabrosa y nutritiva receta !
Una receta fácil de preparar, rápida, vegetal, saludable y muy nutritiva!
Estos macarrones con boloñesa de lentejas con calabizo es por cortesía de María Pastor, alicantina vegana y amante de la cocina basada en plantas;  podrás descubrir sus recetas en su perfil de Instagram @mery.vegan
Las lentejas son un tipo de legumbres formadas por hidratos de carbono y proteínas, y también contienen una gran variedad de vitaminas y minerales. Por lo que son consideradas un alimento de alto valor nutritivo.
Esperamos que disfrutes de esta receta tan sencilla como vegetal!
Para 2 personas:
- 1 bote pequeño de lentejas cocidas (240 g.)
- 1 cebolla dulce
- 1 Calabizo picante
- 1 bote de tomate frito, estilo casero con aceite de oliva (hay muchos que son buenos procesados.
- Sal, pimentón, orégano y pimienta.
- AOVE (Aceite de oliva virgen extra).
- Macarrones (aprox. 150 g.)
▪️ Sofreír la cebolla en una sartén con AOVE a fuego medio.
▪️ Cuando la cebolla esté casi hecha, tras 5-10 minutos añadimos el Calabizo picante troceado  y previamente pelado y removemos.
▪️ Tras dorarse el Calabizo, añadimos el bote de lentejas previamente lavadas con agua y vamos removiendo para que no se peguen. Si hace falta bajamos un poco el nivel del fuego.
▪️ Incorporamos una pizca de sal, pimentón de la vera y una pizca de pimienta y removemos.
▪️ A los 5 minutos aprox., añadimos el bote de tomate frito y seguimos removiendo.
▪️ Mientras cocinamos la boloñesa de lentejas cocemos la pasta que queramos en una olla con agua hirviendo, en este caso son macarrones integrales y cocción de unos 8 minutos.
▪️ Añadimos los macarrones a la boloñesa de lentejas. Incorporamos un poco de orégano y a comer! 🤤
▪️ Opcional: puedes gratinarlos al horno con queso vegano.
Have you tried this recipe?
Upload an image to Instagram with your recipe and tag us!
Every day we are more lovers of Calabizo. Join up!