Hummus de potaje de garbanzos con calabizo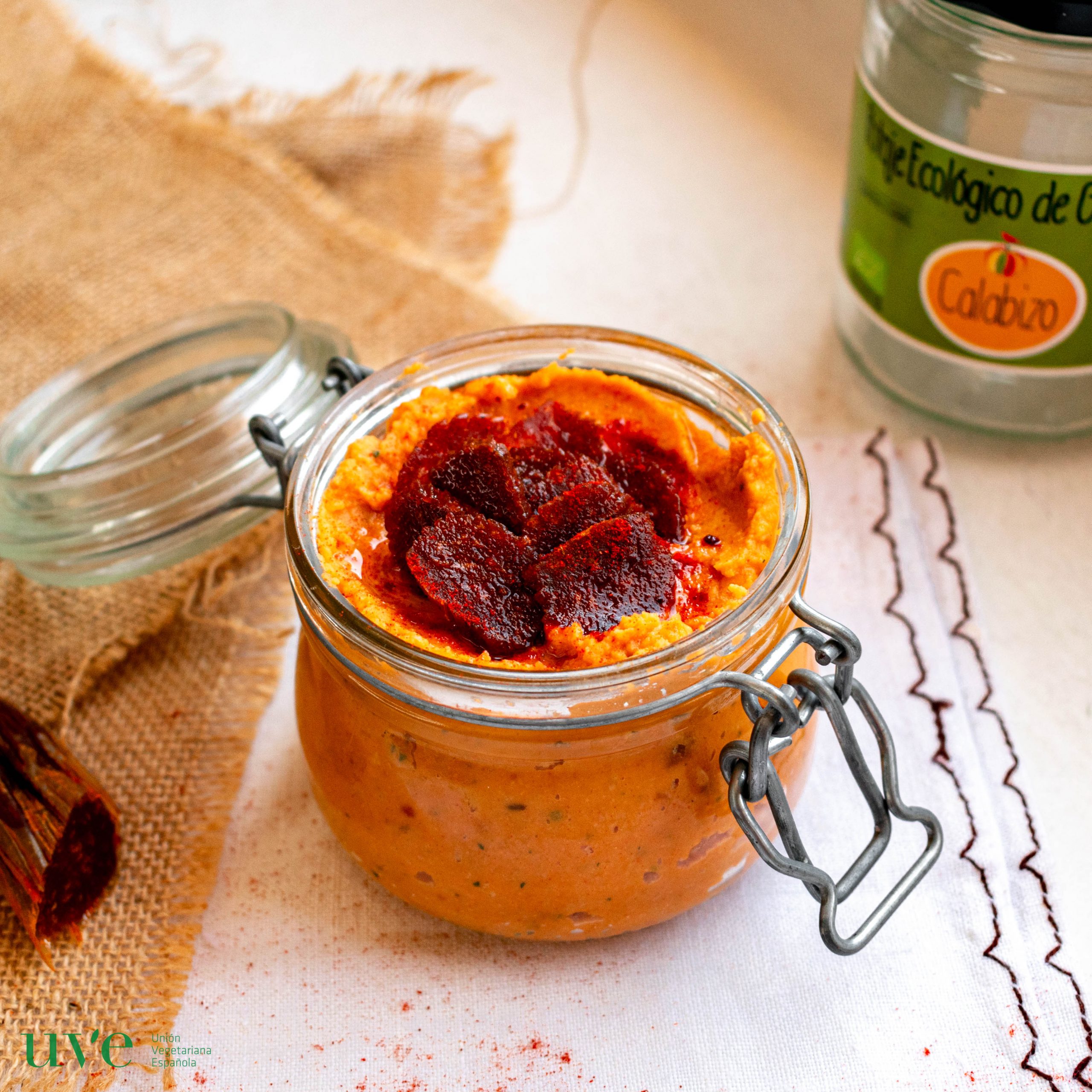 Vamos a sorprenderte con el hummus más calabicero que puede existir.⁠
Cada 13 de mayo se celebra el ¨Día Internacional del Hummus". Descubre una forma diferente de preparar este delicioso aperitivo; verás que no deja indiferente a nadie por el característico sabor que le aporta calabizo.
El Hummus, originario del Antiguo Egipto y muy popular en Oriente Medio y Norte de África, es una crema de garbanzos cocidos preparada con zumo de limón, tahini (crema o pasta a base de semillas de sésamo) y aceite de oliva.
Utilizando los garbanzos del potaje Calabizo y un poquito de nuestro embutido de calabaza, vamos a preparar esta delicia choricera para untar, siguiendo las recomendaciones de la Unión Vegetariana Española, creadoras de esta sencilla y rápida receta, que tardarás tan solo unos minutos en prepararla.
Una receta nutritiva, con un alto contenido en proteínas y rico en hierro, fibra y minerales, además de ser muy saludable y baja en calorías. De fácil preparación, es una opción vegana perfecta para tus aperitivos.
🔸 1 tarro de potaje de garbanzos con calabizo
🔸 1 ajo⁠
🔸 ½ limón⁠
🔸 1cdta tahini⁠
🔸 1 chorro de aceite de oliva⁠
🔸 Sal yodada⁠
🔸 ½ chorizo calabizo⁠ (a elegir entre dulce o picante)
🔸 Perejil
🔸  Aceite de oliva
🔸 Pimentón picante para decorar⁠
1️⃣Escurre el líquido del potaje, y resérvalo para utilizarlo como caldo o para hacer una sopita.⁠
2️⃣Puedes utilizarlo también para controlar la consistencia de nuestro hummus.⁠
3️⃣En un procesador coloca los garbanzos escurridos, el ajo, limón, tahini, aceite de oliva y una pizca de sal. Tritura bien, añadiendo aceite de oliva o caldo hasta obtener la consistencia deseada.
4️⃣Trocea unos taquitos de calabizo, dulce o picante (puedes optar a prepararlo a la plancha) y sirve el hummus con el calabizo por encima, pimentón picante y aceite de oliva.⁠
5️⃣Acompáñalo de crudités o palitos crujientes, y a gozar. Digno de banquete.⁠🤗😋
Have you tried this recipe?
Upload an image to Instagram with your recipe and tag us!
Every day we are more lovers of Calabizo. Join up!