This is Tooltip!
Gnocchi sardo sin gluten con calabizo y pesto de nueces
This is Tooltip!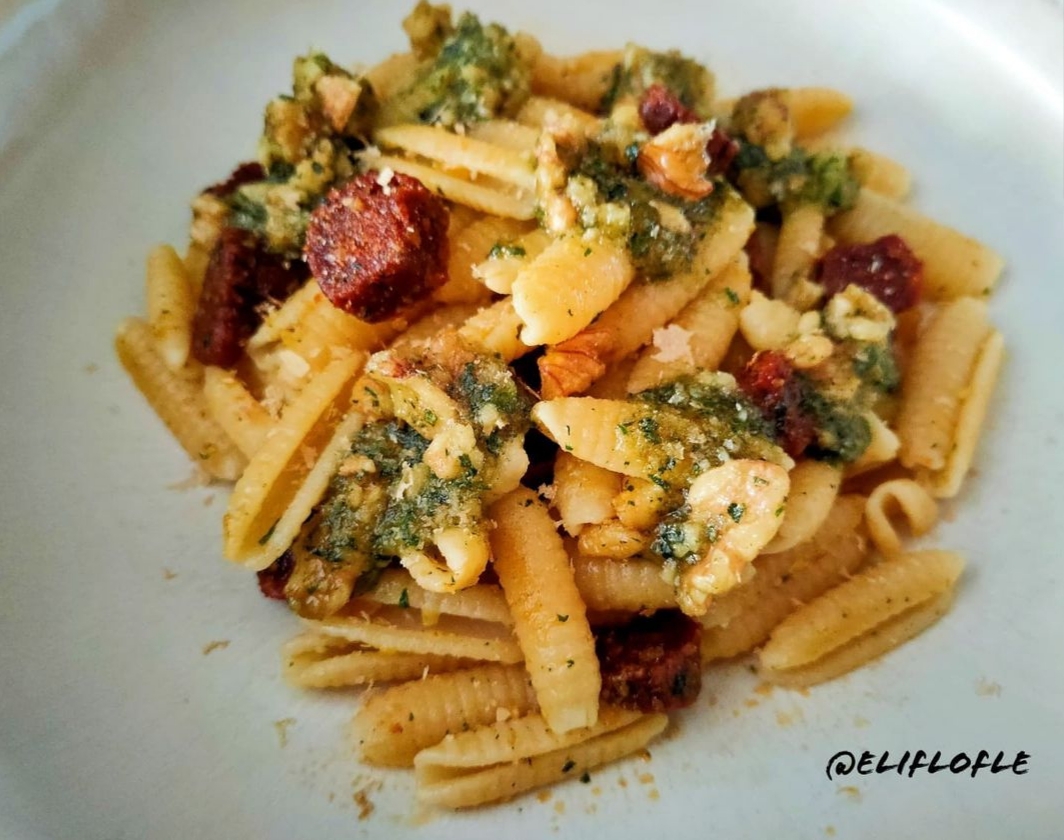 This is Tooltip!
¿A quien no le gusta un delicioso plato de pasta bien condimentado?
Te traemos esta rica receta, idea de Elizabeth (@eliflofle),  a quien le encanta la cocina creativa y gourmet y siempre elabora recetas sin gluten y sin fructosa a causa de sus intolerancias.
Gnocchi sardo sin gluten con calabizo y pesto de nueces
Gnocchi sardo (también llamado Malloreddus) es un tipo de pasta italiana del sur de la isla de Cerdeña (de ahí su nombre sardo, por Sardegna) y se elabora con sémola de trigo (los hay sin gluten), harina, azafrán, agua y sal.
Son muchas las salsas apropiadas para este tipo de pasta, dada su forma de pequeñas conchas casi cerradas y estriadas, admiten salsas densas, como la que aquí te proponemos de pesto con nueces.
Esperamos que te guste!
This is Tooltip!
Para 2 personas
160-200 g Gnocchis sin gluten (Garofalo)
25 g hojas frescas de albahaca
10 g nueces (el original es con piñones)
1 diente de ajo
50 ml aceite de oliva virgen extra (AOVE)
1 pizca de sal gorda
1 calabizo, dulce o picante
levadura nutricional
This is Tooltip!
Cuece la pasta según el tiempo indicado.
Deja escurrir y reservamos.
Prepara la salsa pesto con albahaca, nueces, un diente de ajo pequeño, aceite de oliva virgen extra y sal al gusto.El tradicional pesto se prepara con el mortero; los ingredientes se muelen poco a poco únicamente con el uso del mortero. Primero se coloca el ajo, después la albahaca con sal, las nueces y por último se agrega el aceite.
En una sartén, echa unas cucharadas de la salsa pesto recién hecha, la pasta ya cocida y el calabizo pelado y cortado en rodajas.
Salteamos unos minutos, emplatamos y espolvoreamos con levadura nutricional. ¡Buenísimo!🤤
Have you tried this recipe?
Upload an image to Instagram with your recipe and tag us!
Every day we are more lovers of Calabizo. Join up!