Ensalada templada de garbanzos con Calabizo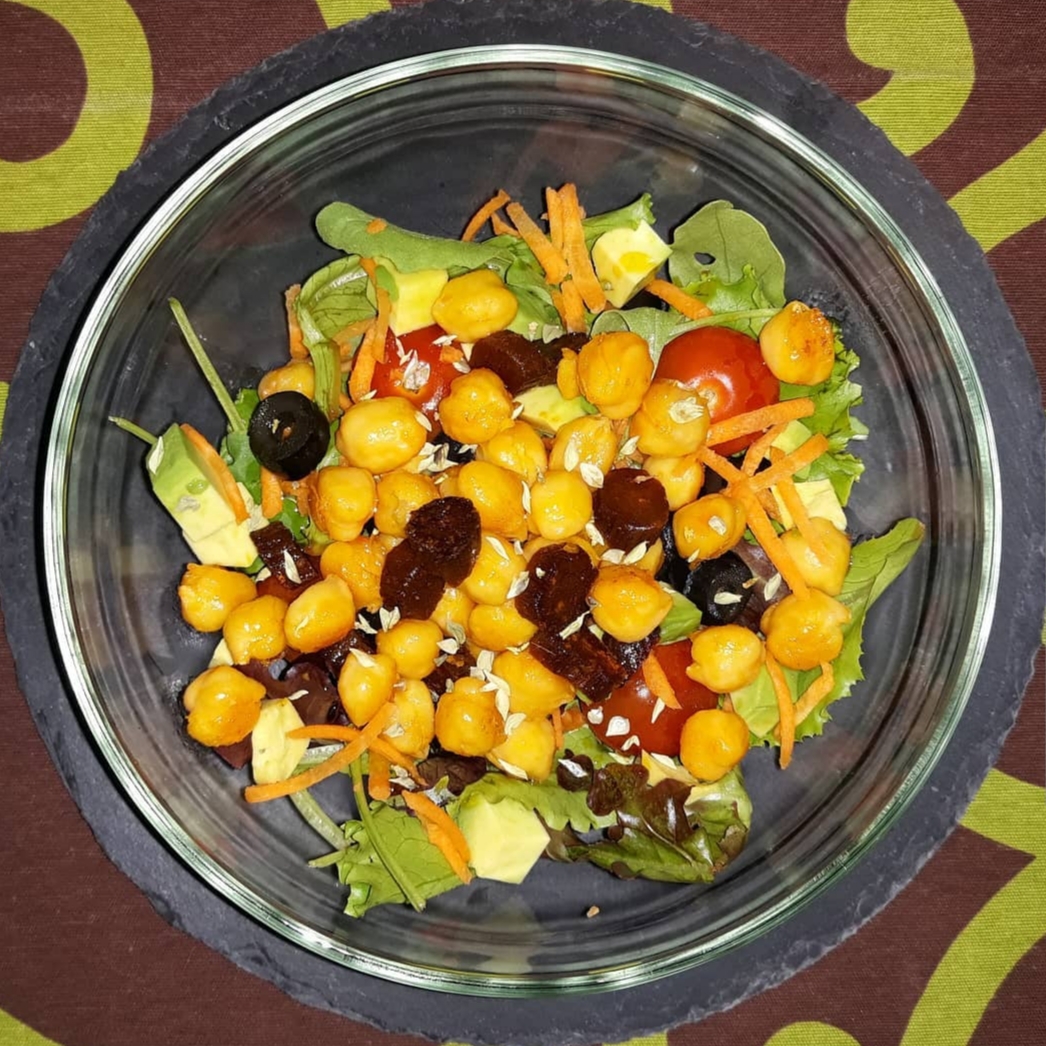 Despedimos el verano con esta sabrosa y colorida ensalada templada de garbanzos con Calabizo y le damos la bienvenida al otoño al incluir esta nutritiva legumbre en nuestra receta, que tanto asociamos a los meses un poco más fríos que están por venir.
Las legumbres son un tipo de alimento que deben estar presente en toda dieta saludable y equilibrada. Y los garbanzos son una proteína vegetal con fibra, vitaminas y minerales, lo que hace que presenten propiedades que aportan multitud de beneficios al organismo humano.
La receta es por cortesía de Eva, autora del blog Cocina sencilla y rápida en el que siempre propone recetas así, sencillas, rápidas y fáciles. Ella dice que guarda mil y una recetas y que luego difícilmente consigue preparar todas, pero aquí nos sorprende con esta rica ensalada que esperamos te guste y te animes a hacerla!
Brotes verdes
Zanahoria rallada
Tomatitos
Aceitunas negras laminadas
Aguacate
Garbanzos cocidos
Calabizo
Aceite de oliva
Orégano
Salteamos los garbanzos con Calabizo, previamente pelado y cortado en rodajas, en un chorro generoso de aceite de oliva (después aprovecharemos el aceite sobrante con todo su aroma a pimentón muy bueno!)
En un bol ponemos una base de brotes verdes, unos tomatitos, un poco de zanahoria rallada, unos daditos de aguacate y las aceitunas.
Por último, añadimos los garbanzos salteados con el Calabizo, regamos con el aceite sobrante (de haberlos salteado) y le damos el toque final con un poco orégano!  y listo
De esta forma tan sencilla tienes una ensalada sabrosa y muy completa. ¿Quién dijo que comer ensaladas es aburrido y poco nutritivo?
Esperamos que la disfrutes!
Have you tried this recipe?
Upload an image to Instagram with your recipe and tag us!
Every day we are more lovers of Calabizo. Join up!