Ensalada de judías verdes con tofu y calabizo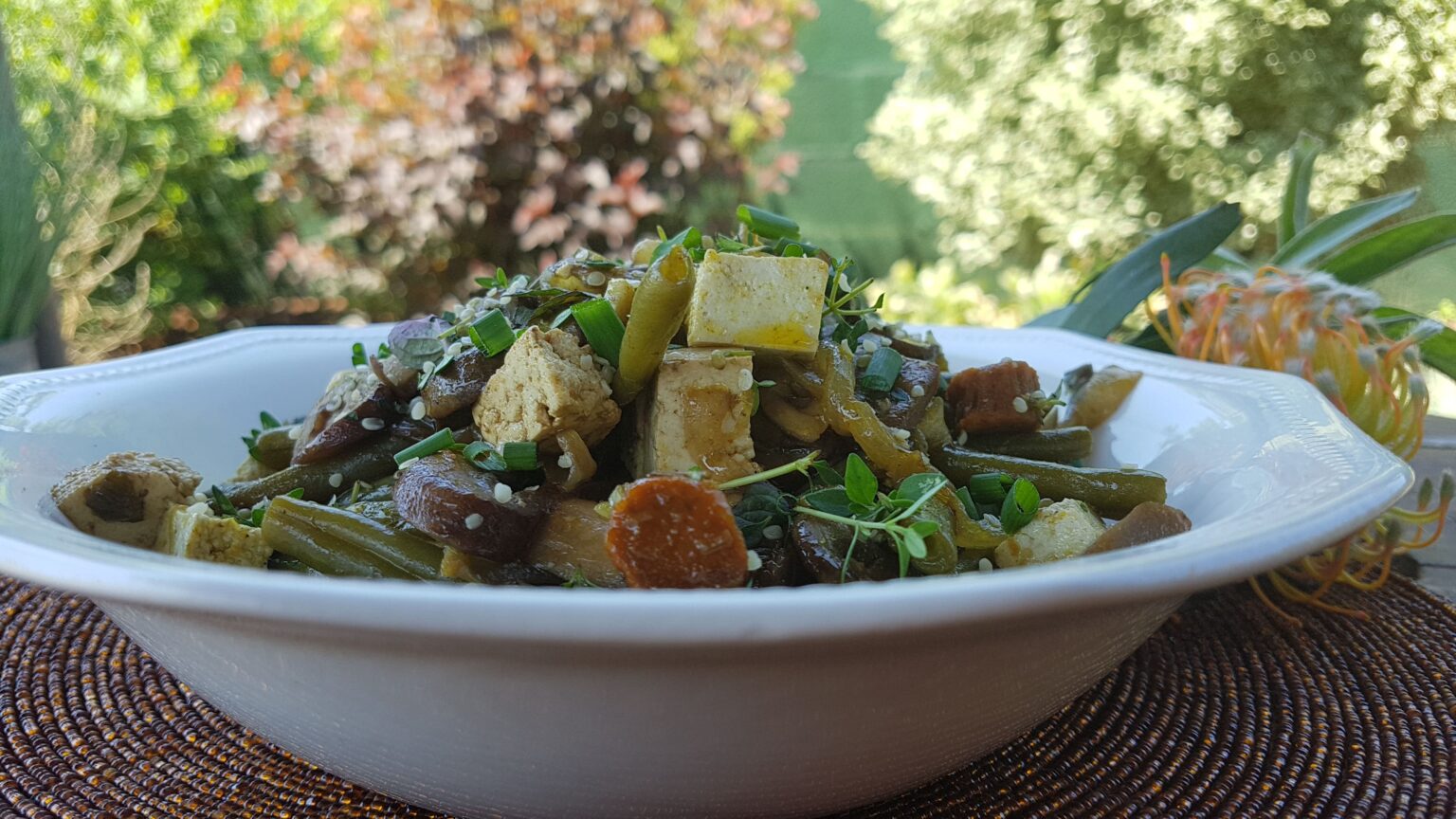 ¿Quieres sorprender con una ensalada diferente?
Te proponemos esta original idea de La Despensa de Nana en la que su combinación de judías verdes con calabizo es fantástica para una ensalada fresca y además con la proteína que le aporta el tofu.
Nuestra querida Nana, cocinera y creadora de eventos y servicios de catering, lleva más  de 30 años entre fogones, y desde Tomiño (Pontevedra) comparte sus sabrosas recetas a través de su web y blog La Despensa de Nana Catering.
Aquí te dejamos la receta de esta rica ensalada de judías verdes con tofu y calabizo y esperamos que te animes a prepararla!
para 4 personas:
500 g de judías redondas
500 g de champiñones portobello
200 g de tofu al natural
2 unidades de calabizo
2 dientes de ajo
1 cebolla dulce grande
Aceite de oliva
Vinagre de Módena
Sal, pimienta negra
1 cucharada de café de Cúrcuma
Cebollino, tomillo y albahaca
40 g de semillas de cáñamo
Cortamos los bordes de las judías y los partimos por la mitad. Los ponemos en agua con sal a cocer hasta que estén tiernas.
Por otro lado cortamos en láminas los ajos y los ponemos a saltear en un poco de aceite de oliva.
Cortamos la cebolla en juliana y se la añadimos a los ajos, añadimos la sal y lo dejamos a fuego lento.
Mientras vamos cortando en láminas los champiñones y luego se lo añadimos al sofrito. (junto con los ajos y la cebolla)
Cortamos el tofu en dados pequeños y lo salteamos en una sartén con un poco de aceite de oliva y los reservamos.
Pelamos los calabizos y los cortamos en rodajas.
En cuanto esté dorado el sofrito (ajos, cebolla, champiñones) le añadimos el calabizo cortado y un chorrito de vinagre de Módena al gusto de cada uno y lo dejamos unos minutos al "chup-chup".
Le ponemos también el tofu y reposamos en el fuego apagado.
Escurrimos las judías ya cocidas y le añadimos el resto del guiso (el sofrito con el calabizo y el tofu). Lo ponemos en la fuente.
Cortamos muy finamente las hierbas aromáticas y decoramos el guiso.
Por último espolvoreamos con las semillas de cáñamo.
y ya está lista esta rica y nutritiva ensalada!
Have you tried this recipe?
Upload an image to Instagram with your recipe and tag us!
Every day we are more lovers of Calabizo. Join up!