This is Tooltip!
Empanadillas con Calabizo al horno
This is Tooltip!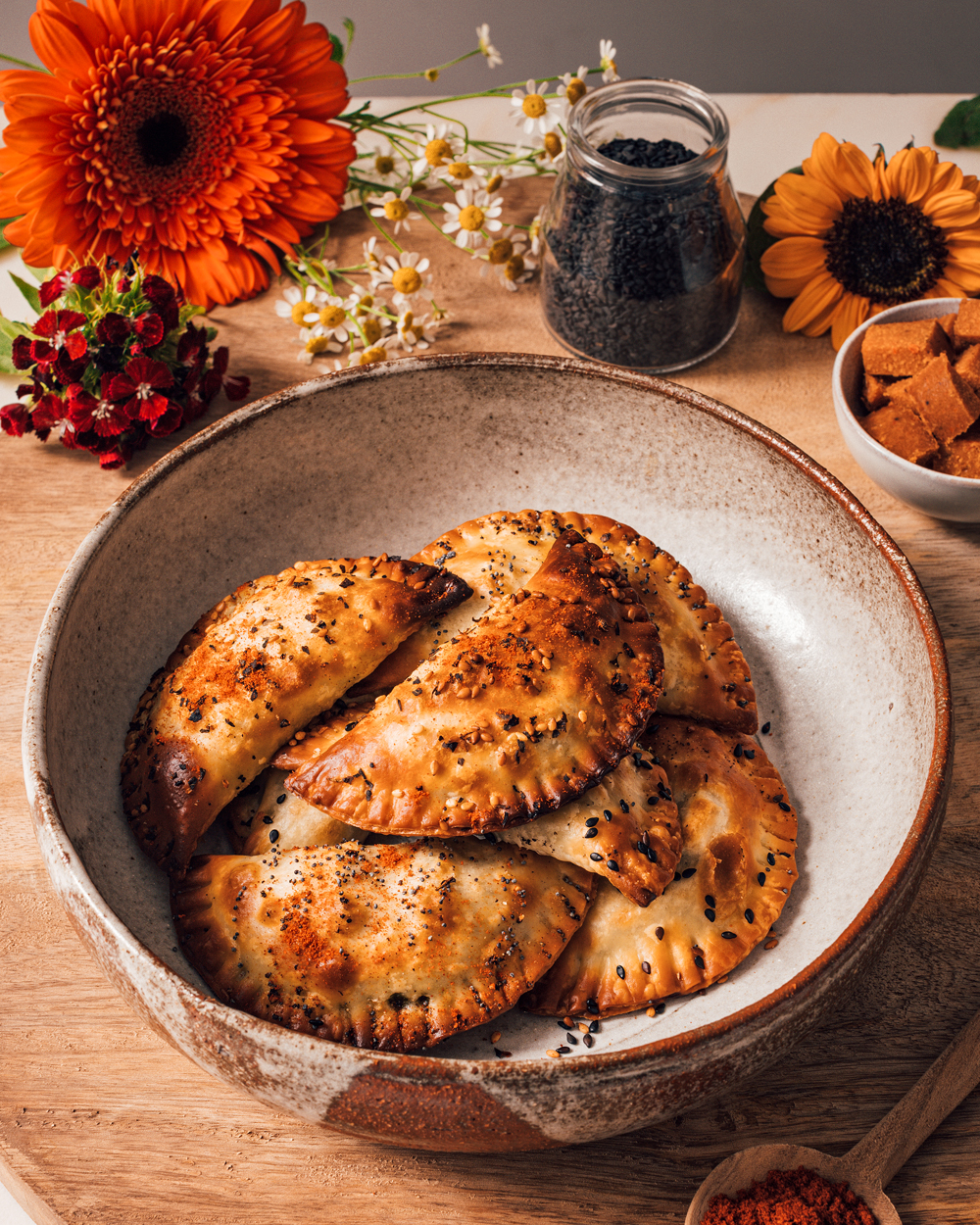 This is Tooltip!
Esperamos el verano rodeadas de flores y olores!
Y estrenamos junio con esta fantástica receta de Empanadillas veganas con Calabizo al horno, hechas por Beli, autora del blog My Vegan Deli, en el cual comparte recetas saludables llenas de sabor!
Beli se animó a crear su blog en 2015 cuando vivía en Londres, razón por la cual veréis sus recetas en inglés también, ahora vive en Madrid y disfruta muchísimo cocinando, probando nuevas recetas y compartiéndolas para que las pueda disfrutar todo el mundo que desee un estilo de vida saludable dentro de una alimentación vegana, atendiendo a los ingredientes de cada producto que utiliza.
Esta es su web www.myveganbeli.com 
Esperamos que disfrutéis de esta receta de Empanadillas veganas con Calabizo!
This is Tooltip!
INGREDIENTES PARA 15 EMPANADILLAS
para la masa:
3 tazas de harina
1 cucharadita de sal del Himalaya o la sal que tengáis disponible
1/2 taza de manteca vegetal solida (Yo he utilizado manteca vegetal de coco) a temperatura ambiente
3/4 tazas de agua
1 cucharadita de vinagre de manzana
para el relleno:
1/2 taza de Calabizo (previamente pelado y troceado)
2 puerros
2 cebollas rojas
2 tazas de espinacas frescas
2 tazas de champiñones portobello
2 tazas de champiñones shiitake
una pizca de sal
una pizca de pimienta
una pizca de pimentón
2 cucharadas de aceite de oliva
1/4 taza de aquafaba ( líquido de cocción de legumbres como los garbanzos)
2 cucharadas de semillas de sésamo
This is Tooltip!
Comenzaremos preparando la masa para las empanadillas veganas.
En un bowl grande mezcla la sal, la harina y la manteca vegetal.
Una vez esté mezclado, añade el agua y el vinagre de manzana y amasa hasta formar una bola, envuélvelo en film y enfríalo en la nevera durante media hora.
Mientras tanto prepararemos el relleno con Calabizo de las empanadillas:
En una sartén grande a temperatura media-alta añade el aceite de oliva, una vez templado añade el puerro picado y la cebolla roja picada y cocínalos hasta que que estén pochados.
A continuación añade los champiñones troceados y cocínalos hasta que estén blanditos.
Agrega las espinacas, la sal, pimienta y pimentón.
Una vez el relleno esté cocinado añade el Calabizo pelado y picado y cocínalo todo durante 5 minutos.
Precalienta el horno a 200ºC.
Volvemos con la masa de las empanadillas:
Espolvorea harina en una superficie limpia, amasa la masa hasta obtener una masa fina.
Con un molde redondo corta la masa, de esta manera tendremos masas finas con forma redonda, como mini pizzas, repite el proceso hasta agotar la masa, obtendrás sobre 15 masas para empanadilla.
Procedemos al relleno de las empanadillas:
Rellena cada empanadilla con dos cucharadas del relleno que acabamos de preparar, ponlo en el medio de la empanadilla, cierra la masa y con la ayuda de un tenedor presiona los extremos para que se queden perfectamente selladas.
Con un pincel de cocina pinta las empanadillas con el aquafaba y espolvorea semillas de sésamo.
Cocínalas en el horno durante 10 minutos a 200ºC, hasta que estén doradas.
¡Esperamos que os encante esta receta de empanadillas veganas con Calabizo al horno!
Have you tried this recipe?
Upload an image to Instagram with your recipe and tag us!
Every day we are more lovers of Calabizo. Join up!