Empanada doble de grelos con calabizo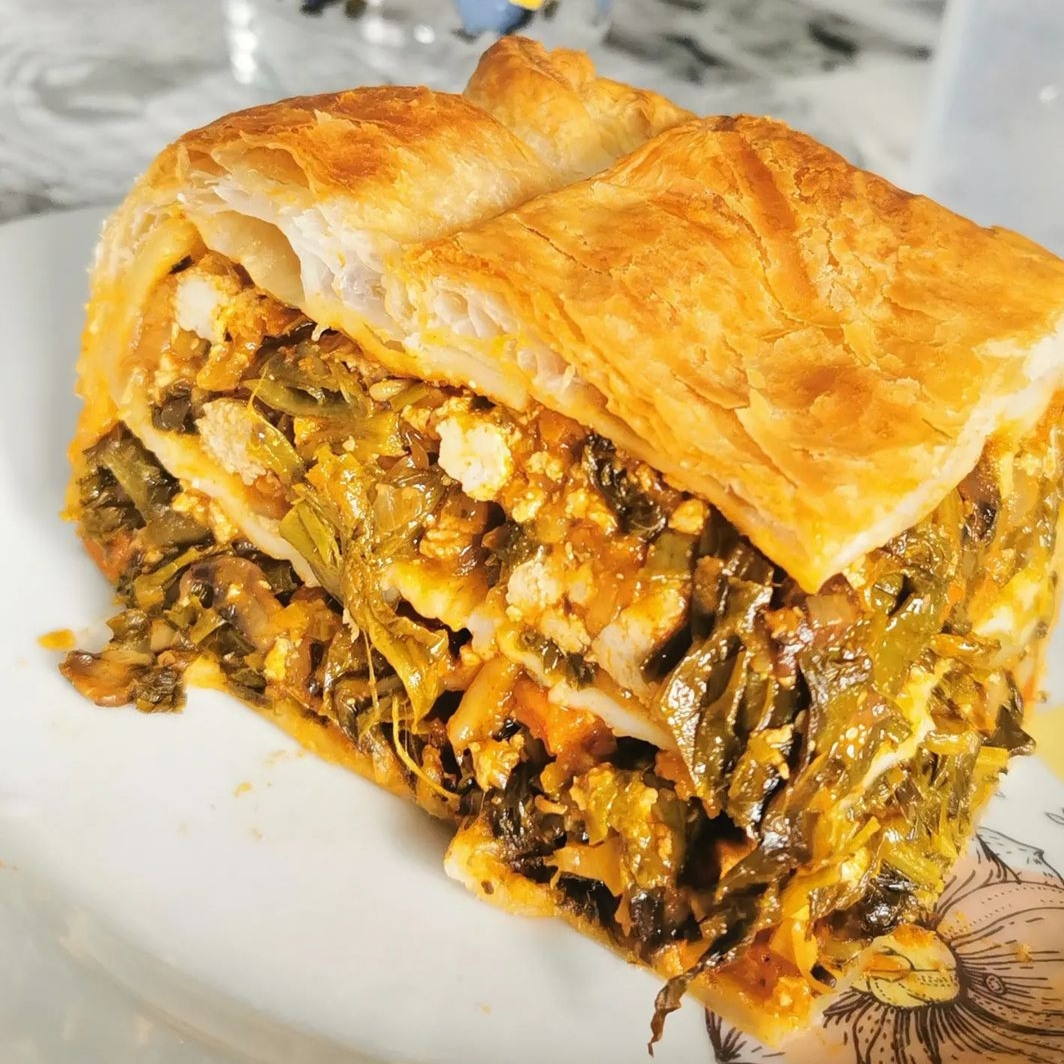 La empanada gallega es una variedad de empanada muy popular en la gastronomía de Galicia. Esta preparación culinaria, típica de fiestas y romerías, suele prepararse con diversos rellenos en su interior, todos ellos con ingredientes de nuestra tierra y se puede servir fría o caliente.
La empanada vegetal que aquí compartimos está elaborada por Esther, autora del blog @galega_incorrecta y propone rellenarla con una verdura bien típica de Galicia: los grelos.
El grelo es el brote floral del nabo en cuyo extremo aparecen las flores.
No se debe confundir el grelo con las nabizas. Ambos productos son hojas y brotes florales del nabo, pero los grelos se recolectan en el momento inmediatamente previo a la floración, cuando aparecen las yemas (proceso conocido como "grelar" en gallego) entre diciembre y febrero y las nabizas son las mismas hojas antes de esa fase, a partir de octubre-noviembre.
Esta empanada doble de grelos con calabizo está elaborada con masa de hojaldre, que suaviza el sabor intenso de los grelos; la puedes comprar hecha o prepararla de forma casera.
Esperamos que disfrutes de esta sabrosa receta!
1 chorro de aceite de oliva virgen extra
1,5 cebolla
2 dientes de ajo
2 apios
1/2 bandeja de portobelos
2/3 de un taco de Tofu
2 calabizos
Grelos (un buen manojo)
Especias al gusto
1 pizca de sal
Variado de verduras, las que más os guste o tengáis a mano.
3 Masas de hojaldre
Ponemos a pochar la cebolla, el ajo, los apios, todo muy bien picado.
Añadimos los portobelos troceados, le damos un par de vueltas y añadimos los grelos.
Incorporamos la pizca de sal para ayudar a la verdura a soltar el agua. Mantenemos a fuego medio bajo hasta que estén bien hechos los grelos.
Agregamos las especias y el tofu en migajas. Removemos bien y cuando esté todo bien integrado añadimos los calabizos picados (previamente pelados). Le damos unas vueltas y dejamos reposar 5 minutos para que los calabizos impregnen la mezcla de sabor.
Cogemos una fuente de cristal alta, ponemos una base de masa de hojaldre, agregamos la mezcla de verduras hasta la mitad y ponemos una lámina más de masa. Añadimos lo que queda de las verduras y tapamos con otra masa de hojaldre.
Metemos en el horno (precalentado a 200°) durante unos 25-30 minutos a la misma temperatura.
Dejamos enfriar y lista para disfrutar 😋A través de nuestra Embajadora de Calabizo: @galega_incorrecta, podrás disfrutar de un 5% de descuento en nuestra tienda online con su código: galegaincorrecta
Have you tried this recipe?
Upload an image to Instagram with your recipe and tag us!
Every day we are more lovers of Calabizo. Join up!