Crema Samaín de calabaza y ralladura de Calabizo picante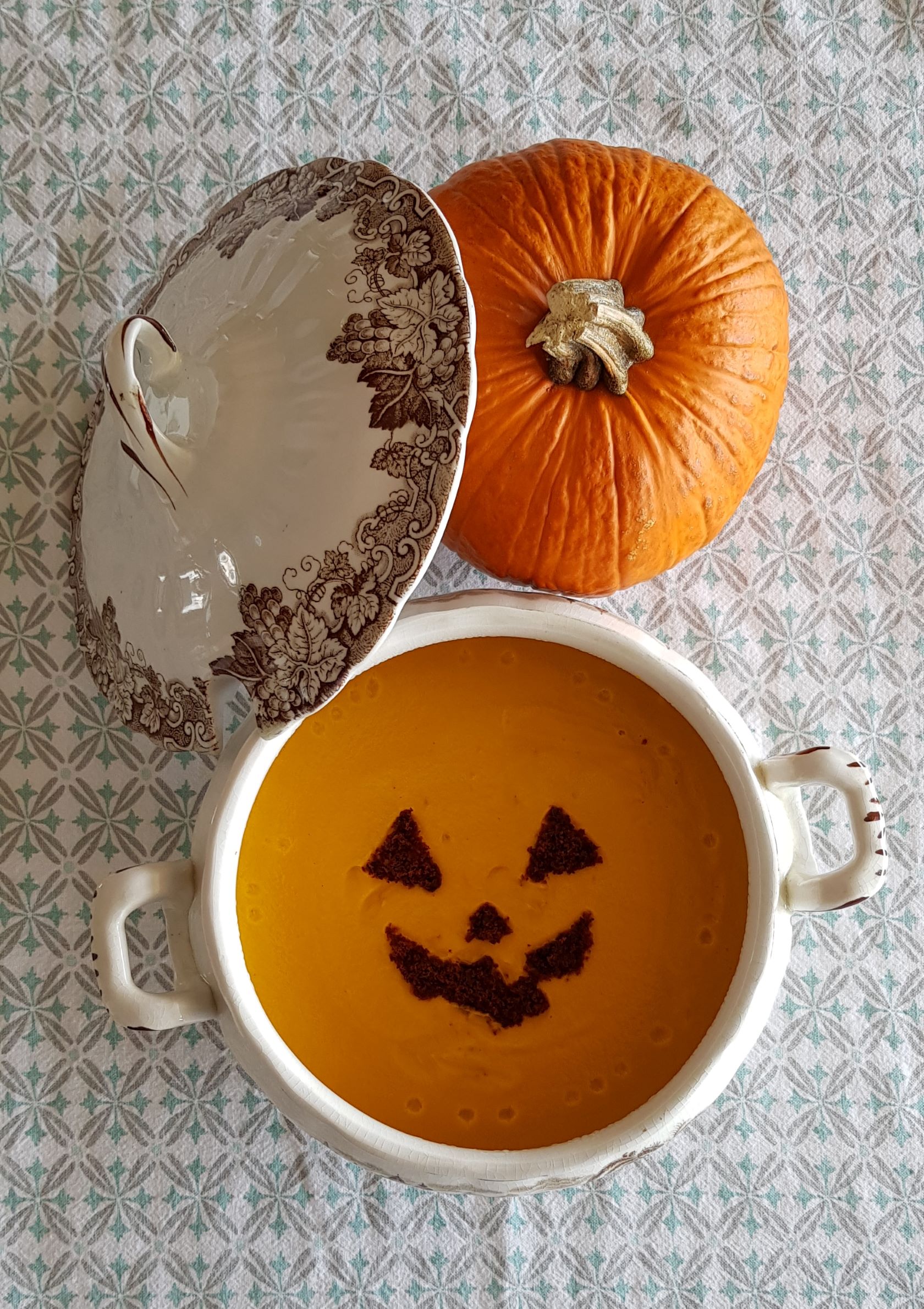 Se acerca Samaín, nombre con que se conoce en Galicia a la fiesta de origen celta que dio origen a Halloween! y para celebrar esta enraizada tradición gallega, llamada también "Noite de meigas", "Festa das cabazas" y "Noite dos mortos" hemos elaborado esta sabrosísima crema de calabaza que está de muerte!!
Ingredientes: (para 5 raciones)
1 cebolla mediana
2 dientes de ajo
1 chalota
1 chorro de aceite de oliva virgen extra
500 g de calabaza pelada
100 g de zanahoria
400 ml. de caldo de verduras (agua, en su caso)
1 cucharada de sal
100 ml. de bebida vegetal (de avena, almendra, nueces...)
1 pellizco de pimienta blanca en polvo, cúrcuma y jengibre en polvo
1/2 Calabizo picante
Pon en una olla bien troceadas y picadas: la cebolla, la chalota y los 2 dientes de ajo con un buen chorro de aceite de oliva virgen extra, (unos 30 ml.) Sofríelo a fuego medio/bajo durante unos minutos.
Para facilitar el pelado de la calabaza, puedes escaldarla en agua hirviendo o ponerla en el horno a 200º unos minutos.
Cuando el sofrito esté bien dorado, agrega la calabaza ya pelada y las zanahorias, bien troceadas y cocina unos 15-20 minutos.
Después agrega los 400 ml. de caldo de verduras (o agua en su caso), añade la cucharada de sal y deja que se cocine durante 20-30 minutos hasta que estén bien blandan la calabaza y la zanahoria, para luego poder triturarlas.
En este tiempo te proponemos hacer manualidades para la decoración: dibuja o imprime la silueta de una calabaza, con sus ojos, nariz y boca y luego recorta los huecos, para poder usarla de plantilla y hacer la cara de Samaín sobre la crema. Reservar para el final.
Finalmente añade los 100 ml. de la bebida vegetal de avena junto con el pellizco de pimienta blanca, cúrcuma y jengibre en polvo y remueve unos minutos.
Tritura hasta conseguir una crema suave y homogénea. Colócala en una sopera.
Para la decoración:

Pela el Calabizo y rállalo con un rallador.
Con cierta rapidez coloca la plantilla de papel sobre la crema.
Agrega la ralladura de Calabizo en los huecos, rellenado el espacio de los ojos, nariz y boca.
Después retira cuidadosamente la plantilla y listo!
Verás que esta receta además de saludable y nutritiva, está de muerte!!
Esperamos que te guste esta idea calabicera y sorprendas a los tuyos en la noche más tenebrosa del año y cualquier otro día!
Have you tried this recipe?
Upload an image to Instagram with your recipe and tag us!
Every day we are more lovers of Calabizo. Join up!