This is Tooltip!
Crema de calabaza con topping de Calabizo
This is Tooltip!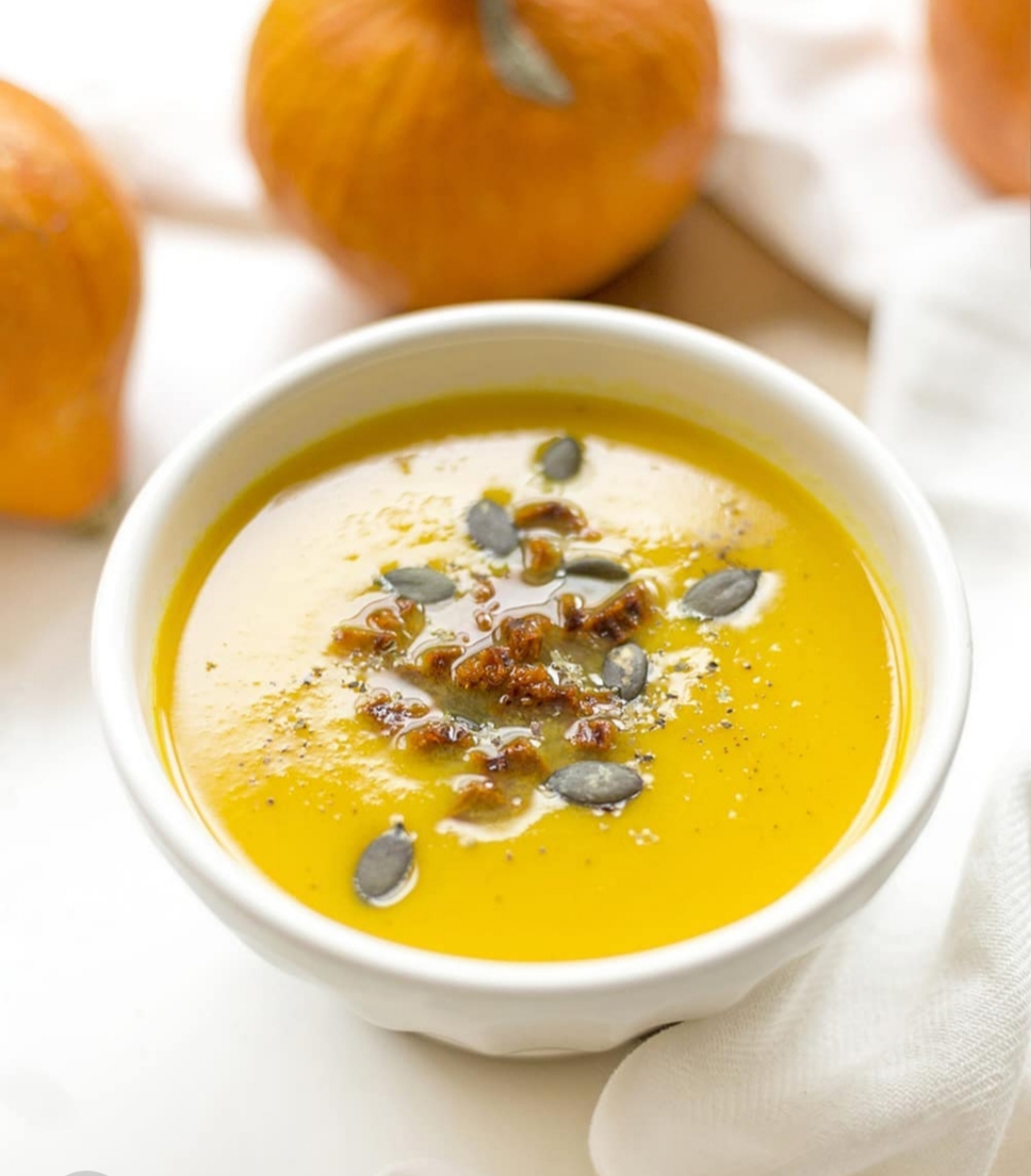 This is Tooltip!
Espectacular receta calabicera creada por Marta, autora del blog The Green Adventure 
Para ella, el ingrediente estrella de otoño es la calabaza, y para celebrarlo comparte esta maravillosa receta: una reconfortante crema de calabaza solo con verduras, sin coco, lácteos ni gluten y con un topping muy especial: nuestro sabroso embutido de calabaza, el Calabizo.
Como buena gallega que es Marta, le gusta promover y dar a conocer los buenos productos de su tierra y Calabizo le encanta porque aporta muchísimo sabor a los platos y recetas.
Y es verdad que nuestro innovador alimento, al estar curado y ahumado con madera de roble, le da un toque especial a esta crema de calabaza!
¿Te animas a probar?
This is Tooltip!
Para 6 personas:
Media calabaza cacahuete (500 gr)
2 zanahorias
1 rama de apio
1 cebolla
1 puerro
1 Calabizo (dulce o picante, al gusto)
Pipas de calabaza
Un chorrito de AOVE (Aceite de Oliva Virgen Extra)
Cucharada de cúrcuma
Cucharadita de pimienta negra
Cucharadita de jengibre
Pizca de sal
Orégano
This is Tooltip!
Pela la calabaza y las zanahorias.
Trocea todas la verduras, calabaza, zanahorias, cebolla, apio y puerro.
Pon las verduras en una olla y cúbrelas con agua.
Añade el AOVE, la cúrcuma, pimienta negra, jengibre y sal y lleva a ebullición.
Cuece durante 20 minutos, hasta que la calabaza esté tierna.
Bate hasta obtener una textura cremosa.
Sirve caliente en un bol.
Como topping añade calabizo pelado y picado, pipas de calabaza y aromatiza con un toque de orégano.
¿Qué te parece esta idea calabicera?
Have you tried this recipe?
Upload an image to Instagram with your recipe and tag us!
Every day we are more lovers of Calabizo. Join up!