Bollos preñaos de calabizo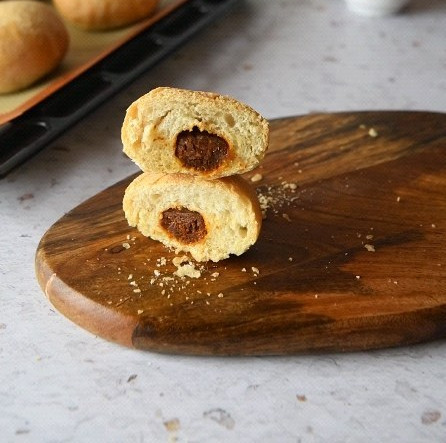 Ingredientes para 8 unidades:
🔸250 g de harina de fuerza
🔸150 ml de agua tibia
🔸5 g de sal
🔸5 g de levadura fresca
🔸2 calabizos
🔸AOVE
Mezclar en un cuenco todos los ingredientes menos el calabizo.

Amasar hasta obtener una masa fina y elástica (unos 10 minutos).

Formar una bola, poner en un bol aceitado y dejar reposar tapado hasta que doble su volumen (1 hora aproximadamente).

Pelamos los calabizos y los troceamos en 4 partes cada uno.
Volcamos la masa en la encimera, la desgrasamos ligeramente y la dividimos en 8 porciones iguales.
Hacemos una bolita con cada porción, hundimos el dedo en ella y ponemos un trozo de calabizo. Cerramos la bolita y la boleamos un poco, las colocamos todas en una bandeja de horno y dejamos reposar tapadas otros 20 minutos.
Pintamos los panes con AOVE y los horneamos a 180 º C durante 20 minutos, hasta que estén bien dorados.
¡A disfrutar de estos ricos bollos preñaos!
Have you tried this recipe?
Upload an image to Instagram with your recipe and tag us!
Every day we are more lovers of Calabizo. Join up!