Bollitos de calabaza, queso y calabizo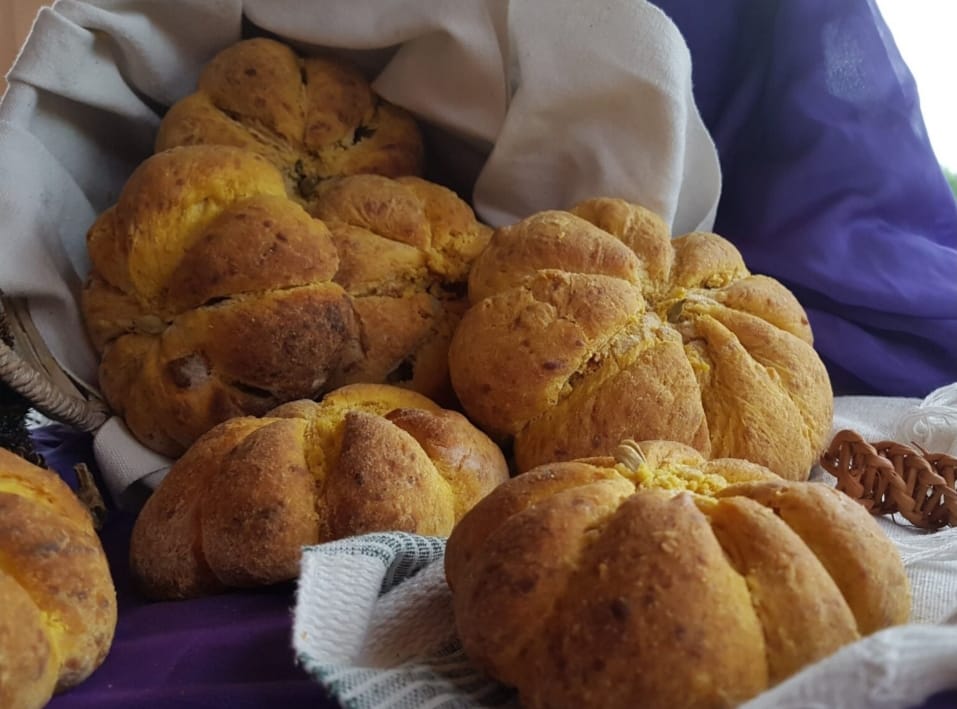 Lo ideal en cada época es preparar recetas con frutas y verduras de temporada!
y como estamos en otoño, la mejor época de calabazas, os presentamos esta idea calabicera de Bollitos de pan de calabaza, queso y calabizo;
Nana, creadora y cocinera de La despensa de Nana, es quien nos trae esta fantástica idea de pan calabicero hecho con calabaza, tan propia del otoño!
Más abajo encontrarás la receta de estos bollitos de pan de calabaza, queso y calabizo, con forma de calabaza, que podrás elaborar para la celebración de Samaín y Halloween 🎃👻💀
Esperamos te animes a prepararla, verás lo fácil que es sorprender con algo tan original!
Que la disfrutes!
INGREDIENTES:
150 gr de puré de calabaza
200 gr de queso rallado vegano
2 chorizos veganos calabizo
500 gr de harina de espelta
50 gr de azúcar moreno
21 gr de levadura fresca
2 huevos (puedes utilizar sustituto del huevo como el Vegg de Biográ, por ejemplo)
50 gr de aceite de oliva virgen extra
1 cucharada de sal
20 gr de sirope de ágave o de arce, o cualquier otro sustituto de la miel.
80 cc de leche de avena
1 cucharadita de cúrcuma
1 cucharadita de jengibre molido
1 cucharadita de pimienta negra
Semillas de cardamomo
Hilo de cocina
Cocer la calabaza en trozos con poca agua, cuando ya esté tierna, la retiramos y dejamos escurrir muy bien.
Sacamos la piel del calabizo y lo cortamos en rodajas finas y reservamos para el final.
Colocar todos los ingredientes en la thermomix , menos el chorizo, mezclar durante unos minutos hasta que la masa se despegue de las paredes.
Retiramos de la thermomix y la ponemos en un bol, tapamos con un paño y dejamos reposar sobre una hora.
Sacamos del bol,  le añadimos el chorizo calabazo cortado en rodajas finas y si hace falta le añadimos más harina hasta que amasando  muy suavemente no se pegue en los dedos.
La amasamos como un chorizo ancho y lo cortamos para ir haciendo los bollos. Amasamos cada bollo, si hace falta poner más harina para moldear la masa suavemente.
Le ponemos en el centro una semilla de cardamomo y vamos haciendo la forma de la calabaza con el hilo de cocina, como veréis en la foto.
Dejamos reposar 20 minutos. Pincelamos con aceite de oliva y lo metemos en el horno a 180º  unos 30 min.
Dejamos reposar en el horno apagado.
Una vez enfriado sacamos los panes y retiramos los hilos. Y listos para comer ¡¡
Have you tried this recipe?
Upload an image to Instagram with your recipe and tag us!
Every day we are more lovers of Calabizo. Join up!