Arroz con kale, tofu birmano, calabizo y pimiento rojo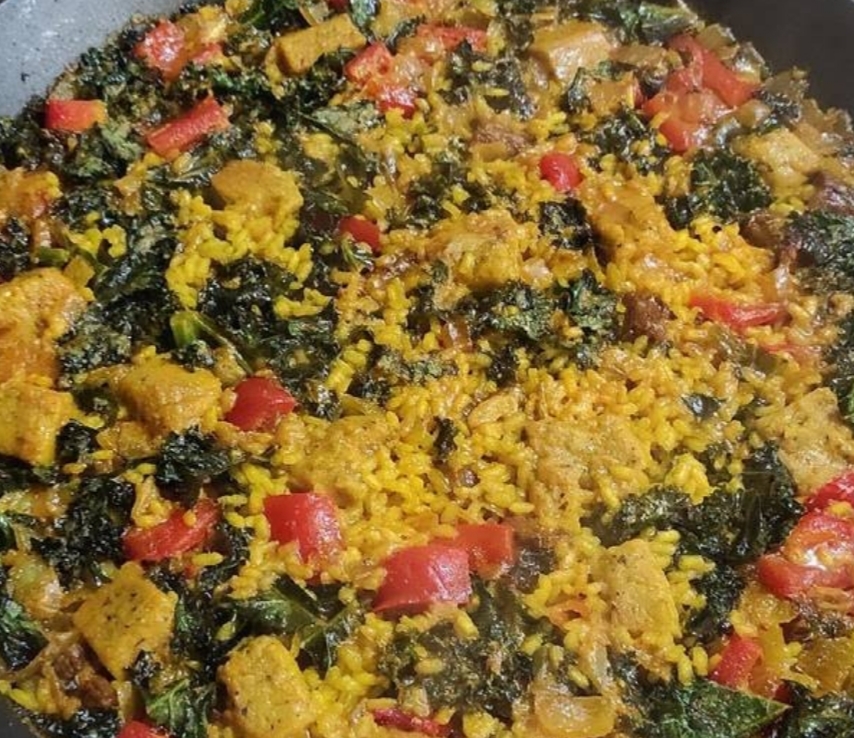 Te proponemos un plato vegetal muy sabroso, nutritivo y original!
Por cortesía de Gilbert (Aprenent a la vida) y que descubrimos a través de Cookpad, una plataforma de intercambio de recetas, compartimos esta curiosa receta:
Arroz de kale, tofu birmano, calabizo y pimiento rojo. 
Tal vez con esta receta descubras nuevos ingredientes.
Kale: Si todavía no lo has probado te animamos a que lo hagas; este nutritivo vegetal es una variedad de plantas brasicáceas o crucíferas, como lo son el brécol, las berzas, el repollo, la coliflor, las coles de Bruselas, la lombarda o el romanesco, los grelos o el Pak Choi, procedentes de Asia, habituales ya en las verdulerías occidentales.
Los beneficios del kale son numerosos, es antioxidante, aporta vitaminas del grupo A, C y K y calcio, presenta altos niveles de fibra y proteína vegetal, favorece la digestión y es de bajo aporte calórico.
Tofu birmano es un tofu de garbanzos, llamado también tofu shan, originario de Birmania o Myanmar dónde lo usan en múltiples platos de curry, sopas, ensaladas, etc. El tofu de garbanzos es un buen sustituto de la proteína animal y es bastante fácil de elaborar a partir de la harina de garbanzos. Su textura es más suave y blanca que el tofu de soja y se puede cocinar de diferentes maneras: a la plancha, al horno, ensaladas o incluirlos en platos como este arroz de verduras.
Esperamos que te guste esta idea de receta calabicera!
200 g. arroz
50 g. kale troceado
1/2 pimiento rojo troceado
200 g. tofu birmano en dados
2 calabizos pelados y troceados
1/2 cebolla picada
1 diente ajo laminado
2 cucharadas de salsa tomate casero
1 cucharadita de carne de pimiento choricero
600 ml caldo verduras casero
Colorante alimentario
Aceite de oliva virgen
Sal marina
Pon la paella (recipiente donde se cuece el arroz, muchas veces llamado "paellera") al fuego con aceite, sal y dora la cebolla, cuando empiece a coger color añade el kale, pimiento rojo y cocínalo unos 6 minutos.
A continuación añade el tofu y los calabizos (previamente pelados y troceados) y cocina unos 7 minutos todo. Agrega el tomate, el ajo y la carne de pimiento choricero (el sabor de la carne de pimiento choricero tiene mucha potencia por lo que no debemos abusar). Rehoga todo unos minutos.
Añade el arroz y sofríelo un poco, vierte el caldo y el colorante. Cuando empiece a hervir baja el fuego y  deja cocinar unos 15-18 minutos. Rectifica de sal si es preciso.
Apaga el fuego y deja reposar unos minutos. Mientras puedes disfrutar de un aperitivo.
Esperamos que disfrutes de este rico plato!
Puedes comprar aquí los calabizos para tan sabrosa receta :D
Have you tried this recipe?
Upload an image to Instagram with your recipe and tag us!
Every day we are more lovers of Calabizo. Join up!