Tortilla francesa vegana de queso y calabizo
Te sorprendemos con una receta tan común como conocida, la tortilla francesa!
Convertida en una sabrosa tortilla francesa vegana de queso y calabizo!
La versatilidad de este plato es tan grande que existen innumerables variaciones y Alba Peinado a través de su blog "From Lost to the Veggie" nos sorprende con su original receta haciendo posible que la tortilla francesa de toda la vida pueda ser apta para personas veganas y/o alérgicas al huevo.
Descubre más abajo la receta y verás que fácil y resultona!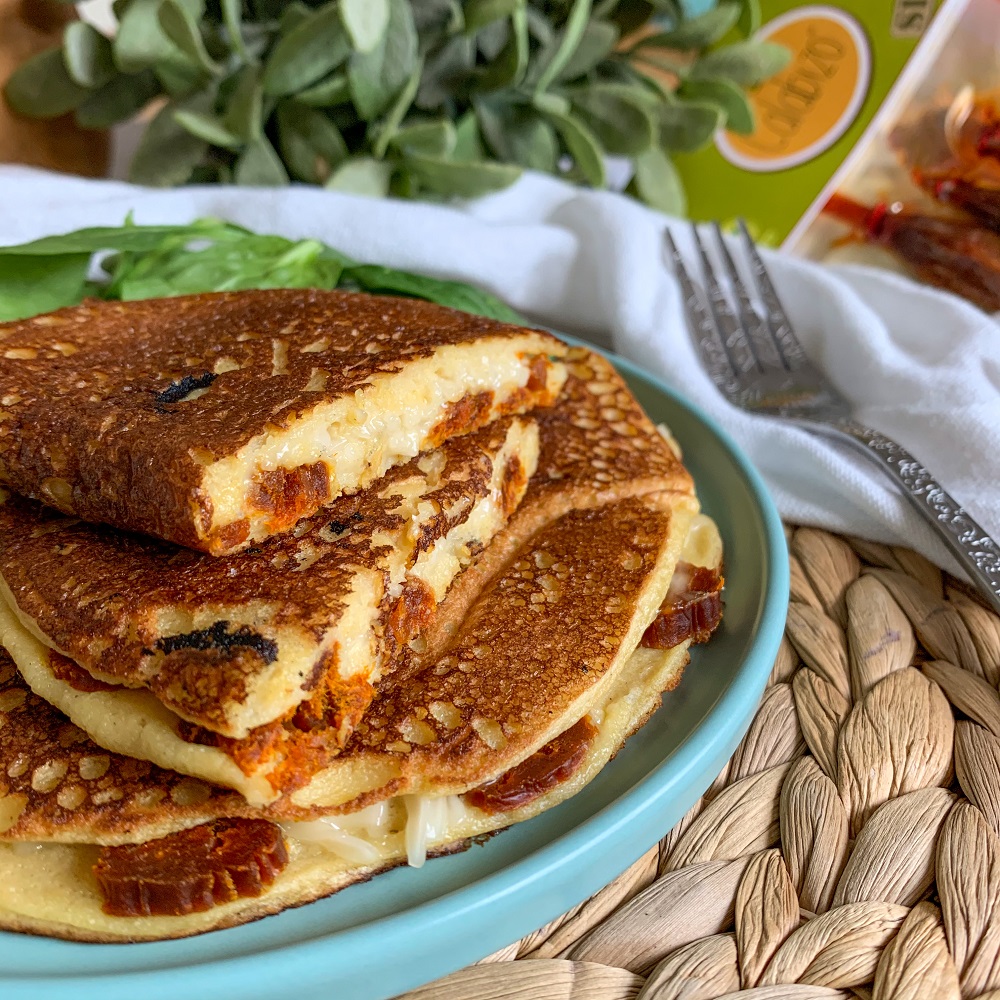 Receta de tortilla francesa vegana de queso y Calabizo
Ingredientes: para 4 tortillas
8 cucharadas de harina de garbanzo.
1 cucharada de sustituto de huevo (o ½ cucharada de semillas de lino molidas y ½ de levadura nutricional).
De bebida de soja sin azúcares añadidos.
Chorrito de vinagre.
3 cucharadas de nata de soja (o cualquier nata vegetal).
Pizca pimienta negra.
2 gr. levadura química.
Sal Kala Namak.
2 Calabizos.
Queso rallado vegano.
Aceite de oliva virgen extra.
Elaboración:
Mezcla en un bol la harina de garbanzo, el sustituto de huevo o las semillas de lino, la bebida de soja, el vinagre, la nata de soja, la levadura y la pimienta.
Pincela una sartén antiadherente, con aceite de oliva sin escatimar por todas partes.
Calienta a fuego medio alto y añade un cazo de la mezcla.
Cuando empiecen a salir burbujas en la parte de arriba, despega con cuidado los bordes para asegurarte que no se ha pegado en la sartén.
Añade en el centro sal kala namak, el queso y el Calabizo (previamente pelado) en rodajas finas (como 1/2 por tortilla) y cuando veas que tiene consistencia la base, pliega por la mitad. Deja un minutito, a fuego medio y listo!
Repite con el resto de mezcla y conseguirás las 4 tortillas.
Esperamos que te guste y disfrutes de este sencillo plato!
Consigue aquí tus Calabizos para tan sabrosa receta!