Veggie lentejas con calabizo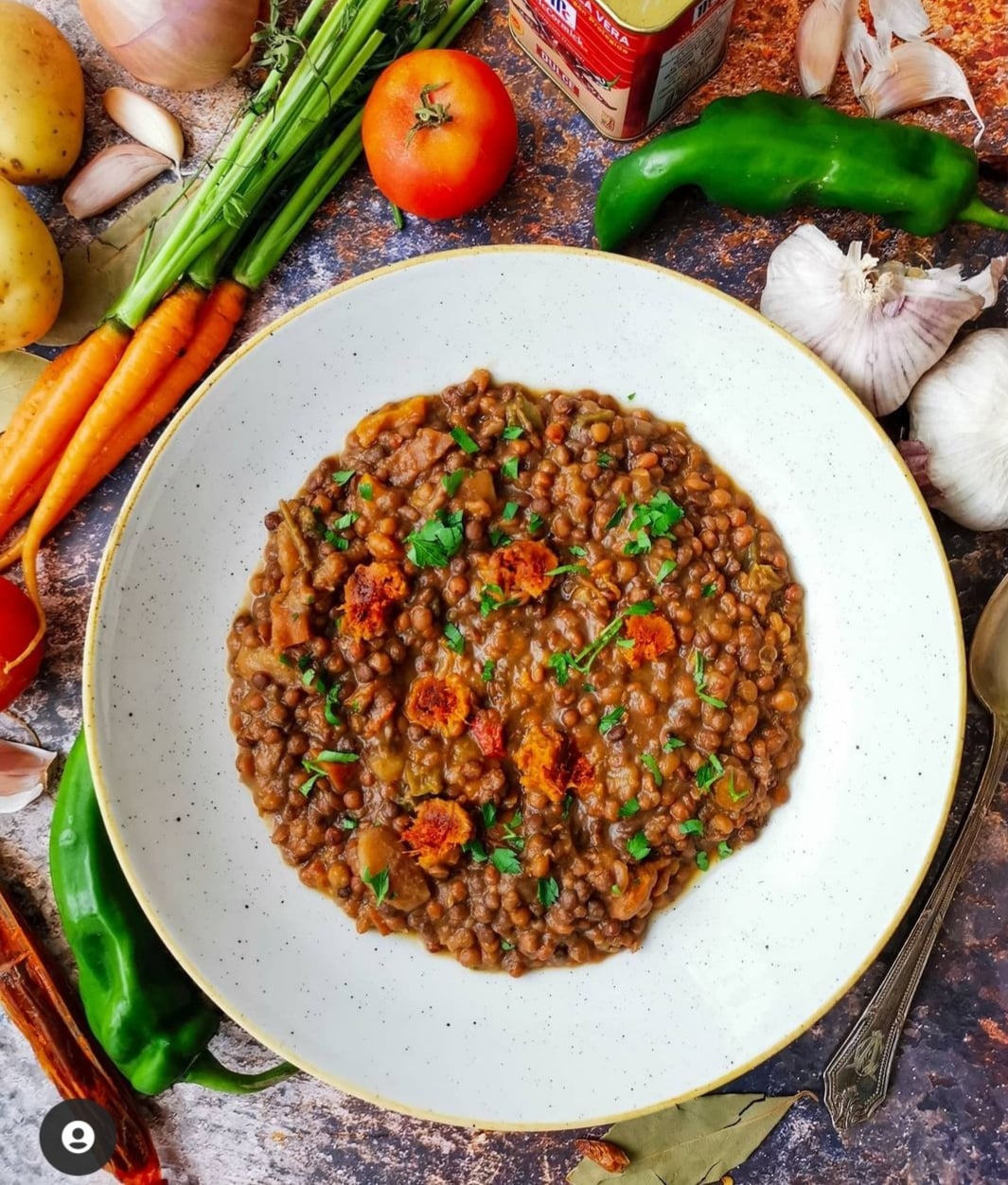 Lentilles végétariennes au calabizo
Les lentilles sont une légumineuse de haute valeur nutritionnelle, riche en protéines, en fibres, en potassium, en magnésium, en phosphore et en zinc, avec un faible pourcentage de graisses. Si nous ajoutons les propriétés des autres ingrédients végétaux suggérés par Rosa María, auteur du blog @yotambienmecuido, dans cette recette de lentilles végétariennes, vous aurez un plat à la cuillère sain, nutritif et savoureux !
Préparer des recettes faciles, nutritives et délicieuses n'est pas si compliqué et nous vous encourageons à préparer ces Lentilles végétariennes et vous serez surpris par la saveur incomparable qu'apporte notre #calabizo, faisant de ce plat de cuillères si traditionnel, un plat savoureux!
400 g de lentilles
1 gros oignon
2 gousses d'ail
2 carottes
1 vert et la moitié d'un rouge
1 morceau de potiron
1 grande pomme de terre ou deux petites pommes de terre
1 tomate mûre
 Huile d'olive vierge

Sel, cumin et paprika de la vera
Faites tremper les lentilles dans l'eau, il n'est pas nécessaire de les faire tremper pendant des heures, car elles sont petites, il suffit de les laver.
Dans une poêle, faites pocher l'oignon avec un peu d'huile d'olive, ajoutez les poivrons et l'ail. Laissez tout cuire ensemble. Retirez du feu et ajoutez le paprika. Mélangez bien.
Versez ensuite le mélange frit dans la marmite, avec le reste des ingrédients. Mélangez bien les ingrédients et couvrez d'eau à 3 doigts au-dessus des lentilles. Programmez pendant 7 heures à basse température. Lorsqu'il reste 30 minutes, ajoutez la courgette au ragoût.
Au moment de servir, ajoutez du persil haché et c'est tout !
Nous espérons que vous allez essayer ces savoureuses lentilles.
Vous
pouvez acheter les citrouilles
pour vos lentilles végétales ici !
Have you tried this recipe?
Upload an image to Instagram with your recipe and tag us!
Every day we are more lovers of Calabizo. Join up!