Veggie lentejas con calabizo
Potajes y legumbres
Recetas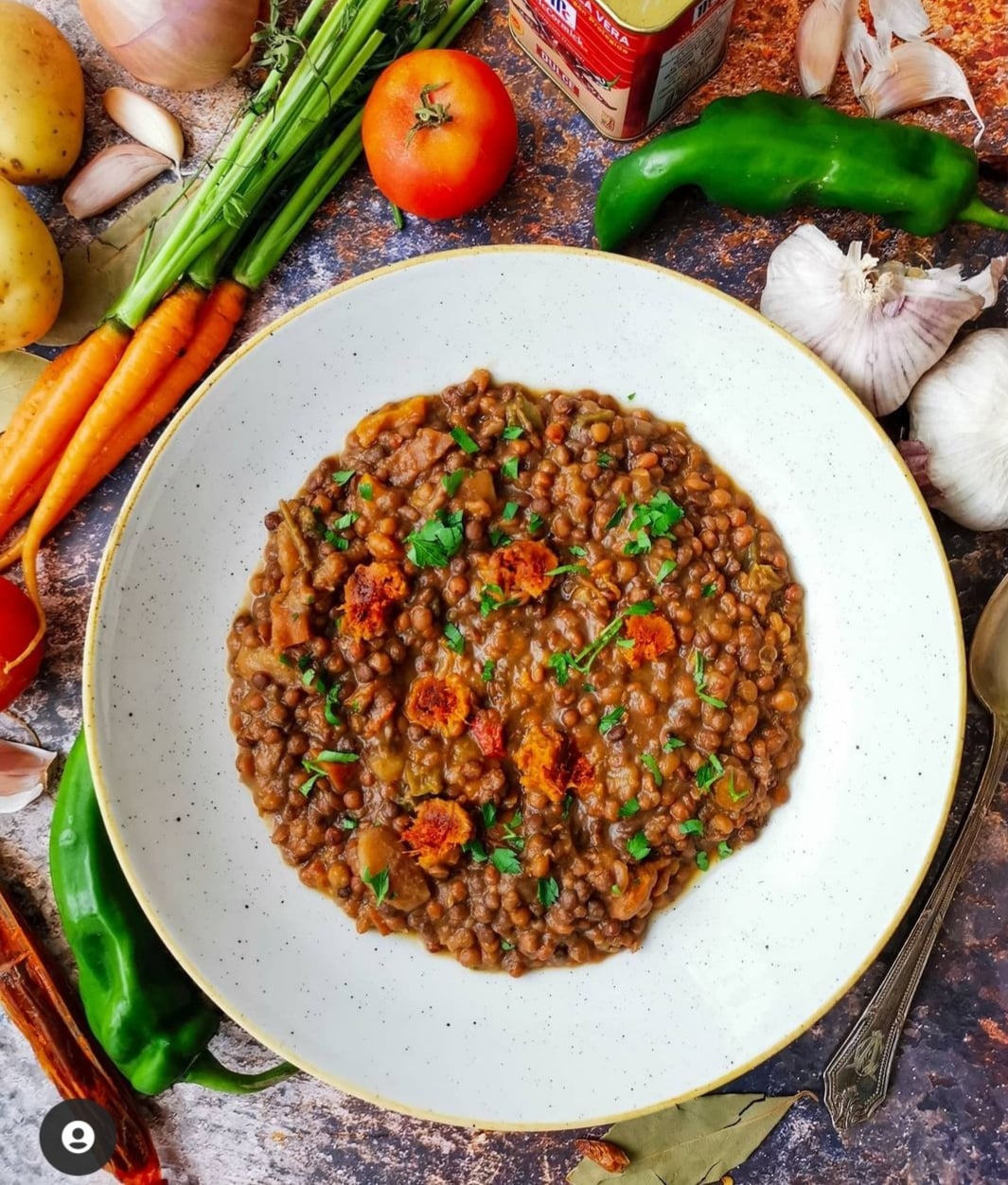 Veggie lentejas con calabizo, si nos las quieres...las dejas, pero tú te lo pierdes!
Las lentejas son una
legumbre de alto valor nutricional, por ser ricas en proteínas, fibra, potasio, magnesio, fósforo y zinc y con un bajo porcentaje de grasa. Si le añadimos las propiedades de los demás ingredientes vegetales que sugiere Rosa María, autora del blog @yotambienmecuido, en esta receta de Veggie Lentejas tendrás un plato de cuchara de lo más saludable, nutritivo y sabroso!
Preparar recetas fáciles, nutritivas y deliciosas no es tan complicado y te animamos a que prepares estas
VEGGIE LENTEJAS
  y te sorprenderá el sabor inconfundible que le aporta nuestro #calabizo, haciendo de este plato de cuchara tan tradicional, una sabrosura!!
400 g de lentejas pardina
1 cebolla grande
2 dientes de ajo
2 zanahorias
1 pimiento verde y medio rojo
1 trozo de calabaza
1 patata grande o dos pequeñas
1 tomate maduro
Aceite de oliva virgen
Sal, comino y pimentón de la vera
Ponemos las lentejas en remojo, no hace falta que estén horas, como son pequeñas, simplemente es para lavarlas.

En una sartén pochamos con un poco de aceite de oliva, la cebolla, añadimos los pimientos y los ajos. Dejamos que se poche todo junto. Apartamos del fuego y echamos el pimentón. Mezclamos bien.

A continuación volcamos el sofrito en la olla, junto con el resto de ingredientes. Mezclamos bien los ingredientes y cubrimos con agua 3 dedos por encima de las lentejas. Programar 7 horas en baja. Cuando falten 30 minutos añadimos el calabizo al guiso.
A la hora de servir añadimos perejil picadito y listo!
Esperamos que os animéis a probar estas sabrosas lentejas
Have you tried this recipe?
Upload an image to Instagram with your recipe and tag us!
Every day we are more lovers of Calabizo. Join up!