This is Tooltip!
Vegan Paratha Bun con Revoltillo de tofu con calabizo
This is Tooltip!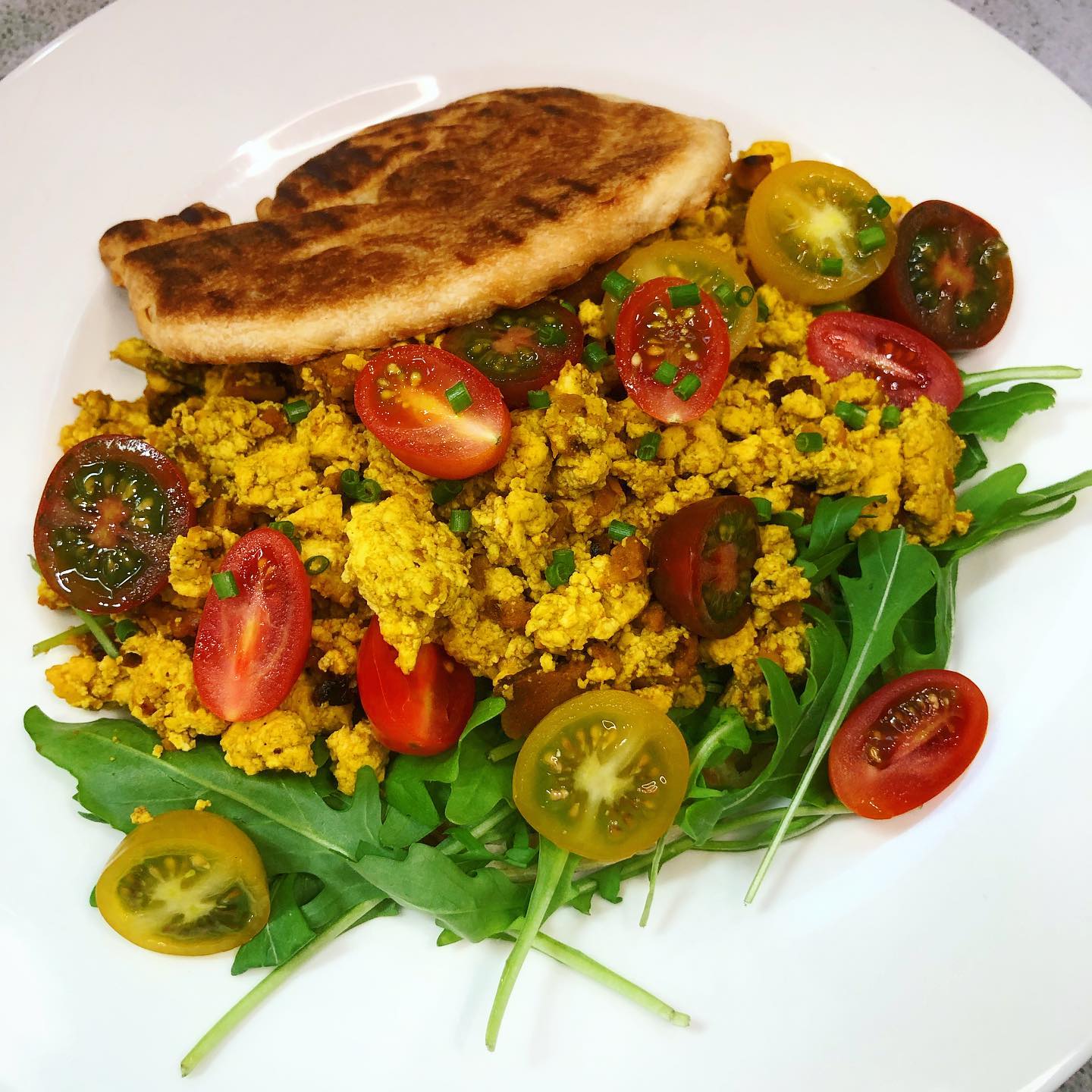 This is Tooltip!
Vegan Paratha Bun con Revoltillo de Tofu y calabizo
Esta original receta la comparte  Alicia Farinós, comunicadora digital y cocinera de corazón, y podréis descubrir sus recetas en su blog de Instagram: 
Alicia Farinós
Con esta receta descubrirás cómo hacer un Vegan Paratha Bun * que podrás acompañarlo de un revoltillo de tofu con nuestro calabizo, y verás que este suculento plato está de chuparse los dedos.
*Paratha Bun es un pan típico de los pueblos de India, se trata de un pan elaborado con harina de trigo y en una sartén caliente con aceite y que generalmente se rellena de diferentes verduras.
This is Tooltip!
Ingredientes para Vegan Paratha Bun: (8 unidades)
600 g Harina de Trigo común
25 g Eritritol
10 g sal
350 ml Leche de Almendras
50 g Aceite de oliva virgen extra (AOVE)
10 g Levadura
70 g Aceite de oliva virgen extra (para en engrasado del bol y el untado entre capas)
Ingredientes para el revoltillo de tofu con calabizo
75 g Tofu firme
1 cucharadita de sal Kala Namak
1/4 cucharadita de Cúrcuma
20 g calabizo (dulce o picante , al gusto)
1 Vegan Paratha Bun
Tomatitos Cherry
Rúcula
This is Tooltip!
Preparación de los Vegan Paratha Bun:
1. Mezclar todos los ingredientes secos y el sceite de oliva virgen extra.
2. Incorporar la leche de almendras.
3. Amasar durante 10-15 minutos, golpear los últimos 5. Es una masa relativamente dura y seca y debe quedar completamente homogénea.
4. Engrasar un bol con aproximadamente 40 ml de aceite de oliva.
5. Dejar reposar durante 2 horas a temperatura ambiente.
6. Bolear la masa hacia adentro y pellizcar las 8 porciones.
7. Untar las porciones en el aceite sobrante, y almacenar en el mismo bol durante 30 minutos.
8. Estirar la masa en una superficie engrasada y doblarlo para formar un rectángulo.
9. Enrollar desde uno de los extremos largos sin comprimir.
10. Desde uno de los extremos, introducir un dedo para llevar un extremo a otro desde el interior.
11. Aplanar y guardar hasta formarlos todos.
12. En una sartén a temperatura media, aplanar con una espátula y hacer 10 minutos por ambos lados.
⚠️ No chaféis en exceso o quedará el interior crudo.
Preparación Revoltillo de tofu con calabizo:
1. Cortar el calabizo (previamente pelado) en tacos pequeños y pasar por la sartén a fuego fuerte.
2. Desmenuzar el tofu por encima y mezclar bien.
3. Añadir la sal kala namak y la cúrcuma. Mezclar bien a fuego medio-alto.
4. Incorporar un poco de agua para que la sal se deshaga y la cúrcuma se reparta uniformemente.
5. Dejar en la sartén hasta que se haya evaporado sin quedar excesivamente seco.
6. Cortar la pararha por la mitad y poner en una sartén/sandwichera (no es necesario engrasar).
7. Cortar los tomates cherry y montar el bocadillo y a disfrutar!!
Si no tienes tiempo, siempre puedes preparar el revoltillo de tofu con calabizo y dejar los vegan paratha para otro día!
¡Que disfrutes de esta sabrosa receta!
Have you tried this recipe?
Upload an image to Instagram with your recipe and tag us!
Every day we are more lovers of Calabizo. Join up!