Tortilla rellena de Calabizo (Torti-Bomba de patata rellena)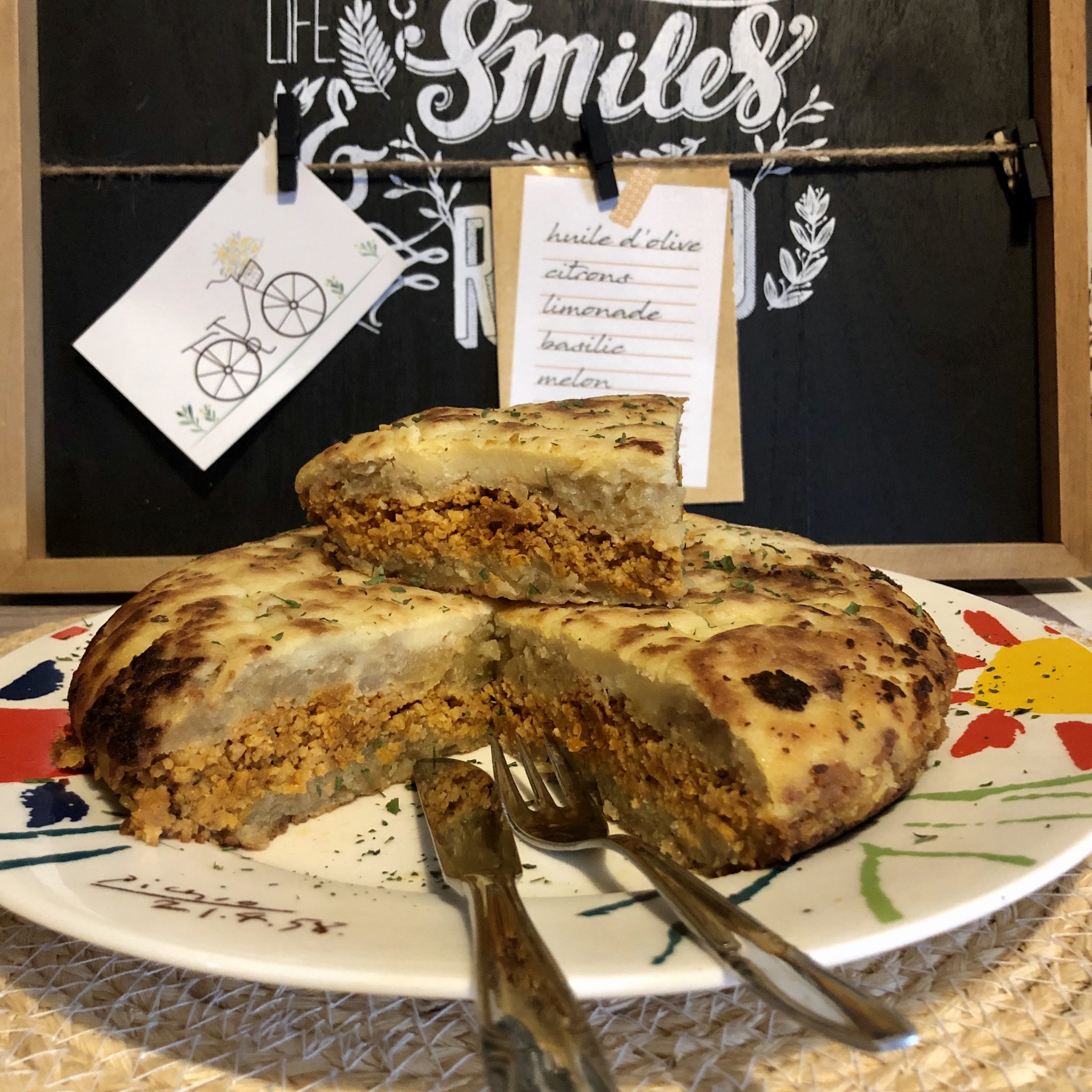 Una variante de las "bombas de patata rellena", más fácil, rápida, y completamente vegana.
Receta de Tortilla de patata rellena de Calabizo,  por cortesía de Patricia Rada, autora de las Recetas de Albarsana.
Albarsana es un pequeño proyecto familiar, que nace para dar respuesta a una necesidad cada vez más creciente de vivir de manera respetuosa con el planeta. En él encontraréis numerosos productos veganos, sin gluten, sin alérgenos, ecológicos....
Ingredientes: para 4 personas
Lo primero es poner la soja a remojar un mínimo de 20 minutos.
Mientras tanto, elegimos la forma de procesar las patatas que más nos guste. Las podemos asar (es lo que yo hice, ya que le da a la receta un toque ahumado) también podemos hervirlas o hacerlas al vapor. El caso es que queden blanditas y manejables como para un puré.
Cuando tengamos la soja lista, la escurrimos muy bien y la rehogamos con un poco de aceite, cebolla y ajo. Salpimentamos al gusto y añadimos los Calabizos muy picados. En mi caso me gusta muy muy fino así que al final pasé la preparación por la picadora eléctrica.
Dejamos enfriar el picadillo de soja y Calabizo, y nos ponemos con las patatas; las pelamos y las machacamos hasta hacer un puré. No tiene que ser especialmente fino, pueden quedar trozos grandes.
Dividimos en dos partes el puré, formamos dos bolas (podemos añadirle un poquito de harina de trigo si se desmenuza mucho) y mojamos la bolas en el falso huevo hecho con harina de garbanzo y agua, al gusto.
Ponemos una sartén con un culín de aceite al fuego, elegid una que no se pegue y que tenga el diámetro correcto para que vuestra tortilla quede gruesa.
Cuando el aceite esté caliente, echamos la primera bola de puré, y aplanamos con una cuchara o espátula hasta que ocupe todo el fondo. Segundo, el picadillo de soja y Calabizo, y por último, cerramos con la otra bola de puré. Damos forma con cuidado, y dejamos a fuego muy lento 5 minutos. Volteamos y lo mismo por la otra cara. Y listo!
Esperamos que disfrutéis de este sencillo pero que muy sabroso plato!
Have you tried this recipe?
Upload an image to Instagram with your recipe and tag us!
Every day we are more lovers of Calabizo. Join up!