Rissotto rosa de manzana y champiñones con Calabizo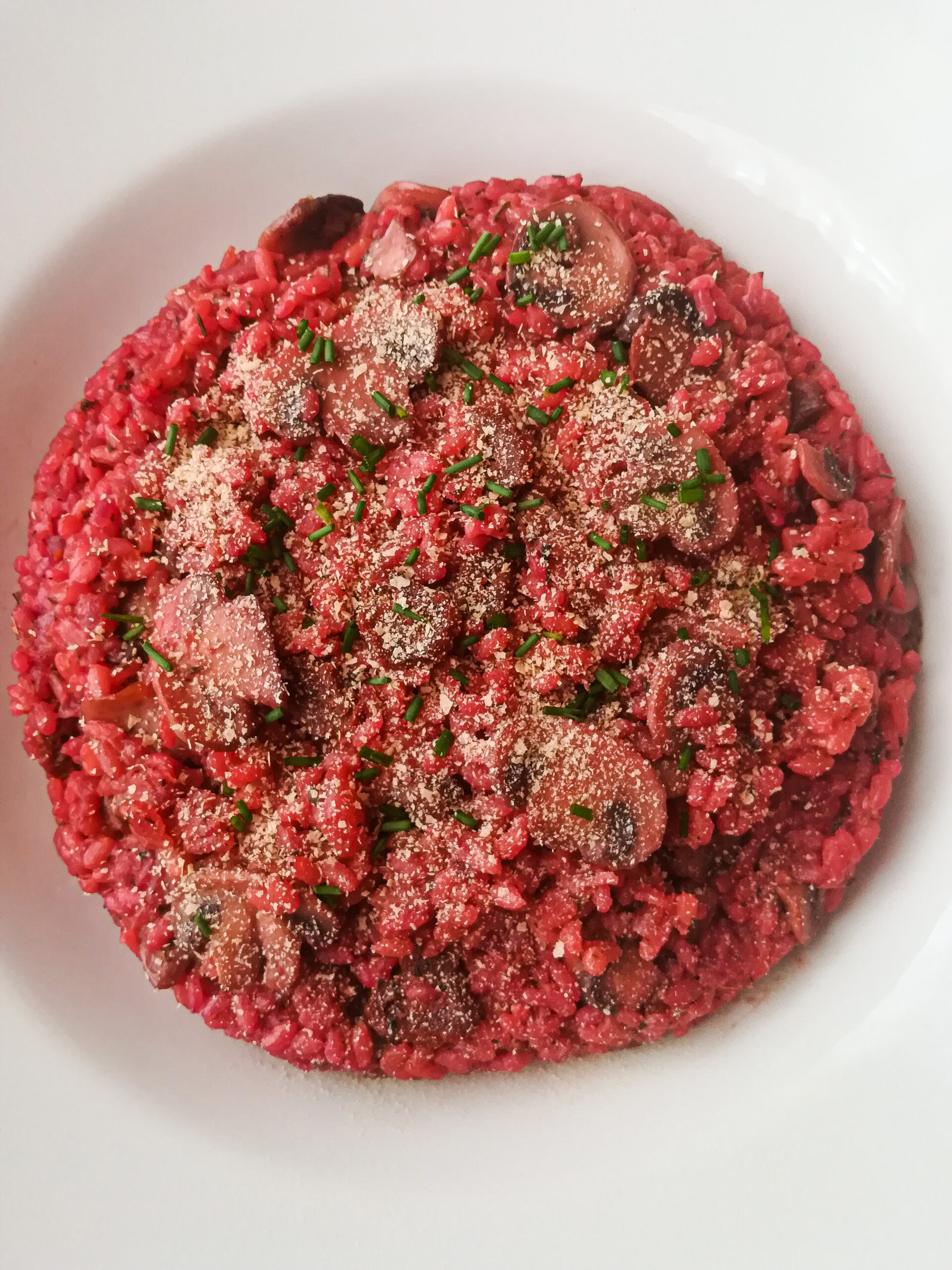 Hoy empieza un nuevo mes, por lo que hoy compartimos un nuevo plato para nuestro recetario: #recetasconcalabizo ✌️.
De nuevo Veganiacos nos sorprende con una receta; En este caso utiliza la versión dulce de nuestro producto estrella para elaborar un sabroso Risotto rosa de manzana y champiñones con Calabizo. A Tono le encanta el risotto y desde que descubrió nuestros productos está ideando una serie de recetas que te encantarán.
La preparación de este risotto es realmente sencilla, y el resultado es una verdadera explosión de sabor y cremosidad que os sorprenderá.
2 remolachas
100 ml caldo de verduras
3 dientes de ajo
1 cebolla morada
1 manzana Granny Smith
300 gr. champiñones
2 Calabizos dulces
Aceite de oliva virgen extra
Sal, tomillo, perejil, albahaca, orégano, romero, pimienta negra molida
levadura nutricional
300 gr arroz arborio
6 tallos de cebollino fresco
Pon en un vaso batidor 2 remolachas cocidas y 100 ml. de caldo de verduras, y tritura todo hasta obtener un puré homogéneo.
Pela 3 dientes de ajo, quítales el gérmen y pícalos. Pela 1 cebolla morada y 1 manzana Granny Smith y pícalas. Pela 300 gr. de champiñones y lamínalos. Quita los rabos y la tripa artificial a 2 Calabizos dulces, y córtalos en rebanadas finas.
Vierte 900 ml. de caldo de verduras en un cazo y ponlo a calentar a fuego medio.
Calienta 1 cda. de aceite de oliva virgen extra en una olla y fríe en ella los ajos hasta que se doren. Agrega otra cda. de aceite y la cebolla, y pocha ésta hasta que se transparente.
Agrega la manzana y cocínala hasta que suelte su jugo. Añade los champiñones y cocínalos hasta que se reduzcan. Incluye 1 cdta. de sal, otra de tomillo, otra de perejil, otra de albahaca, otra de orégano, 1/2 de romero, 1/4 de pimienta negra molida y 2 cdas. de levadura nutricional, y remueve todo bien.
Añade los 350 gr. de arroz arborio y saltéalo con el resto de ingredientes.
En la olla ve agregando el caldo de verduras que tenías calentando, teniendo en cuenta que no debes parar de remover y que has de esperar a que el caldo se evapore para agregar el siguiente incremento.
Agrega el puré que hiciste con remolachas y caldo a la olla, e integra todo bien hasta que el color sea homogéneo.
Ahora es el momento de añadir los Calabizos (previamente pelados y laminados);mézclalos bien con el resto de ingredientes.
Sirve el risotto en un plato hondo, pica 6 tallos de cebollino fresco y decora con él y con 1/2 cda. de levadura nutricional por ración.
Esperamos que te guste y disfrutes de esta receta!
Have you tried this recipe?
Upload an image to Instagram with your recipe and tag us!
Every day we are more lovers of Calabizo. Join up!