Risotto de Calabizo y shiitake de Trives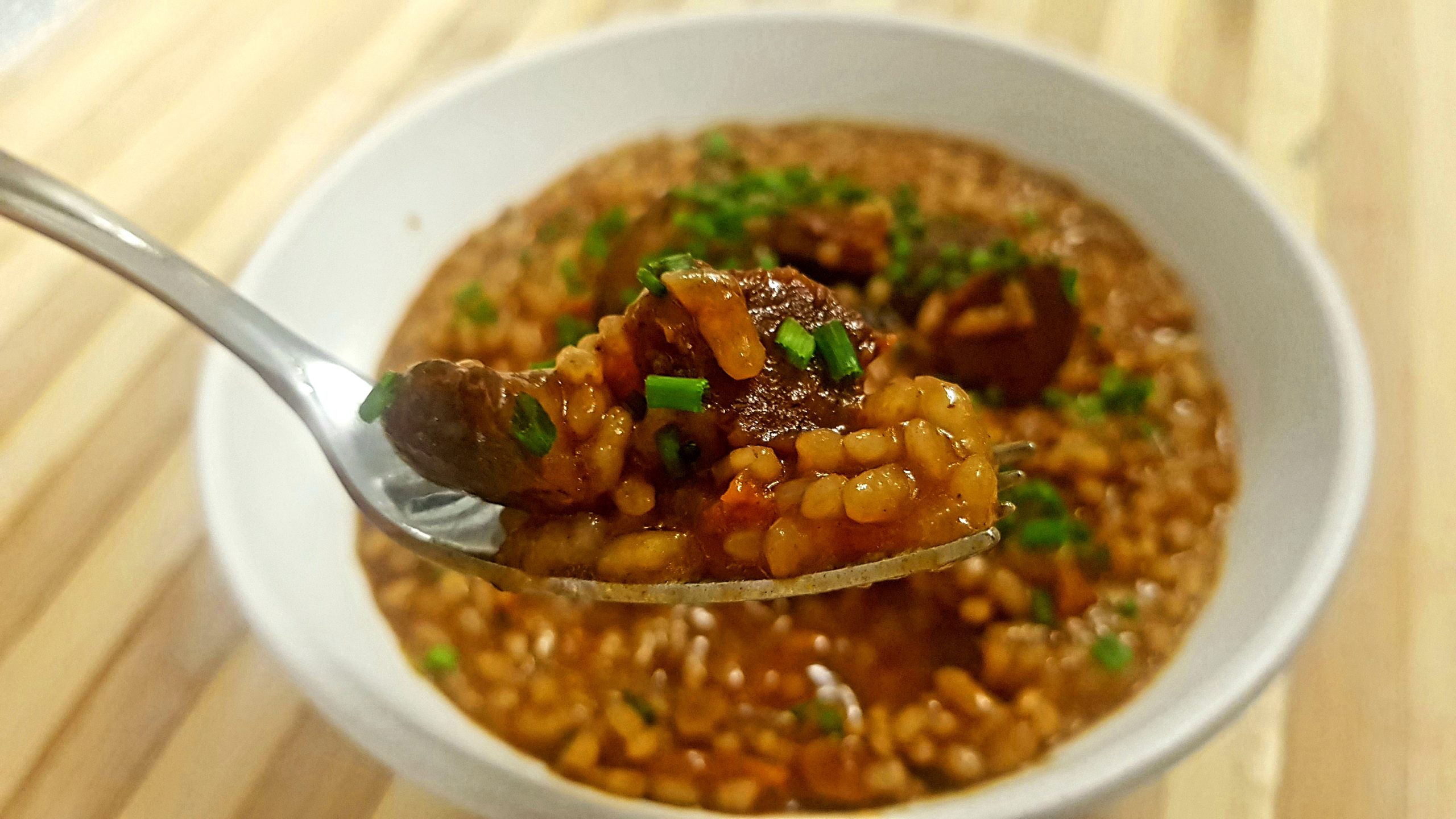 Risotto de Calabizo y shiitake de Trives
Este sabrosísimo plato es creación de Gerson Iglesias, cocinero especializado en recetas veganas y autor de su blog Obxectivo Vegano, en el cual podréis descubrir diferentes recetas basadas en plantas.
Propiedades de la setas china o shiitake:
El shiitake es una de las fuentes de proteína en la dieta de la población de varios países orientales, teniendo muchos usos en la cocina china, japonesa y tailandesa.
A menudo el shiitake se seca y se vende como alimento envasado que deberá ser rehidratado para su consumo.
Tales son sus propiedades que hay estudios que afirman que mejora la salud de la piel, es fuente de vitamina D, tan importante para la la salud ósea ya que ayuda a la absorción del fósforo y calcio y aumenta las funciones energéticas y cerebrales por su alto contenido en diferentes vitaminas del grupo B.
Los shiitake también son buenos para ayudar a reducir el colesterol (gracias a la lentinacina) y para enfermedades circulatorias (posee quitina).
Son numerosos los beneficios de consumir shiitakes además de aportar un rico sabor y excelente textura a muchos platos y recetas.
Para 4 personas:
3 uds. Calabizo dulce o picante
300 g arroz redondo (carnaroli, arborio o similar)
50 g AOVE (aceite de oliva virgen extra)
200 g de cebolla
20 g de ajo
100 g vino blanco
50 g shiitake deshidratado (si son de Trives mejor)
1 litro de caldo vegetal
300 ml de agua de hidratar shiitake
1 cucharadita de cúrcuma
2 cucharadas de crema de pimiento choricero o salsa de tomate
Sal
Pimienta negra
Cebollino
Rehogar muy bien en el aceite de oliva la cebolla y ajo muy picaditos.
Añadir 1 calabizo pelado y picado en láminas, el arroz, cúrcuma, crema de pimiento choricero y sal. Sofreír unos minutos.
Mojar con el vino blanco y dejar evaporar el alcohol, añadir los shiitakes hidratados y picados en trocitos.
Mojar con el líquido de hidratar shiitakes, cuando lo absorba vamos añadiendo el caldo vegetal poco a poco y removiendo continuamente para que quede bien cremoso.
Cuando le falten 3-4 minutos añadir los otros 2 calabizos pelados y picados finitos.
Seguir removiendo y añadiendo caldo hasta que esté en tu punto, rectificar de sal y añadir la pimienta.
Emplatamos y decoramos con cebollino picadito!
Have you tried this recipe?
Upload an image to Instagram with your recipe and tag us!
Every day we are more lovers of Calabizo. Join up!